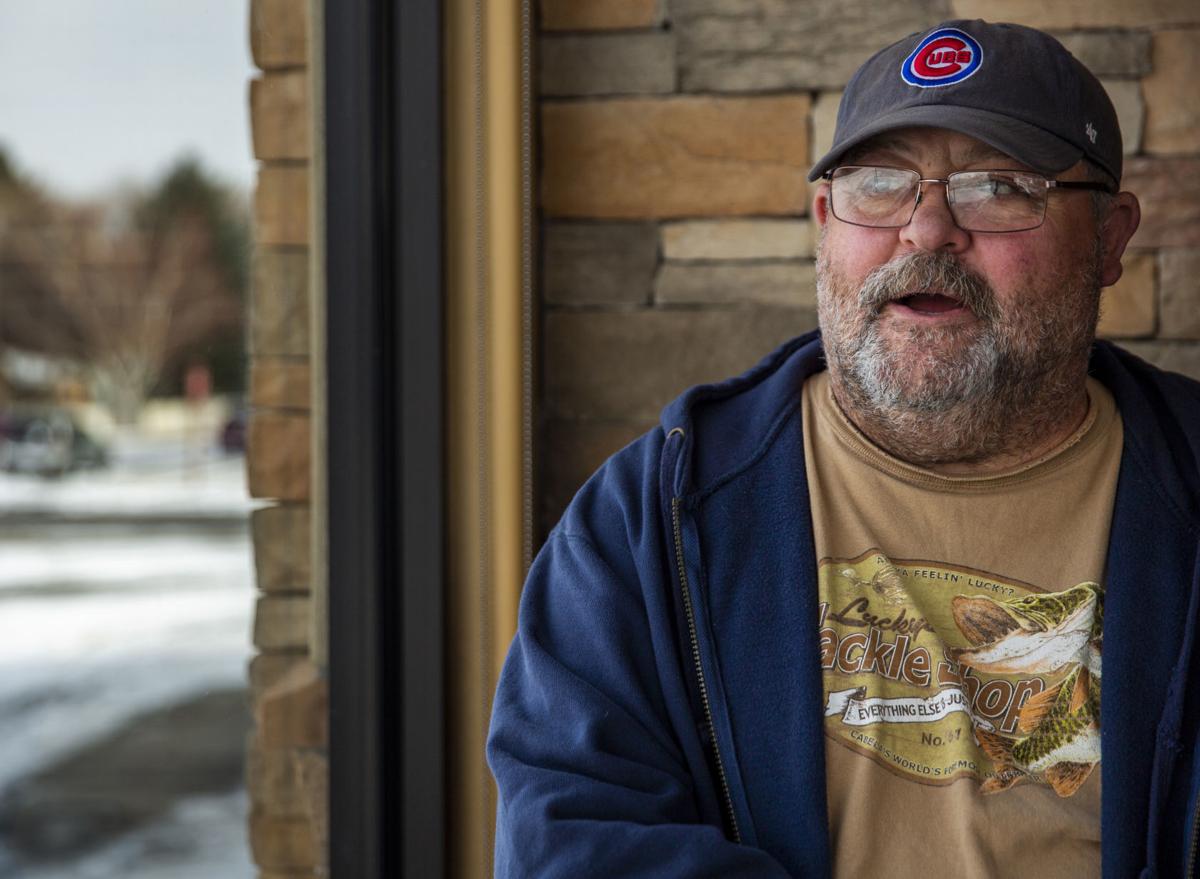 BURLEY — When Rick Mahoney of Albion first felt a little lump on his left chest in the spring of 2018, he thought he'd bumped it.
"I thought I'd run into something. It wasn't sore at all, it was just a little lump," the 58-year-old Mahoney said. "I could press really hard on it and it wouldn't hurt at all. I thought, 'this is not a big thing.'"
But, the hard little lump about the size of a quarter didn't go away, so one day he put his wife Kayleen Mahoney's hand on it and asked her what she thought about it.
"I was like, you better go and get that checked," Kayleen Mahoney said. "That's not right."
Male breast cancer is rarely discussed.
"It's not something most men even think about," Rick Mahoney said.
While the disease is less common in men, it does happen. The lifetime risk for a man getting breast cancer is about one in 833, according to the American Cancer Society. About 2,670 new cases of invasive breast cancer in men will be diagnosed in 2019 across the country and about 500 men will die from the disease, compared to 268,600 new cases and 41,760 deaths for women.
Breast cancers can start in different parts of the breast, with most beginning in the ducts or glands and some types originating in the cells, which is less common. Cancers like sarcomas or lymphomas can also occur but are not thought of as breast cancers. Some types of breast cancers cause a lump, but not all do, according to the American Cancer Society.
Breast cancer spreads when cancer cells get into the blood or lymph system and are carried to other body parts.
"You know the famous last words, 'that will never happen to me,'" Rick Mahoney said. "It can happen."
In October, Mahoney went to his primary doctor to have him look at the lump.
"He said, 'it's probably nothing but we need to get it checked,"' said Mahoney, who was sent to get a mammogram.
Mahoney noticed the shocked looks, even from the professionals, when they realized he was the patient there for the test — not his wife, who went with him.
"I now know why women don't like those tests very much," he said.
The lump was then biopsied.
When he saw his doctor's number pop up on his phone after the biopsy, he felt a wave of fear.
You have free articles remaining.
"For a week or so afterward, I didn't want to talk about it," said Mahoney, who has been married to his wife for 31 years. Together they have three grown children.
"When you hear the C-word, it freaks you out," Rick Mahoney said. "We've all heard the horror stories and there are so many people dying all around us from cancer. At that point in time, you don't think about all the ones who've been cured or that you'll go in and be fine. As human beings, we tend to think of the worst-case scenario — that you're going to die."
When Kayleen Mahoney heard that her husband had breast cancer, her mind just went blank.
"It's kind of overwhelming," she said. "I just wanted to know when they could operate on him."
A surgeon removed the lump at the end of November, along with the three nearest lymph nodes. The nodes indicated the cancer had not spread, and the surgeon felt confident that he'd gotten all of the cancer out during the procedure.
But, Mahoney still underwent radiation treatment once a day, five days a week for 20 days after surgery.
"Everything they'd told me about the radiation was true," he said, "like I'd get really tired and feel sunburned."
His wife drove him to Twin Falls every day for the treatments, and within 15 to 20 minutes, they were finished and back outside.
"The radiation treatments weren't really all that bad," he said.
But, it was humbling, he said, to see the same people each day who were assigned his same time slot at the cancer treatment center. Some of them were dealing with the recurrence of cancer and in much worse condition.
Today, Mahoney is cancer-free, and he will continue to go in for cancer checks every three months for five years. He also takes an estrogen-blocking medication daily.
Being diagnosed with breast cancer as a male, he said, is probably similar to a woman being diagnosed with the disease.
"I assume it affects us all the same," he said. "It goes back to that C-word."
If a woman has a male in her life that has a lump in his chest, she should encourage him to get it checked by a doctor, Kayleen Mahoney said.
"Even if you have to make the appointment yourself," she said. "They are just as important as we are."
Rick Mahoney advises other men to not put their heads in the sand and go get checked if they feel a lump or have an unusual symptom in their chest.
Men sometimes feel there is a stigma attached to men getting breast cancer, he said, which could prevent them from seeking medical treatment.
"This is not just a women's disease," he said. "It happened to me."