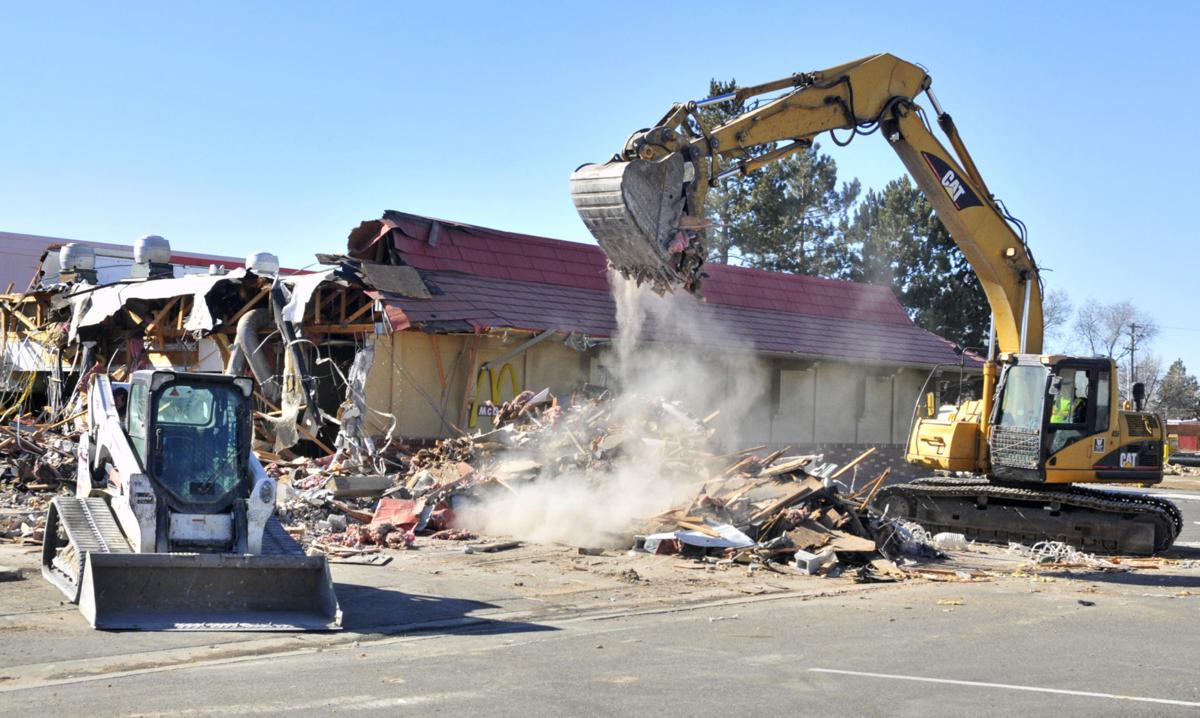 BURLEY — McDonald's lovers may have been alarmed when the chain's restaurant in north Burley was torn down last week, but it will soon be replaced with a new, improved restaurant.
The Bill and Donna Kyle family owns 11 McDonald's across the Magic Valley and, in 2016, rebuilt their first McDonald's Blue Lakes Boulevard North in Twin Falls. This will be the second restaurant to undergo the transition, said Darren Kyle, Bill and Donna's son.
The Burley restaurant opened its doors in 1979.
According to the city of Burley construction permit, the building is valued at nearly $2.16 million.
"The company rebuilding here definitely means they're here to stay," said Doug Manning, Burley economic development director. "And with the new facility, I think they will see an increase in business over time."
It's good business, he said, to keep buildings looking good and to modernize.
"I think with all the state-of-the-art equipment that will be installed, people will be impressed," Manning said.
The old building underwent demolition last week and the company anticipates opening the new restaurant in June, Kyle said.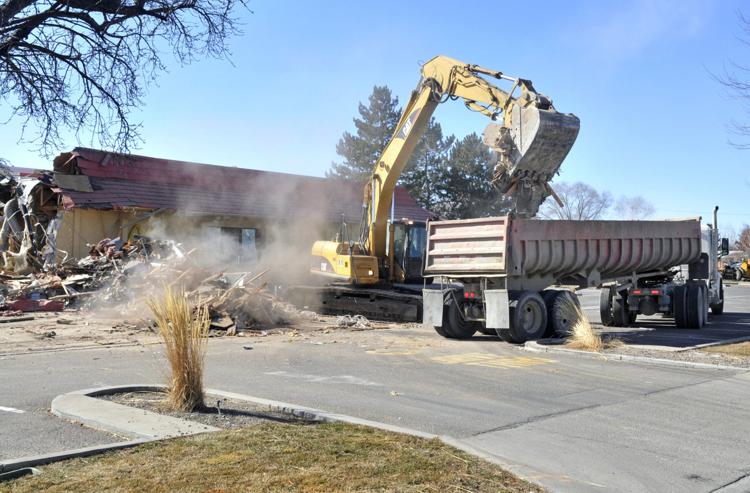 "It will all be brand new with a new indoor play area," he said.
The plans include self-order kiosks and a side-by-side drive-through.
Some people grumble over the self-order kiosks because they think it takes away jobs, Kyle said. But the kiosks will "redeploy the labor to where it's needed, which is in the kitchen."
"It will look very similar to the Blue Lakes location," he said.
The Burley restaurant had about 45 employees when it closed and will add another 20 employees to that number when it reopens.
Existing staff were given the option of taking temporary positions at Twin Falls locations or collecting unemployment until they are recalled.
They will be called back to work about four to six weeks before the restaurant opens because staff will need to be trained on the new equipment.
The restaurant will be built on the same footprint as the old one, he said, but will include new landscaping and decor along with innovative equipment that includes new ovens that heat more than just baked goods. The new ovens, which have moisture control features, can also be used for foods like eggs and bacon.
"They're very sophisticated," Kyle said.
The kitchen will also be reconfigured for efficiency and have multi-point prep to accommodate today's custom orders.
"When we first opened, people would come in and order a hamburger and they were all made the same way," Kyle said, but that's no longer the case.
A lot has changed since 1973 when the family opened their first McDonald's on Blue Lakes, he said.
Curry Junction: A restaurant at a crossroads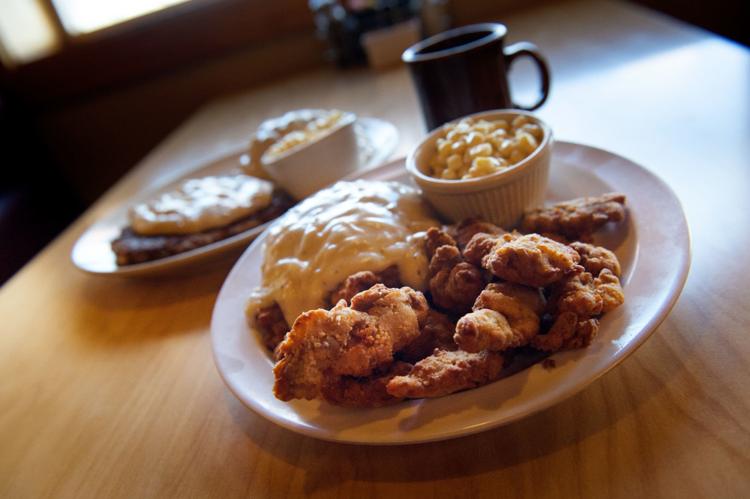 FILER — Without the sign, you wouldn't know the blockish, tan building along the train tracks was a restaurant. It's across the street from a cluster of silos and an RV dealership. Three ancient gas pumps sit out front.
Inside, the Curry Junction restaurant is cozy and out-of-time, with sloped, original hardwood ceilings and a menu full of comfort foods. Dan Nickel, who grew up in Twin Falls, has owned this place for 29 years, ever since he bought it from his brother in 1991. He says it's his baby.
"We pride ourselves in being a down-home type of atmosphere," Nickel said. "There's no strangers, just friends we haven't met yet."
Nickel already had a couple of decades of restaurant experience under his belt before he took over Curry Junction. He'd worked at Arctic Circle and been a regional director for Arby's. That background gave him a vision for the place when he took over.
Past owners of Curry Junction — which opened in 1948 under owner George Jasper — had sold food before. Nickel's brother ran a small cafe in the place. But for most of the store's history, the convenience store and gasoline were the main attractions. Under Nickel's direction, Curry Junction changed dramatically.
"I could see, coming from the big city (Denver), the restaurant was where the money was at," Nickel said. "It wasn't the convenience store, and it wasn't in the fuel."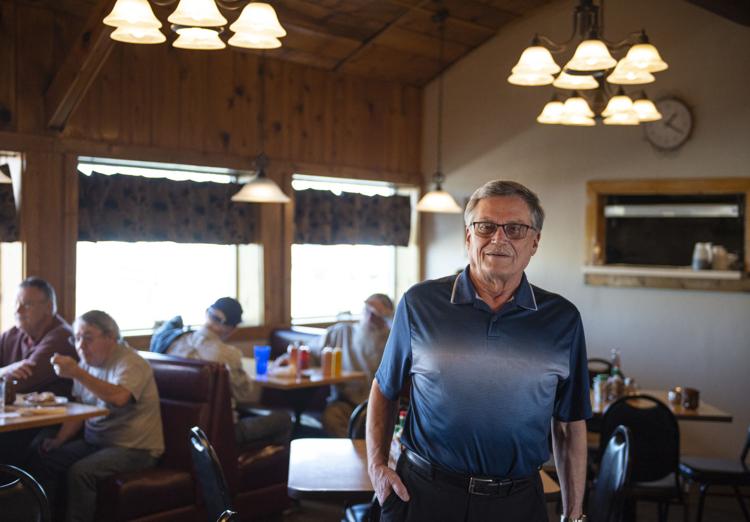 The pivot to a restaurant-centric store culminated in 2004 when Curry Junction underwent a $250,000 remodel. Much of the original building, a World War II-era quonset hut, is still intact, however. The interior still has that tubular quonset hut shape — the ceiling isn't flat, it essentially curves down into the walls, in a semicircle.
Nickel said he hopes customers feel the down-home vibe when they step into the restaurant. It'd be hard not to. Curry Junction sells breakfast all day, and the restaurant's two specialties are finger steaks and chicken-fried steak.
"Our finger steaks, I think, are probably the best you'll find anywhere," Nickel said. "I don't care where you go."
The down-home vibe doesn't just come from the decor and the food. Nickel pointed out that a lot of his customers are farmers. The restaurant sits smack dab in a transition zone where commercial properties give way to ag land. The place seems to straddle two worlds — it has a Twin Falls phone number and a Filer address.
You can practically feel the nostalgia in the air here, and Nickel himself talked about how things have changed at his store over the years.
"Probably the thing I feel the worst about is the demise of the family farm," he said. "The family farm is where my best employees came from. They all knew how to work. Very respectful of their elders, they were always on time, treated everybody they talked to with respect. It was great to have them working,"
There have been challenges over the years, Nickel said, periodic slow times — the U.S. Highway 93 reroute back in 2010 caused some stress and pain. But for the past two years, business has been good, up more than 10% last year and almost 20% so far this year.
Nickel hopes more and more people take a pit stop between Twin Falls and Filer.
"It's a down-home feel," he said. "You don't leave here hungry."
Local Eats: Rosti Xpress takes traditional Mexican food to a new level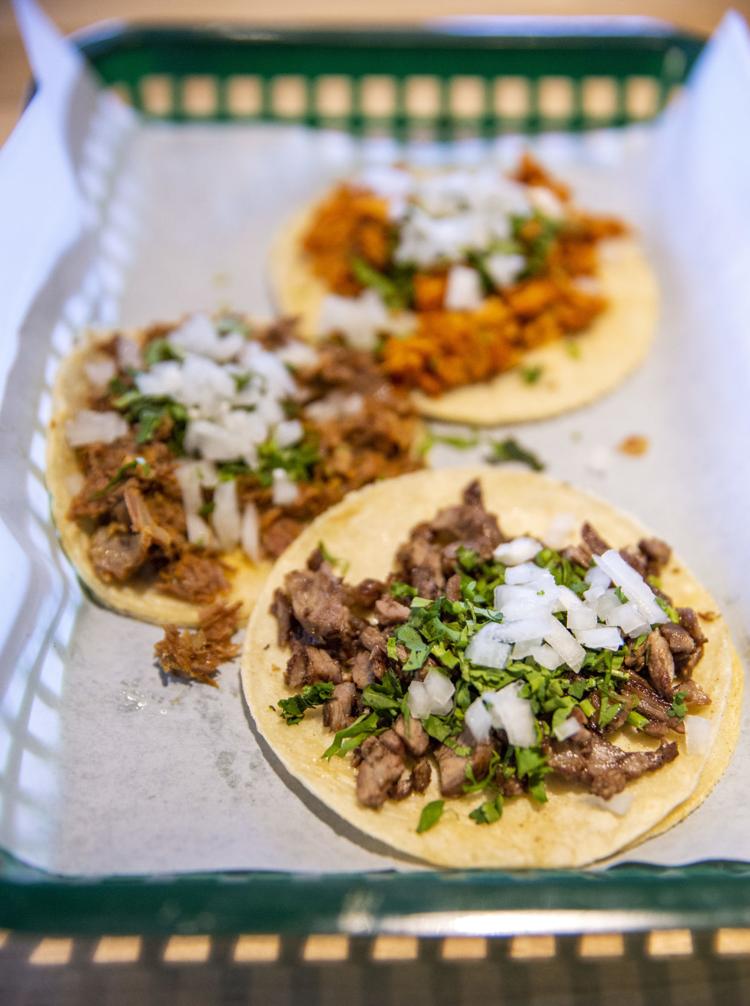 Address: 1223 W Main St., Jerome, inside the Mr. Gas Truck and Travel Center
Hours: 10 a.m. to 10 p.m. daily
Menu: Traditional Mexican fare including tacos, quesadillas, birria, empanadas and enchiladas. It also offers rotisserie chicken meals and chicken by the piece.
Why we love them: Some of the quintessential elements of Mexican cuisine do play a role at Rosti Xpress, the indoor food truck at the Mr. Gas service station at Idaho Highway 25 and Interstate 84 west of Jerome, but owner Adalid Farfan's desire for something unique brings an elevated understanding of Mexican cuisine.
Rotisserie chicken dinners are the star attraction along with birria, a goat stew, and tacos and platters are topped with goat or chicken mole, a chicken stewed in a sauce made from dozens of spices, herbs and Mexican chocolate.
"I wanted to get away from the crowd," Farfan said. "I didn't want to do like everyone else. They say why would you reinvent the wheel when you know something works, but I wanted to do something that stayed within the roots of Mexican cooking but still mix it up and try something different."
Faran always wanted to own his own business, and his ideas for his restaurant came to him as he worked as a manager at a hospital in Gooding. Not long after he purchased a 24-foot food truck.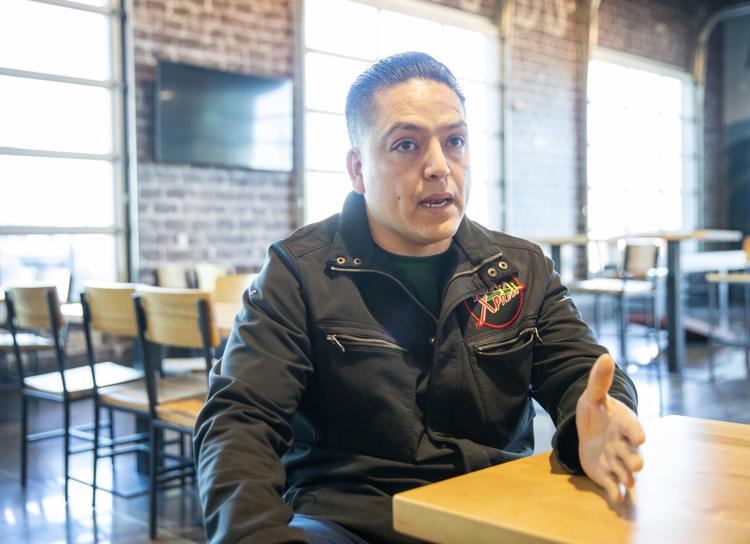 For about three years, Rosti Xpress only did events, from festivities in the park in Jerome to catered events like birthday parties. When he heard there was a space open for the indoor-food-truck concept at the Mr. Gas station, he jumped at the opportunity.
"It was more being in the right place at the right time," Farfan said. "I saw this as an opportunity to bring in my business to the community so I said, 'Why not?'"
He discovered his passion for creating things while working as a dietary manager. He wanted to come up with a concept that reflected the flavors he grew up with as well as provide a healthy alternative to standard Mexican fare.
While the menu was all his creation, he took inspiration from his mother and his native Michoacan, which is showcased as chicken mole, a dish that takes many forms depending on the region of Mexico. He stays true to his dedication to fresh, healthy food by making everything to order.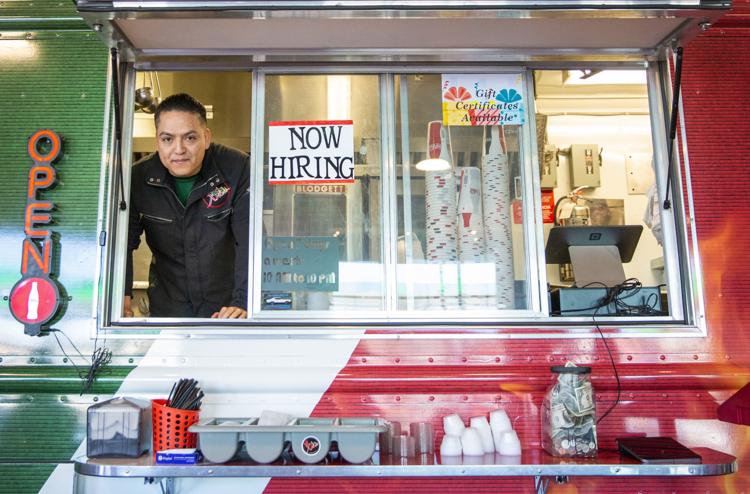 "I just wanted to mimic what she did and bring it out to the public," Farfan said.
He hopes the business will encourage patrons to try something new.
"A lot of times we get into a pattern and eat the same things over and over and over," he said. "When we see something we're not used to we try to stay away from it, but be open-minded and give it a try. It could be a new adventure."
A destination on the river: Morey's Steakhouse has new patio, other amenities to enjoy the view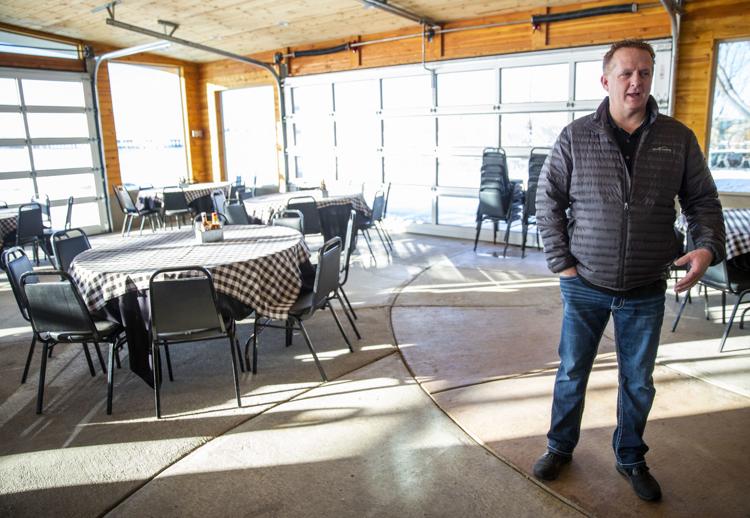 BURLEY — A restaurant owner is turning his restaurant into a destination while offering steaks, prime rib, seafood and pasta dishes, an all-day lunch menu four days a week, a lunch buffet and a hamburger that's half ground beef, half ground bacon.
The restaurant also offers sushi for dinner on Mondays.
Morey's Steakhouse, 219 E. Third St. N. in north Burley, is open 4-9 p.m. Mondays, 11:30 a.m – 9 p.m. Tuesdays through Fridays, and 4-9 p.m. Saturdays, with a lunch buffet available from 11:30 a.m. to 1:30 p.m. Tuesdays through Fridays, with sliced meats, jumbo breaded shrimp and other fare for $9.99 a person.
The steakhouse also offers a full bar, appetizers and desserts, along with several gluten-free entree options.
Tracy Morey has owned the restaurant in its current location nestled on the Snake River close to the Overland Bridge for 14 years and previously operated the restaurant for 2½ years in Malta.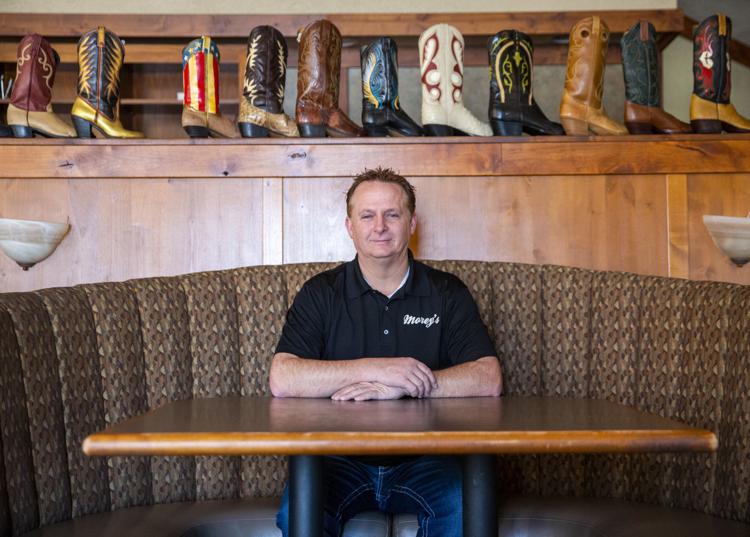 In May, Morey added an indoor-outdoor patio with a full bar, which has a glass expanse that gives diners a view of the Snake River and Albion Mountain Range. The space has radiant heat in the ceiling, so people can enjoy the patio during colder weather and four large glass doors that swing up when weather permits to give guests an alfresco experience on warmer days.
The 160-seat patio doubled the restaurant's seating capacity. The business also has a separate event center, with a capacity of 250 people.
"The community really needed this," Morey's Steakhouse General Manager Alex Vazquez said. "It's really great to be able to have outdoor adventures and events here during the winter. And the community made it possible."
Morey said he loves watching the growth happening in the area and seeing all the businesses thrive.
"I love the feeling in the air; it's almost euphoric," he said.
More boat dock space was added to allow up to 15 boats to park on the river. In the summer, the restaurant offers boat ride and meal packages on certain days.
The restaurant also has two new outdoor patios and soon a large outdoor fire pit will be added to the outdoor area.
"It really has become a destination rather than just a place to eat and I love to see people when they are coming to have a party. It makes this fun. I'm a lucky guy to be able to wake and go do what I love every day," said Morey, who built a home next to the business.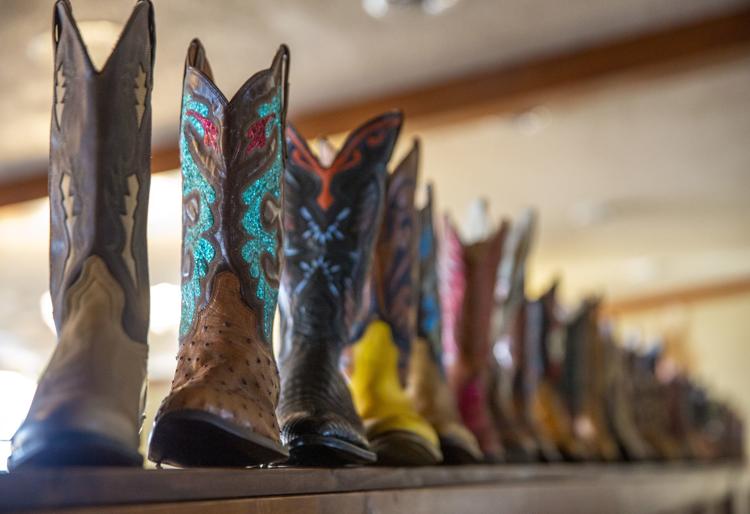 Inside, the rustic decor sports a large collection of unusual cowboy boots, rooms that can be used for private gatherings or meetings and a lounge with a custom beer tap made from irrigation pipe, painted bright red, which sparks an instant connection with region's agricultural clientele. In the coming year, he intends to add more live music.
Next year, he plans to add a splash park to the lawn along with some playground equipment.
"We are trying to create a resort arena for family reunions and company parties," he said. "We want people to be able to spend the whole day here and create that space where they can enjoy each other's company and their families."
As the restaurant expanded, so has the clientele, Morey said.
Between Thanksgiving and Christmas Eve, they served 16,000 meals, he said.
When Vasquez is asked what's good on the menu, he usually recommends the seven pasta dishes that are made fresh as they are ordered and includes a spicy seafood pesquetorie and a Cajun jambalaya.
"But, the mac and cheese is our top seller," he said. "And it's really good."
He also highly recommends the sushi Monday dinner option along with prime rib and charbroiled rib eye steak.
Morey said people need to recognize that the experience will include dinner preparation time, and it's not fast food.
"Come and enjoy the atmosphere," he said.
Kimberly's Cactus Grill a small-town success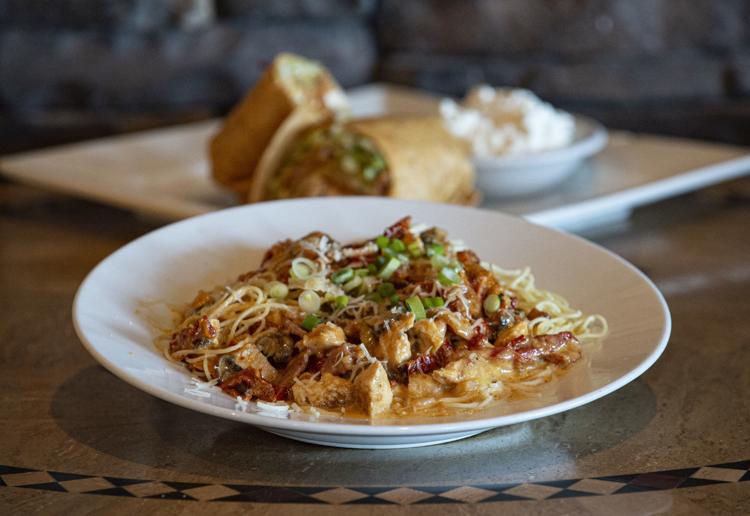 KIMBERLY — In 2013, the Cactus Grill was a popular food stand outside The Home Depot in Twin Falls. Then the home improvement store shut it down.
But the grill survived and moved to Kimberly, where it's now a staple.
Cactus Grill co-owner Janie Corle took over the restaurant in October, along with her fiance Courtney Lewis.
Corle said consistency is the key to running a good eatery.
"You've got to keep your food the same," she said. "There's no slacking. You've got to give the people a reason to come back."
The Cactus Grill hasn't changed much since new ownership took over.
"Billy (Elser, the former owner) did a really great job getting the Cactus Grill started," Corle said.
A family-friendly atmosphere and homemade food are what sets the Cactus Grill apart, she said. The grill makes all of its soups and sauces in house.
"We do all our own recipes," Corle said. "It's kind of like what you would fix at your own house … I think it makes a huge difference."
The restaurant cuts its own steaks and french fries, for example. Everything is homemade.
Corle said the Cactus Grill has a great clientele, but she admitted it is a challenge to run a restaurant in a smaller city. Word of mouth is important.
"It has its ups and downs," she said.
For Corle, who has lived in the Magic Valley for 20 years, taking over the Cactus Grill is a dream come true.
"It's just what I've always done," she said about working in the restaurant business. "It's always been a dream of mine to own a restaurant. I never thought it would happen, and then I bought this one."
Local eats: Rolberto's offers Mexican food any time you want it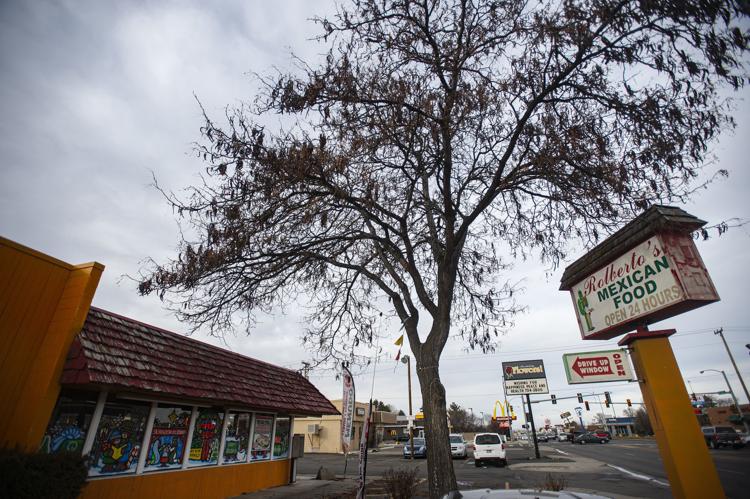 Rolberto's offers something that few restaurants in the Magic Valley can: food 24-hours a day, seven days a week.
There just aren't many places in Twin Falls where you can go after about 10 p.m. to get food. For those who work odd hours or just have a late night craving, Rolberto's is one of your few options, but it sure is a good one.
The restaurant offers a variety of tortas, tacos, sopes and enchiladas. The burritos are massive and often need to be eaten in two sittings. More than 20 unique combination platters are available, each offering different entrees and sides. Early risers can get breakfast burritos and breakfast plates, like huevos rancheros.
And despite the large portions, the most expensive item on the menu is $10.50, a relative bargain for the quality and quantity.
Seating is available indoors, but many customers use an easily accessible drive thru, with food often ready within five minutes.
In addition to the Twin Falls restaurant, Rolbrto's operates restaurants in Jerome, Elko and Winnemucca.
Local Eats: Hailey's new Hangar Bread completes the circle of bread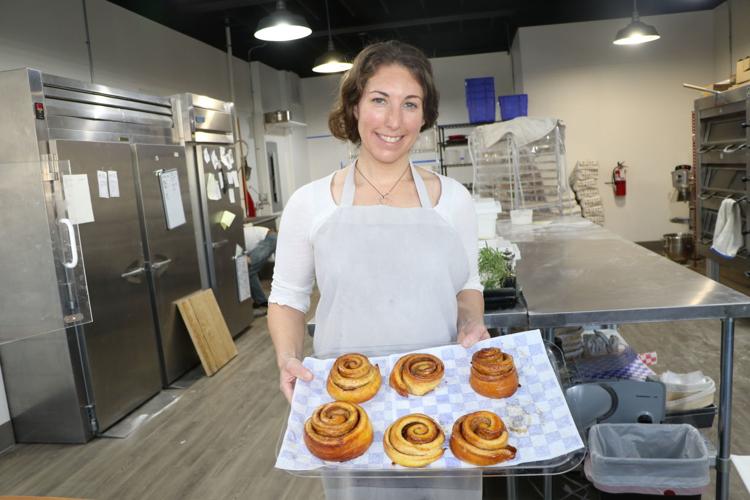 111 N. First Ave., Hailey
Hours: 9 a.m. to 2 p.m. Mondays through Saturdays
Menu: Breads, grab-and-go sandwiches, sweet rolls
Price: Ranges from $2 for sweet rolls to $7 for raisin walnut sourdough loaf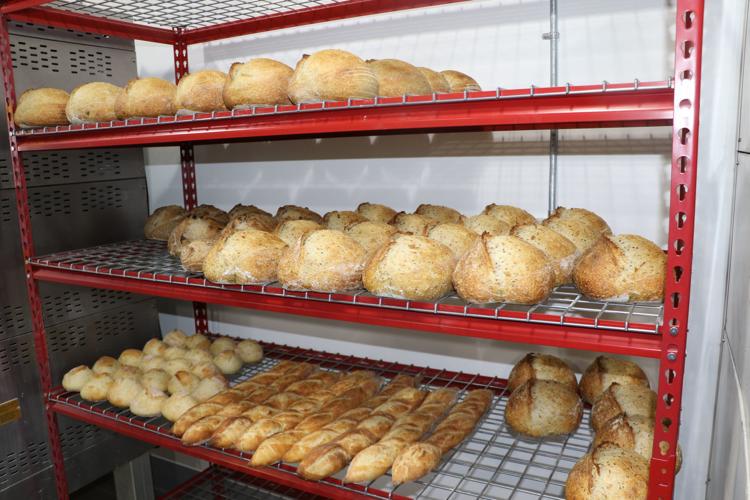 Roman Chavez fell in love with artisan French bread during a vacation to Paris. When he couldn't find the same experience in the bread aisles upon his return home, he didn't settle for the next best thing — he learned to make his own at the San Francisco Bakery Institute.
"The minute I pulled my first loaf of bread out of the oven, I knew what I wanted to do with the rest of my life," he said.
Today Chavez's tangy sourdough loaves are flying out the door at the new Hangar Bread bakery that he opened a few months ago in Hailey.
Customers line up to load their reusable bags with French baguettes, augmenting them with other loaves, including one bursting with sunflower, flax and sesame seeds and another featuring Chavez's special recipe of raisins and big chunky walnuts.
Others, like Helen Chenoweth and Donell Salus, treat themselves to the cinnamon rolls, which are sweet and moist, despite the lack of glaze.
"My neighbors and my family are hooked on their bread," said Hailey resident Annie Weber. "My favorite is the loaf with seeds, but the men in my family like the sourdough.'
Chavez was working as a jet fuel broker at the Long Beach airport when he ordered a commercial oven upon graduating from the bakery institute. With no commercial storefront, the deliveryman dropped the oven off at the FedEx hangar where he worked.
Chavez's fellow employees were soon clamoring to buy the bread and pizza dough that he experimented with.
Chavez began operating out of a studio attached to the garage of his Hailey home after he and his wife, Rachel Schochet, moved to the Wood River Valley to be close to Rachel's mother.
He baked loaves for NourishMe, Café Della, Tundra and Ketchum Kitchens, then seized the opportunity to have his own storefront.
He uses flour grown at Hillside Farms south of Bellevue and milled on the custom-made European stone mill at the new Hillside Grain.
"I like the whole process from walking through the fields handling the stalks of wheat to harvesting and crushing them, mixing the flour with sourdough, baking it and having someone eat it. And then the cycle starts anew," he said. "Full cycle from the grain to the mill to the oven to the stomach."
As Chavez talked, he brushed the flour off freshly baked baguettes, arranging them in a basket alongside other types of bread.
"This is our bachelor's loaf," he said, picking up a package with a half loaf of sliced pumpernickel. "It's just a half loaf, so you can eat it while fresh and come back for another half loaf."
His sourdough loaf takes two days from start to finish. Trina Benson, his business partner, whips a batch of flour with water and Chavez's sourdough starter. Stretched, folded and kneaded, the mix is stuffed into small bread proofing baskets four hours later and the baskets are put in a refrigerator, where they will stay 18 to 20 hours as the sourdough feeds on the flour mixture, extracting starches and sugars.
"That's where you get the flavor," said Chavez. "When people don't give the bread time to release those starches, they miss out on the flavor they could have had."
Each sourdough starter bears characteristics unique to the bacteria on the baker's hands and the bacteria in its environment, Chavez said. San Francisco has great sourdough bread, he said, because of its salt water ocean air.
"If I went somewhere else, my bread would taste different."
As Chavez talked, Cynthia Luck Carr turned softball-sized rolls he had made earlier into three types of sandwiches: American with turkey, cheddar cheese, pesto and lettuce; Italian with salami, provolone cheese, pesto and lettuce; and French with ham and butter
She pointed out the rosemary growing in the bakery.
"When the focaccia bread, which we make with rosemary and parmesan, comes out of the oven in early afternoon, the aroma draws people in," she said.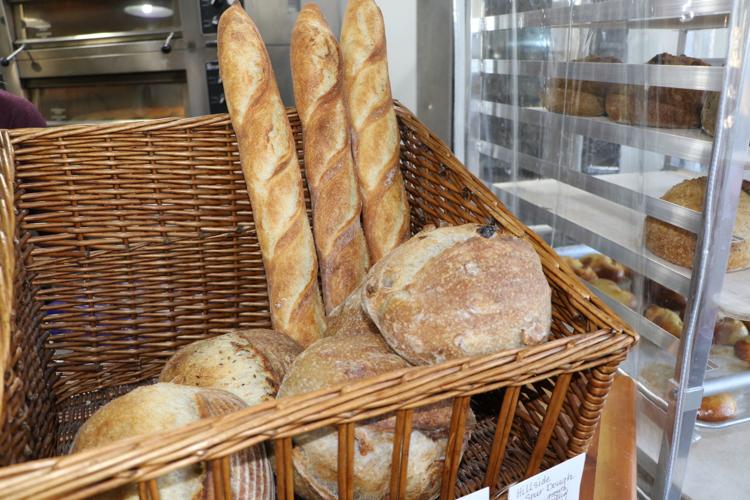 Local Eats: La Michoacana's arrival in Twin Falls is 25 years in the making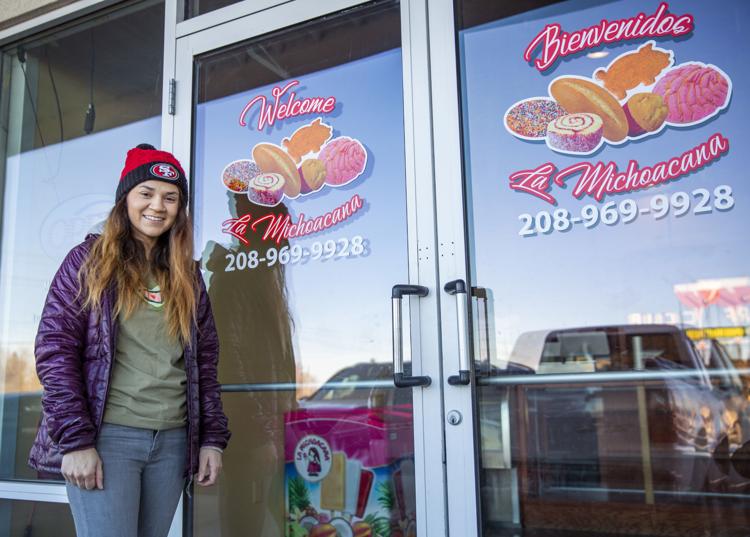 772 Falls Ave., Twin Falls
Hours: 9 a.m. to 8 p.m. Monday through Saturday, 9 a.m. to 6 p.m. Sunday
Menu: The bakery offers a variety of Mexican sweet breads, tortillas, Mexican candy and a grocery.
Why we love them: The story of Twin Falls' second Mexican bakery is 25 years in the making, starting when owner Rosario Tellez was a child helping out at the first location of La Michoacana in Rupert.
There was a while that Tellez thought she would leave the bakery business when she got her esthetician's license, but she was too impatient to build her client base. She decided to return to work for her father, but this time as a baker, something she hadn't done before.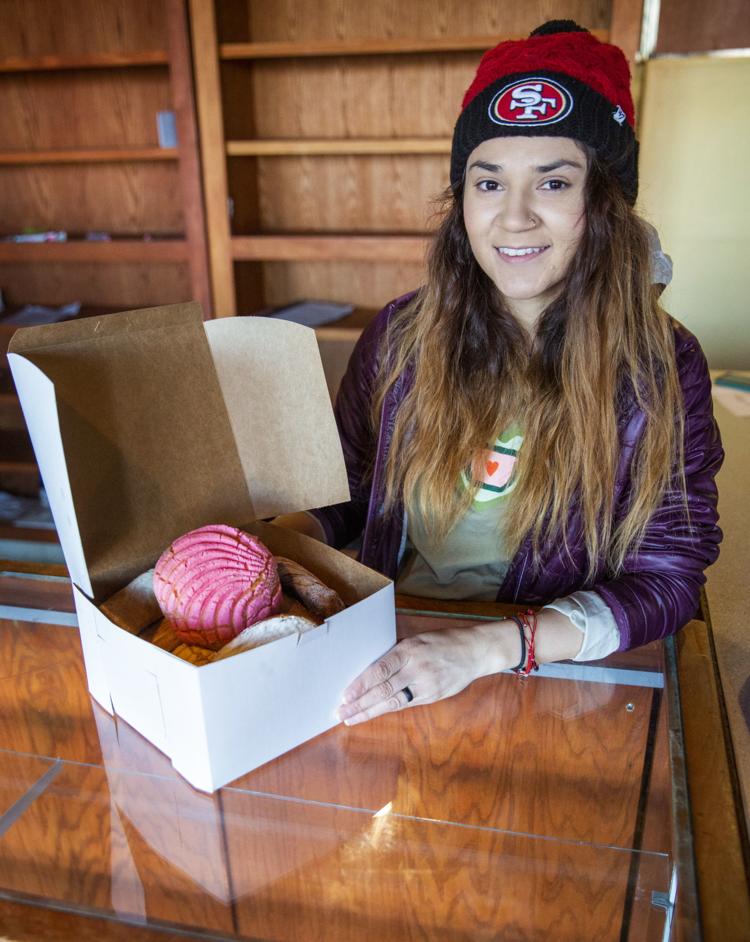 "My dad taught me how to bake," Tellez said. "When I was little, I helped put the sugar on bread and things like that, but I only really helped in the store."
Tellez opened her first bakery in Bellevue, but she wanted to have a business closer to home. Now she and her husband operate the fourth location of Panaderia La Michoacana. The family owns a location in Jerome as well as the original in Rupert. Through a communal effort, they have maintained the quality they strive for, Tellez said.
"When a business expands, the quality goes down," Tellez said. "But with this, it's not just (my dad). He has me, my mom, my sister behind him."
Baking wasn't always the family business. Tellez's parents started baking as a business when they came to the U.S. from Mexico. They started by going door to door selling bread before being able to upgrade to a van.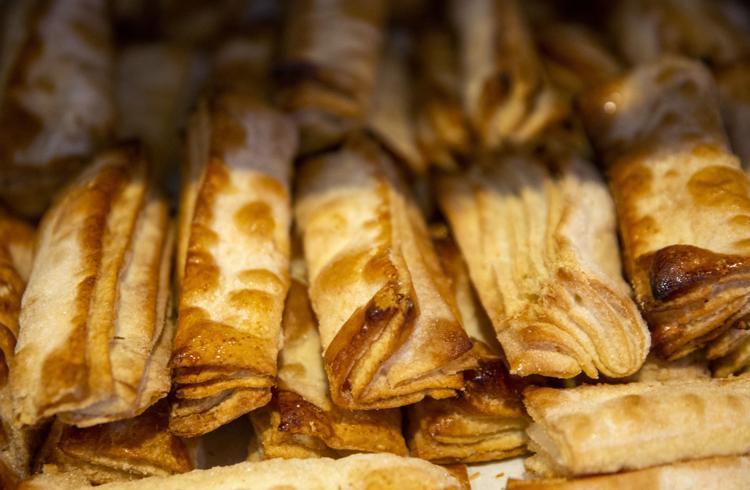 Tellez's mother and father drove around neighborhoods and visited processing facilities and other major employers in the area to attract clientele until they earned enough to open a brick-and-mortar business. This was the inspiration to keep on growing for Tellez.
"I've seen my parents build something from nothing to something really great," she said.
For 69 cents, guests can choose from a menagerie of sweet breads, from the most-popular, concha, which has colored sugar shell on top, to the flaky libros, a layered pastry named for its resemblance to pages in a book.
The bakery also has sweet and savory Mexican treats and ingredients for Mexican recipes like corn husks for tamales and whole, dry blue corn for tortillas.
While Tellez says she wants to focus on her newest location for now, the impact of her family business is felt beyond the Magic Valley. Panaderia La Michoacana has fans all over the world, she said.
"I've heard of people sending our tortillas to where their sons are stationed overseas," Tellez said. "People have come from the oil fields in North Dakota and they buy our tortillas and freeze them."
Local Eats: After long wait, Milner's Gate beer is on tap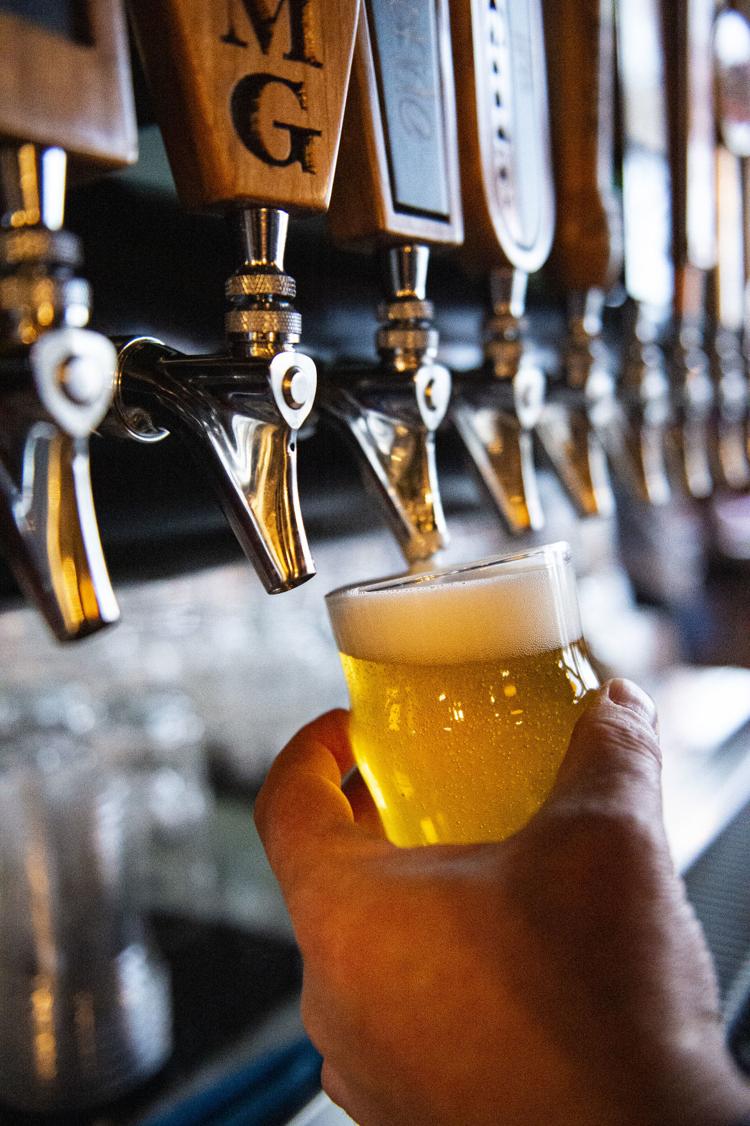 Milner's Gate
205 Shoshone St. N., Twin Falls
Hours: 11 a.m. to midnight Tuesday through Saturday; 11 a.m. to 10 p.m. Sunday and Monday.
Menu: The restaurant offers casual fare — such as nachos, burgers and wings — as well as finer fare such as oyster shooters, stakes and trout dip.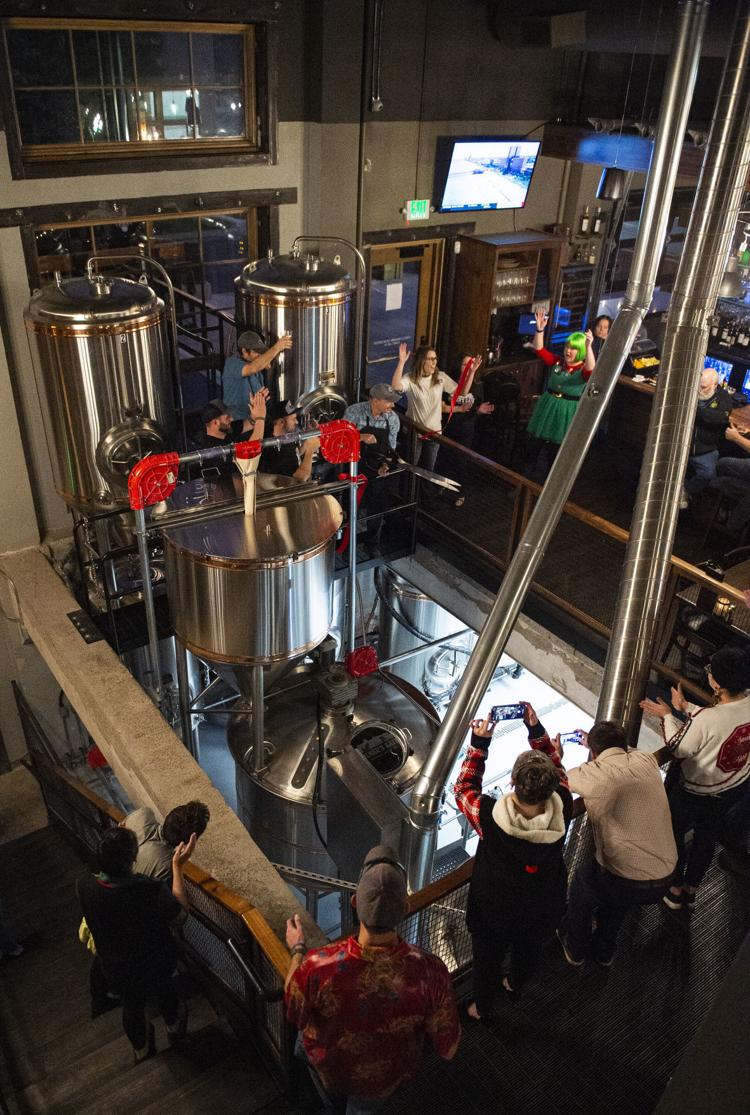 Why we love them: Milner's Gate is a brewpub that was missing just one important competent of being a brewery: the ability to make and sell their own beer.
To open the brewery, the owners needed licenses from federal, state, city and county governments, as well as a permit for canning and packaging. This can be a lengthy process. The brewing was delayed until a federal licensing process was completed.
Milner's has been selling its beer for seven weeks now. The brewpub has five original beers: Eleventh Hour IPA, Fall Down Brown, Headgate Pale, Lil' Bit Blonde and Crooked Canyon.
The head brewer, Quay Marshall, is an award-winning brewer who previously brewed at Muggers Brew Pub before it closed in 2003. His award-winning beer, Fall Down Brown, has been brought over to Milner's arsenal, said Esmeralda Pena the floor manager of Milner's.
The Eleventh Hour IPA is a light beer and has quickly become a favorite with customers, Pena said.
Fall Down Brown has a nice caramel flavor and as soon as you try it you will understand why it has won awards.
Headgate Pale is another favorite among customers, Pena said.
Lil' Bit Blonde has a hint of a nutty aftertaste and is a great approachable easy-drinking beer.
Crooked Canyon IPA is the newest addition to the beers and will certainly please anyone who is looking for a drink with lots of hops.
Local Eats: Don't sleep on Pandora's Legacy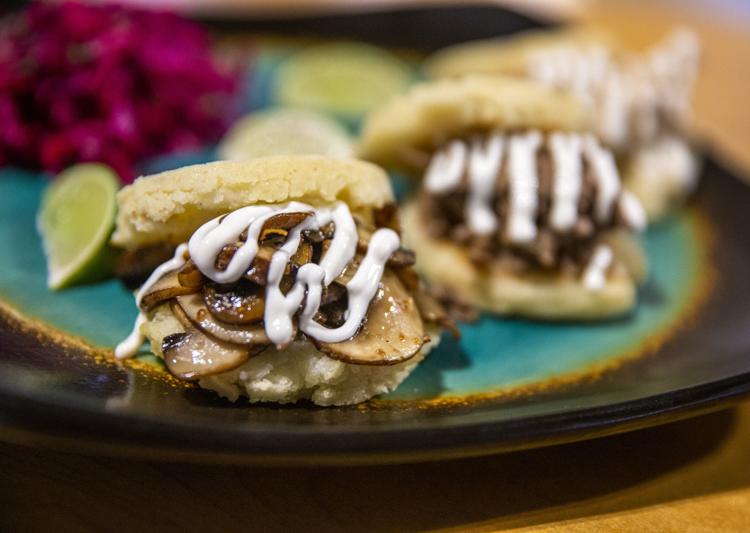 Pandora's Legacy
233 Fifth Ave. S., Twin Falls
Hours: 11 a.m. to 9 p.m. Monday through Thursday; 11 a.m. to 10 p.m. Friday and Saturday; closed on Sunday.
Menu: Pandora's Legacy has a little something for everyone. It has new American, Tex-Mex, Italian cuisine and classic comfort food. There is pub fare such as gluten-free chicken strips or grilled portabella.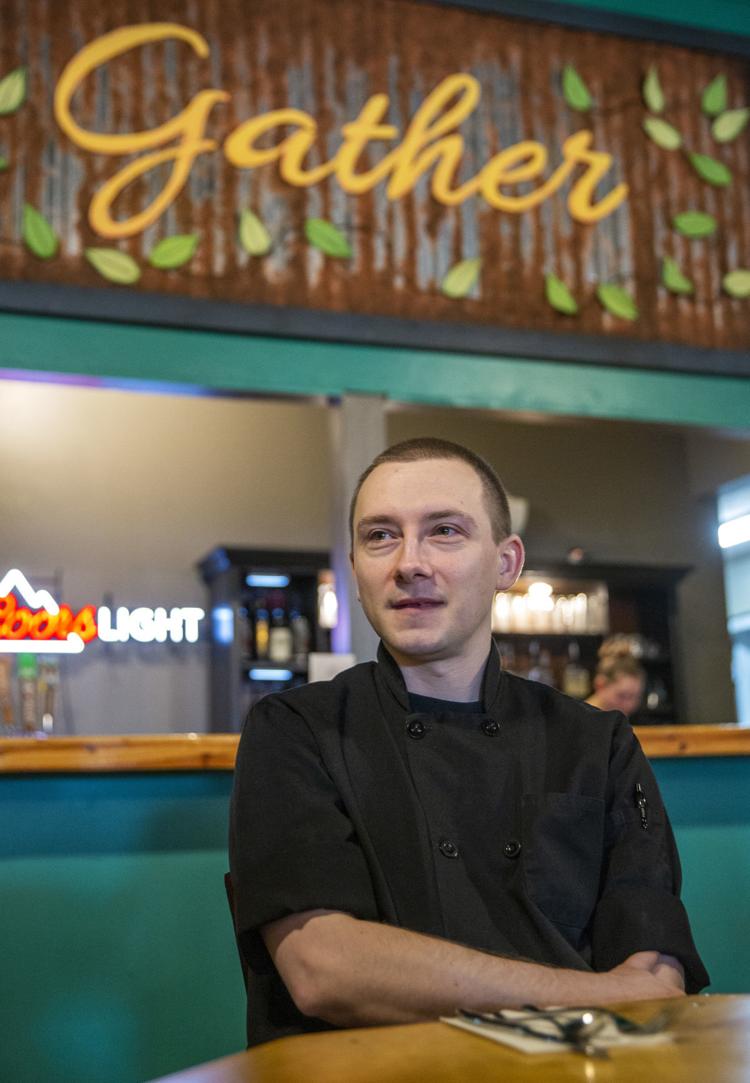 Why we love them: Legacy can be an intimidating concept.
There's an idea that one has to live up to a near impossible standard set by their predecessor. Chris Lenardi has chosen to embrace his legacy instead of run from it.
Pandora's Legacy, an American bistro, opened in February 2018 in Twin Falls' warehouse district. It's hidden away from Main Avenue, but this eatery shouldn't be slept on.
Lenardi, the owner, opened the restaurant in honor of his mother, Pandora — a local chef who owned a restaurant in Twin Falls.
"It's a continuation of that," Lenardi said.
Lenardi, who is also the head chef, said that many of his recipes were influenced by his mother's cooking and he took elements from other restaurants and chefs. He has created a menu that wears its influences on its sleeves and becomes something wholly original.
Pandora's Legacy offers a wide variety of options. The menu is split into "small plates," ranging from fish tacos to shrimp romesco, and "big plates," which includes roasted artichoke stuffed salmon and flat iron steak. And we can't forget that a cocktail menu is offered as well.
"I hope I can help broaden their palette type," Lenardi said of his customers.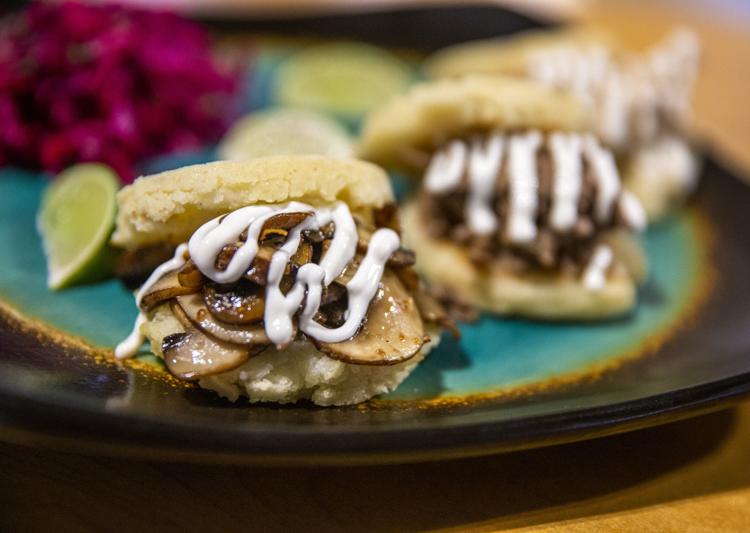 When asked what the must try item on the menu is, Lenardi recommended the fan favorite appetizer — the Venezuelan style arepas. The small cornmeal cakes costs $9 for a plate of three. They are filled with your choice of beef short ribs, chicken, black beans and sweet corn, or sautéed mushrooms. A pile of cabbage and lime wedges are provided on the side.
The beef and chicken were delicious in their own right, but the sautéed mushrooms were a particular delight.
In the summer, keep an eye out for the Pandora's Legacy food truck. It is run by Lenardi's step-father and offers different style of bratwurst and more.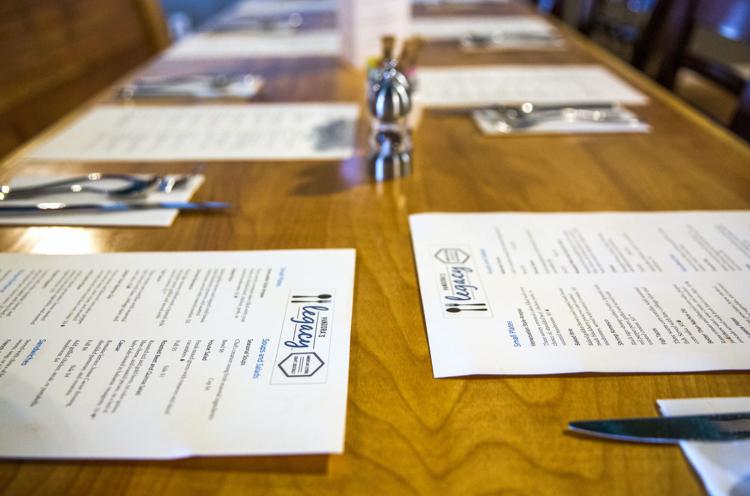 Local Eats: Nobody leaves hungry at Tractors Grille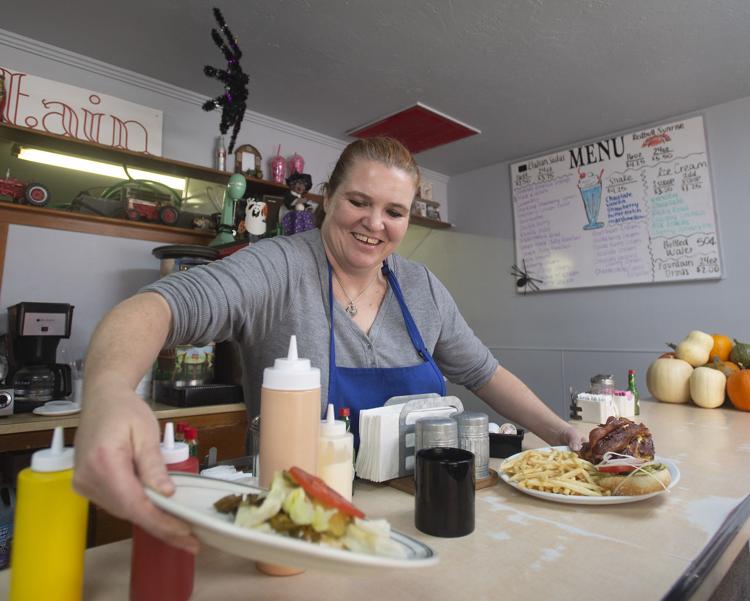 Tractors Grille
127 Broadway Ave. S., Buhl
Hours: 7 a.m. to 8 p.m. Monday through Thursday; 7 a.m. to 9 p.m. Friday and Saturday; 9 a.m. to 4 p.m. Sunday.
Menu: Tractors Grille offers standard diner food; an extensive breakfast menu, burgers and more.
Diners are nothing short of an American institution.
There is a beautiful familiarity in diners where the coffee flows like water and a booth feels like home. Diners follow the philosophy: If it ain't broke, don't fix it. Tractors Grille is no exception.
Tractors Grille is owned by Vicki Alstrom and Doug Hawarth; the couple previously owned the antique shop Buhl Winkles before moving to the food industry and opening Tractors Grille in March. The diner is in a blink-and-you-miss-it spot on Broadway Avenue in Buhl. The unassuming exterior blends into the rest of the storefronts; passersby will have to keep an eye out for the diner.
Tractors Grille has two philosophies to set itself apart from the competition. The first: It is open seven days a week. The second, and arguably most important: The portion size is generous. When served, patrons will rarely see an empty spot on their plate; fries or tater tots cover every inch of the surface.
"We make sure everything fills up the plate," Alstrom said. "When you leave here you leave full."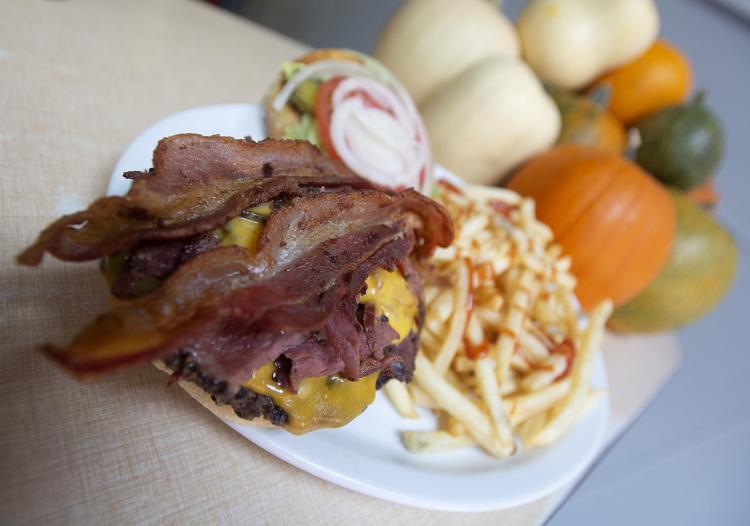 The test of any diner is the burger. Most diner burgers taste relatively the same. That's not a bad thing — there is comfort in the familiar, but Tractors Grille goes above and beyond with their burgers.
There is an almost impossibly long list of combinations. The real pièce de résistance is The Dougie — a half-pound burger layered with bacon and salami. If anyone is looking for a large source of protein, it can be found here.
Despite the tasty food, the real comfort of a diner comes from the relaxed atmosphere. Tractors Grille feels like a home that you haven't returned to in a while. It's not uncommon for the regulars to strike up a conversation.
"We want everyone to be comfortable," Alstrom said. "I want to make sure that people eat and fill full when leaving here."
Local Eats: Pizzeria Antico respects the craft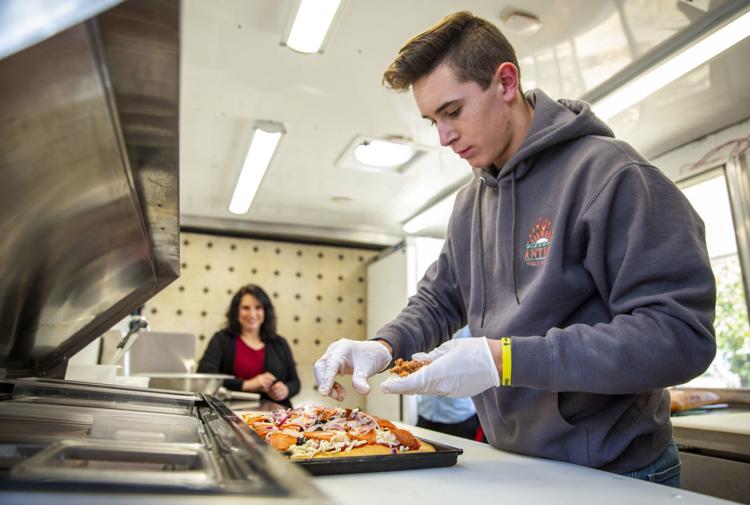 Where and When: The food truck operates at events. Visit their Facebook page to find out where they will be.
To have an event catered, call Pizzeria Antico at 208-969-1120.
Menu: Pizzeria Antico offers a variety of pizzas in different styles, including the square Sicilian servings, Chicago deep-dish, hand-tossed New York and Detroit-style.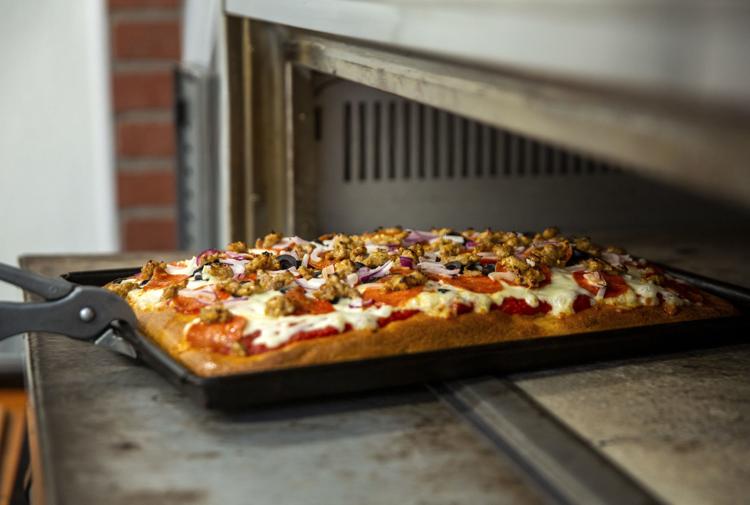 Why we love them: Perfection takes time. Pizzas are no exception to that rule.
In a world where pizzas are delivered in under 15 minutes and taste about as good as the cardboard box they come in, a pizzeria that takes time to respect the art of making a good pizza seems like a far off fantasy. Twin Falls is getting a slice of the ancient tradition of the Italian cuisine with Pizzeria Antico.
Doug Gaskill's appreciation of pizza formed while bed-ridden after recovering from an injury. He spent his time watching the Food Network and he had the epiphany that he could mimic what he saw the chefs doing. He wasn't satisfied with the pizza that he ate and so he started making pizzas in the oven at his home. He turned his hobby into becoming a full-blown pizzaiolo.
Gaskill traveled to the International Pizza Expo in Las Vegas to learn from some of the world's best pizza makers. He opened Pizzeria Antico, a pizza-themed food truck, four years ago and continues to improve his skills.
Pizzeria Antico is a family business and is at its busiest when Gaskill's children, Caitlyn and Chance, are on summer break. It takes the entire family to make sure that the business runs smoothly. Gaskill hopes to one day turn the food truck into a full-time restaurant.
Often times his family is the guinea pigs for new recipes, Charmaine Gaskill said.
The family was recently experimenting with a new white pizza that was genius in how simple it is — arugula, homemade sausage and peppadew peppers. Most of the time the best pizzas just come from experimentation.
When ordering the pizza, customers should understand that it won't be instantly ready, it takes time to make and prepare the pizza and it's all the better for it.
When trying out a new pizza restaurant, Gaskill has a simple test to see if they serve quality pizza — he orders a cheese pizza. The foundation of every pizza is the dough, sauce and cheese. No toppings can improve a pizza if the basics aren't mastered, he said.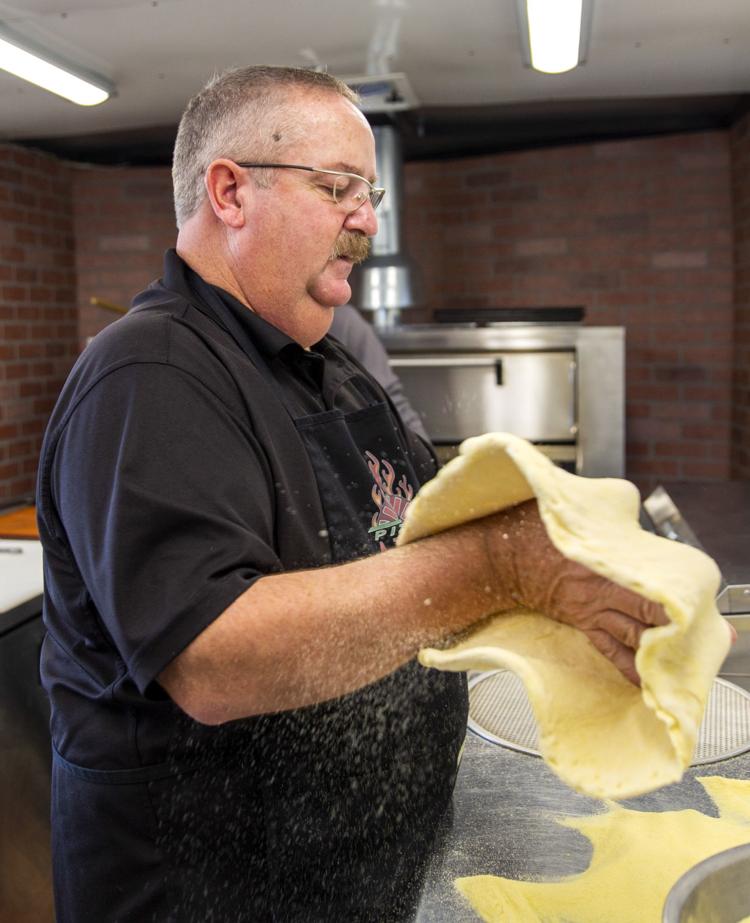 "We aren't competing with the fast food places," Gaskill said. "It might be fast, but slow tastes better."
Ingredients are half the battle when making a delicious slice of pizza. When making pizzas, the Gaskill family uses a high protein dough and exclusively uses bottled water; the mineral content of water effects the properties of the bread dough, Gaskill said. The food truck has received the compliment that the pizza doesn't make customers feel sluggish and bloated; there is a refreshing lightness to the pizza that leaves patrons satisfied.
"Pizza is a craft," Gaskill said. "Respect the craft."
Local Eats: Guppies Hot Rod Grille returns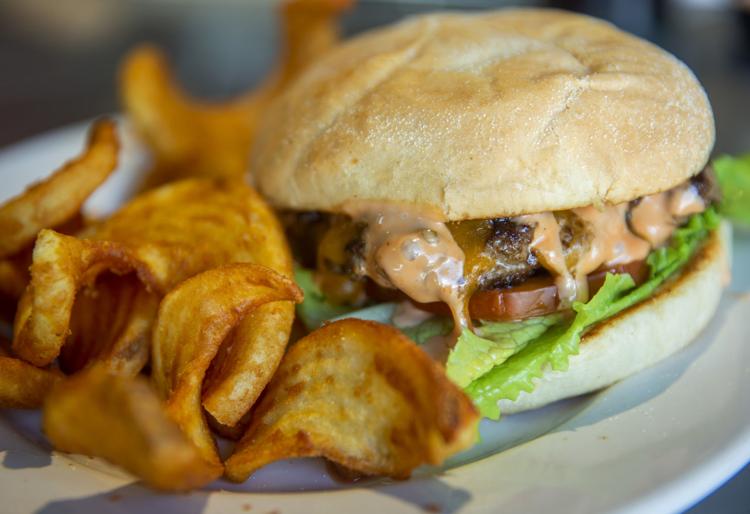 Guppies Hot Rod Grille
105 Main Street N., Kimberly
Soft opening hours: 7 a.m. till 3 p.m. Monday through Saturday, 8 a.m. till 2 p.m. Sunday; visit guppieshotrodgrille.com for updates on hours.
Menu: Classic burgers, diner fare and their signature clam chowder.
Guppies Hot Rod Grille, originally in downtown Twin Falls, stood as a testament to old school diners. The food was as comforting as the staff was. Guppies strived for a familiar feeling.
On Sept. 9, 2018, Guppies Hot Rod Grille sustained serious fire damage. It was reported that the fire started in the Guppies Kitchen; the back of the restaurant was destroyed and the front half of the restaurant received smoke and heat damage.
There was a huge outpour of support from the community. It seemed that everyone was waiting for the day for the fan-favorite restaurant to return.
The classic diner opened in their new location in Kimberly on Aug. 28. This seemed like a great excuse to get out of the office and see how Guppies has reintroduced themselves.
The new restaurant offers a stylish 1950s aesthetic. It feels comforting to be surrounded by a bygone era. Before I sat down I knew what I was going to order: the Hot Rod Burger. It was probably a safe order on my part but I needed something familiar. It's a standard burger with the secret "Guppies sauce" drizzled on it.
When the burgers and fries arrived I devoured them in seconds. The fries are about as close to perfection as a food can get. Guppies hasn't lost a step in their classic diner cuisine. Now I just need to find an excuse to visit and try their breakfast menu.
Guppies are back with their signature food and style. If you've missed them during their absence make sure to swing by and see what you've been missing out on.
As of the writing of this article, the menu and hours are in a soft opening phase. Make sure to visit Guppies Hot Rod Grille Facebook for updates on what items are served and when the hours are changed.
Local Eats: Kajun Pot brings cajun spice to Southern Idaho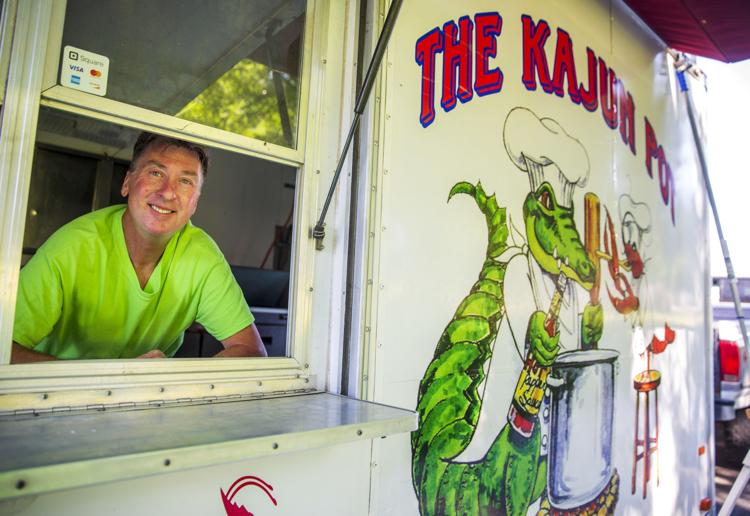 Where and When: The food truck operates at events. Visit their Facebook page to find out where they will be. You can catch the Kajun Pot at Joe Mama's Car Show on Aug. 17 and the Thousand Springs Festival of the Arts on Sep. 21-22.
To cater for an event call The Kajun Pot at 262-455-8550.
Menu: The Kajun Pot offers a wide variety of cajun cuisine — gumbo, shrimp creole, cajun chicken sandwiches, alligator sauce piquante and more.
Why we love them: When The Kajun Pot opened for business three years ago it wasn't exactly met with open arms. A man walked up to the cajun themed food truck and said, "Boy, don't you know where you're at? This is Idaho — it's meat and potato country. You're going to starve."
Despite the near foreboding message early in its career, Kajun Pot is still growing in Southern Idaho. It recently won first place for the People's Choice at the Art in the Park Food Truck Fest.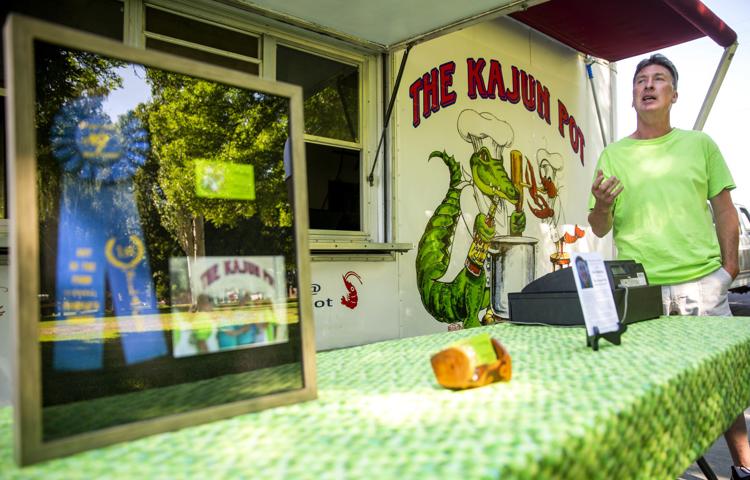 The owner, Rich Mattice, has been all around. His growing menu carries every place he has lived. He lived in Idaho until he was 15 years old, Chicago for 38 years and Mississippi, where he found his love for cajun food. Mattice perfected his cajun cooking learning from friends in New Orleans.
"I always knew that I would come back to Idaho," Mattice said.
While developing the menu, Mattice understood who his audience is. He knew to dial back the spicing, which could be a main concern with people from "meat and potato country." That's not to say that the food doesn't have a nice kick to it, but it's not sweat inducing.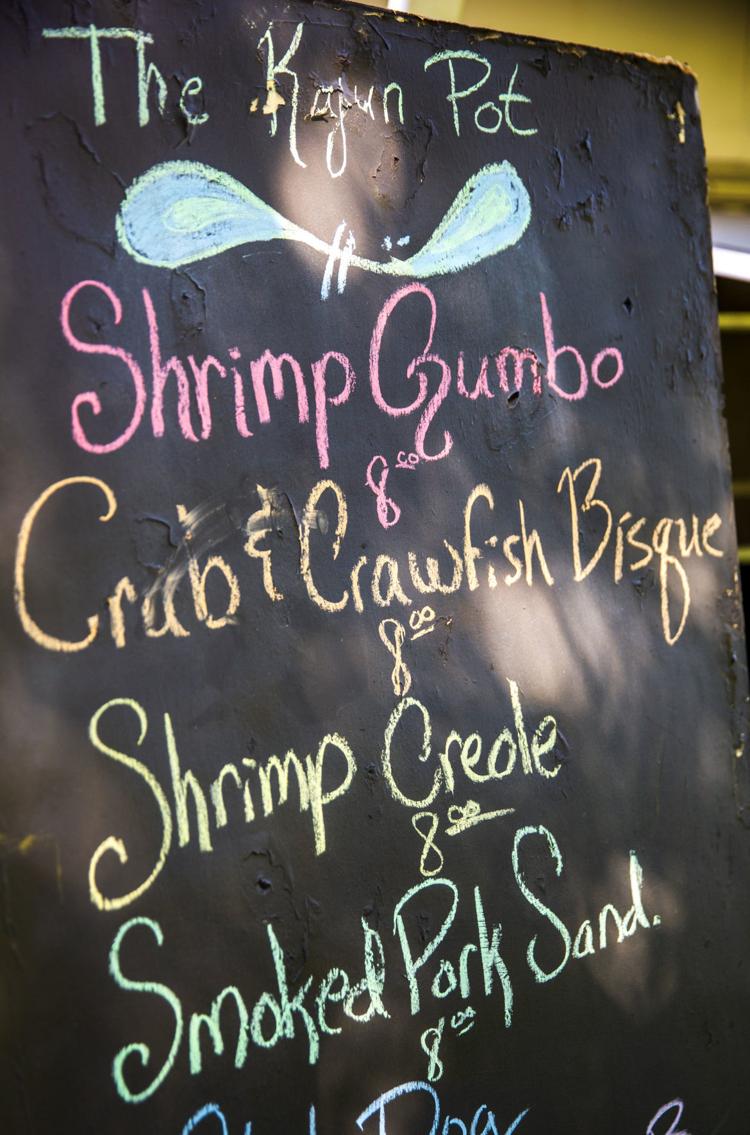 Mattice hopes to one day turn the food truck into a full-time restaurant. The motto for The Kajun Pot is "Let the good times roll," a mindset that Mattice seems to embody.
Local Eats: Saffron brings Indian food to downtown Twin Falls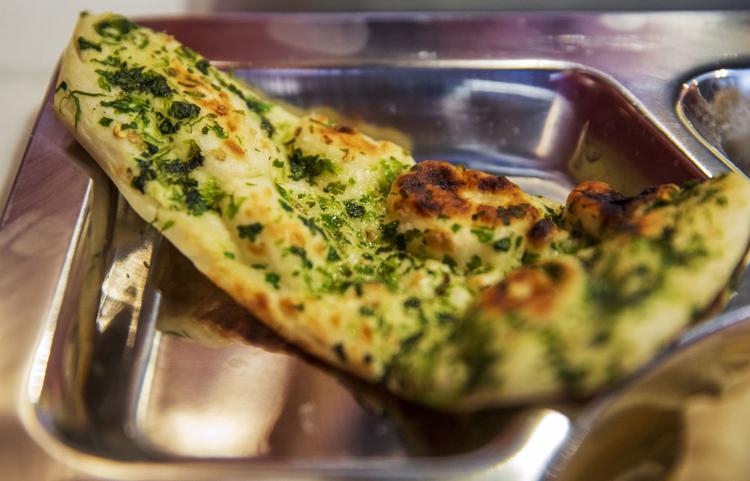 117 Main Ave. E., Twin Falls
Hours: 5—9 p.m. Monday; 11 a.m.— 2 p.m. and 5—9 p.m. Tuesday through Saturday
Menu: Lamb Curry, Chicken Korma, samosas and more.
Price range: Lunch menu: $7 to $9 Dinner menu: $8 to $15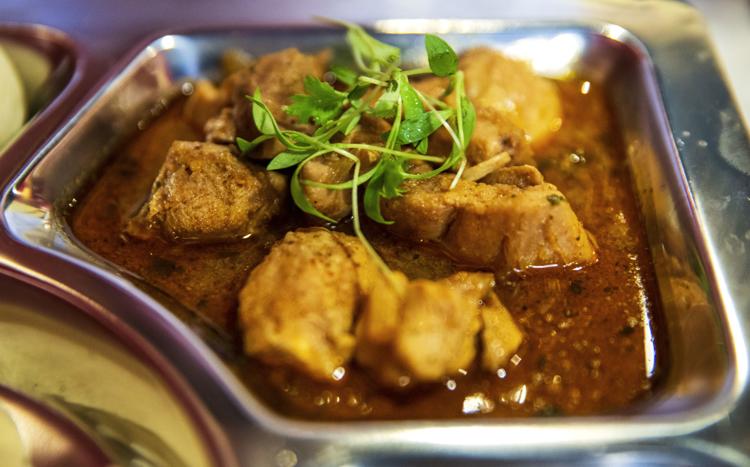 When Ratnadeep Chakraborty saw Twin Falls, he recognized the diverse food offered but he noticed one glaring hole in the restaurant scene. The Saffron owner and head chef moved to Twin Falls with one goal in mind — to bring Indian food to Twin Falls.
He moved to the United States four years ago and worked as a chef in San Francisco, Los Angeles and Sun Valley. While working in Sun Valley, he heard of a need for Indian food in the Magic Valley and then he made the move to start his own business. The restaurant opened on June 13 and has received a near-universal "I've been waiting for so long," from customers in Twin Falls.
"I've heard that people are waiting a long time for Indian food," Chakraborty said. "Indians love eating Indian food. We don't get that flavor anywhere else. We would have to travel to Boise and Salt Lake City. I bring the Indian food to their doorstep."
The dishes include a wide variety of Indian food. Chakraborty includes little twists like tuna or avocados with some of the items on the menu. He opts to use seasonal vegetables so the menu will change with the seasons, which is a great excuse to visit the restaurant every season to experience something new.
When creating the menu, Chakraborty knew that he had to dial back the spiciness for his audience but he didn't want to lose any flavor.
"I would describe Indian food as a mouthful of flavor," he said.
A great introductory dish is the chicken or vegetable thali. These lunch specials offer nine items on one plate: chicken curry, dal (a lentil soup), mixed vegetables, basmati rice, roti, mango pickle, papad and gulab jamun (the Indian sweet). The meal is designed as a one-stop experience of India in one stop, Chakraborty said.
The basmati rice mixes with every option. Getting some of the mixed vegetables with the rice gives it a cool refreshing taste, and scooping up the rice with the papad creates a delightful combination of textures, but the rice and chicken curry combination is nothing short of a religious experience.
If you haven't had Saffron Indian Cuisine yet, do yourself a favor and treat yourself as soon as possible.
Local Eats: The mystery of Persian Coffee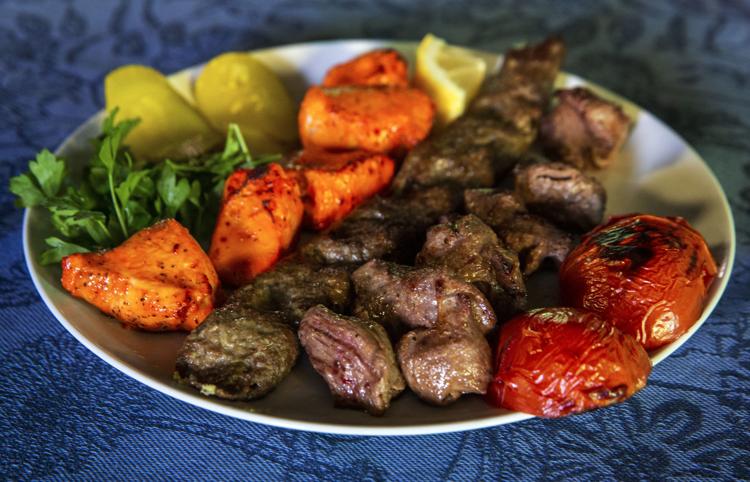 Persian Coffee and Mediterranean Food
Menu: The options extend from Mediterranean to traditional Persian dishes. Expect tasty kebabs and plenty of rice in every dish.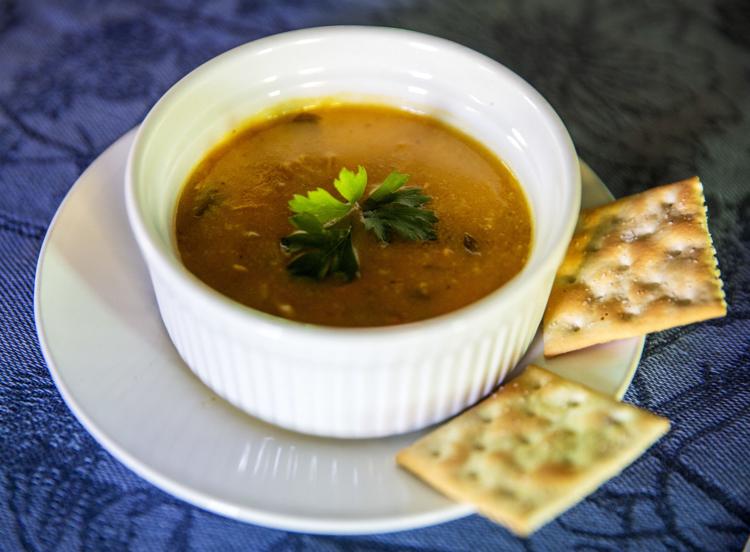 Why we love them: For the last couple of months Persian Coffee has sat across the street from Times-News as a mystery.
In the newsroom, we would frequently talk about it. It was an enigma to us. For weeks it was said to be open with not a soul in the restaurant. The dance parties held at the venue didn't answer what type of food would be served. Two weeks ago it finally officially opened. There were glowing reviews on social media, so I felt inclined to sample the menu and see what Persian Coffee had in store.
I ordered Makhsoos, the most bang for your buck item on the menu, a skewer of chicken cutlets, marinated tender lamb and seasoned beef with a large plate of saffron rice and a grilled tomato on the side. If you do order this, I implore you to share because this is a lot of food.
The highlight was easily the extremely tender chicken that would shred apart with the tiniest push from my fork. Combining each of the meats offered with the rice was an expedition into the different flavors they offered.
Not to be outdone, the simple Persian soup that was brought as a side was an absolute delight. If anyone is looking for a lighter dish to dive into Persian food, I highly recommend trying the soup.
Now, I only tried the one meal, but it was a great way to get my foot into the door and see if Persian Coffee was a worthwhile addition to downtown's growing food options. Needless to say, I'm excited to try more on the menu.
For more information, call 208-219-2226.
Local Eats: Eman Foods shows off Afghan cuisine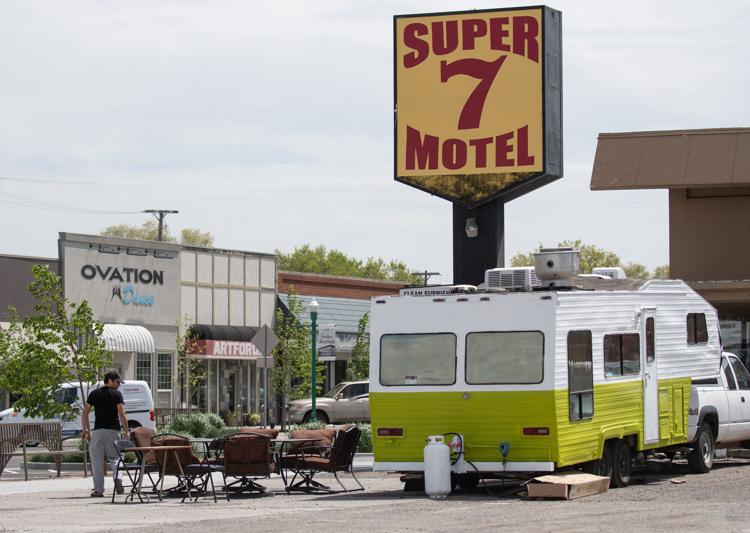 320 Main Ave. East; outside of the Super 7 Motel
Hours: 12 to 8 p.m. Monday; 11 a.m. to 8 p.m. Tuesday through Friday; 11 a.m. to 11 p.m. Saturday
Menu: Eman Foods offers a wide variety of food from Afghanistan with inspiration from surrounding countries
Why we love them: Afghanistan is more of a melting pot of customs and culture than it is given credit for.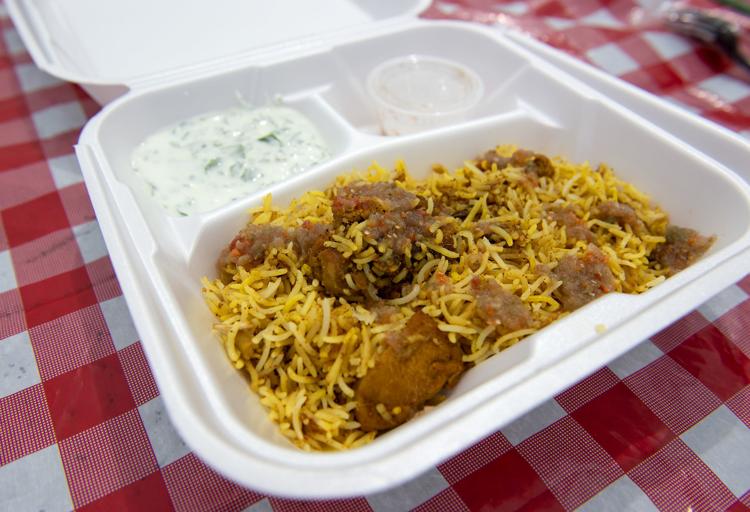 The landlocked country is surrounded by Iran, Turkmenistan, Uzbekistan Pakistan, Tajikistan, India and even reaches out to China. That blending of cultures is most evident in Afghan food.
Eman Foods, the newest food truck in Twin Falls, hopes to highlight Afghanistan's expansive cuisine. The food truck opened three weeks ago behind Swenson's supermarket. The truck found a home outside of the Super 7 Motel on Main Avenue.
Fathe Noori, the owner of Eman Foods, worked with the U.S. Army for five years as an interpreter. Noori and his family moved to Twin Falls in 2014 and started attending the Magic Valley Refugee Day where they would serve Afghani food. Everyone would ask where they could eat this food in the Magic Valley outside of Refugee Day.
For the menu, the family tried to find food common in other countries. Jalebi, a common dessert in India, Pakistan and Afghanistan, is a tasty treat made by deep-frying maida flour which is soaked in a sugar syrup afterward. The spicy chicken biryani rice is a particular highlight on the menu. The dish is common throughout India and the Middle East. It's a spiced dish of delicious chicken on a bed of Afghan rice with a mild kick of spice.
"They are trying the food from the Middle East," Noori said. "Afghanistan is called the heart of Asia. It's a mix of cultures."
Noori hopes to someday open up an Afghanistan restaurant where guests will sit on the floor as per standard Afghan dining etiquette. He envisions a place that celebrates the culture with pictures of the home that he left behind.
"My goal is to have this restaurant where people will see the pictures and hear Afghan music," he said. "It'll make people feel like they are in Afghanistan."
For more information call 208-293-4891
Local Eats: 4 Roots aims to offer a healthy alternative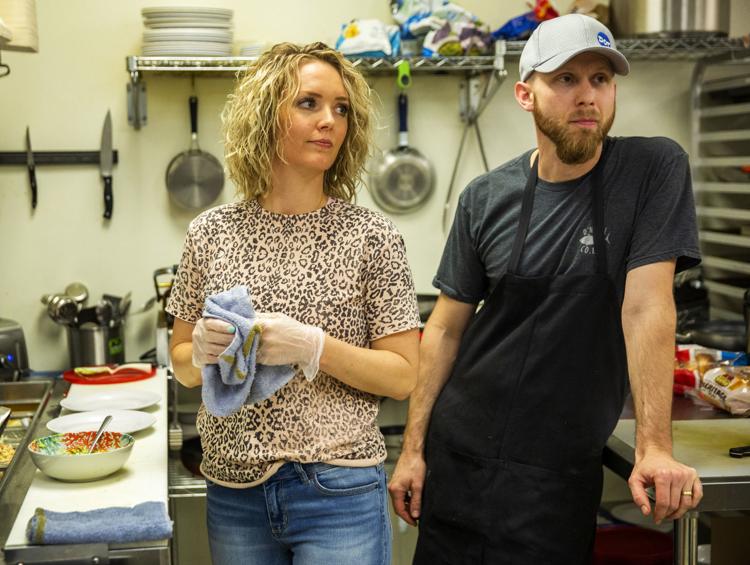 4 Roots Juice Bar and Cafe
1563 Fillmore St., Twin Falls
Hours: 7:30 a.m.—7:30 p.m. Monday through Thursday; 7:30 a.m.- 5 p.m. Friday and Saturday; closed on Sunday
Menu: 4 Roots Juice Bar and Cafe offers smoothies, wraps and salads.
Beth Sluder and Christopher Steen's daughter was sick from the time she was 2 years old and they did everything they could to improve her health.
Sluder was obsessed with studying nutrition to help reduce inflammation in her daughter's body. The only restaurant that fit in her daughter's autoimmune protocol diet was 4 Roots.
The couple took ownership of 4 Roots on Aug. 1. They spruced up the interior design, but they made sure to stick with the healthier menu by having gluten free, Keto diet-friendly food, and vegetable and fruit inspired smoothies.
"We know how important eating healthy is," Sluder said. "It can be more expensive, but it's more fulfilling."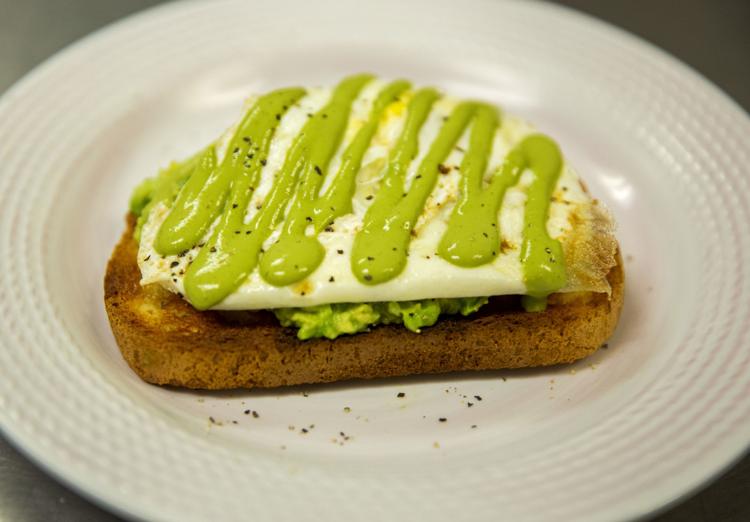 Steen's father owned a steakhouse, so he's no stranger to a kitchen. He operates the kitchen now and wants a menu where every item rewards the body.
"We want to make food that fuels the body," Steen said.
Sluder recommends the pulled barbecue jackfruit sandwich with vegan coleslaw and cashew cream.
The restaurant is totally sustainable; food scraps are donated to farmers and used by them, volunteer Carrie Peterson said.
"All of the usuals love this place," Peterson said. "We also get a ton of people who find us when traveling through."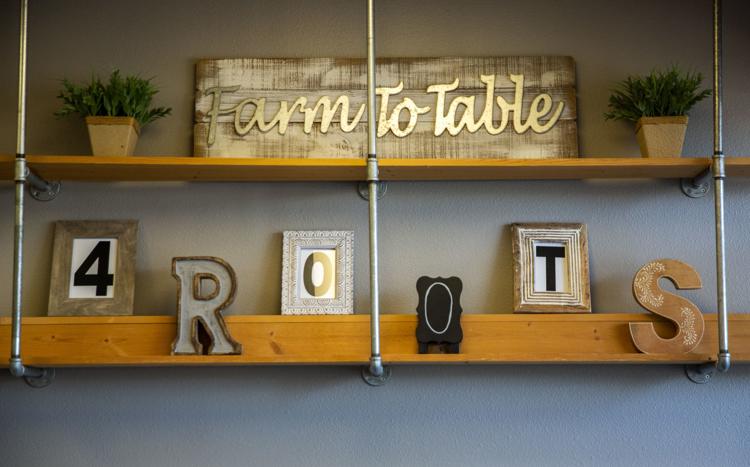 Local Eats: Pebble Ponds Golf Course and Restaurant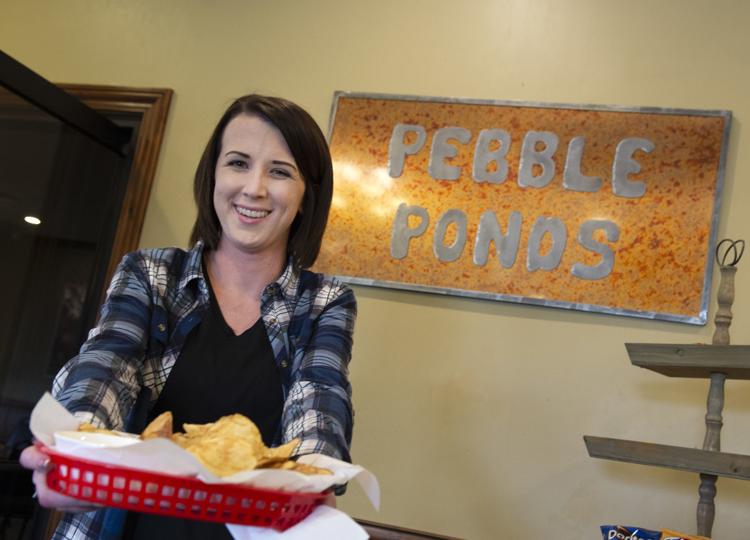 Pebble Ponds Golf Course and Restaurant
Hours: 11 a.m.-9 p.m. Monday through Saturday.
Menu: Pebble Ponds offers burgers, salads and sandwiches. They have an extensive appetizer menu, with finger steaks, Yankee chips and more.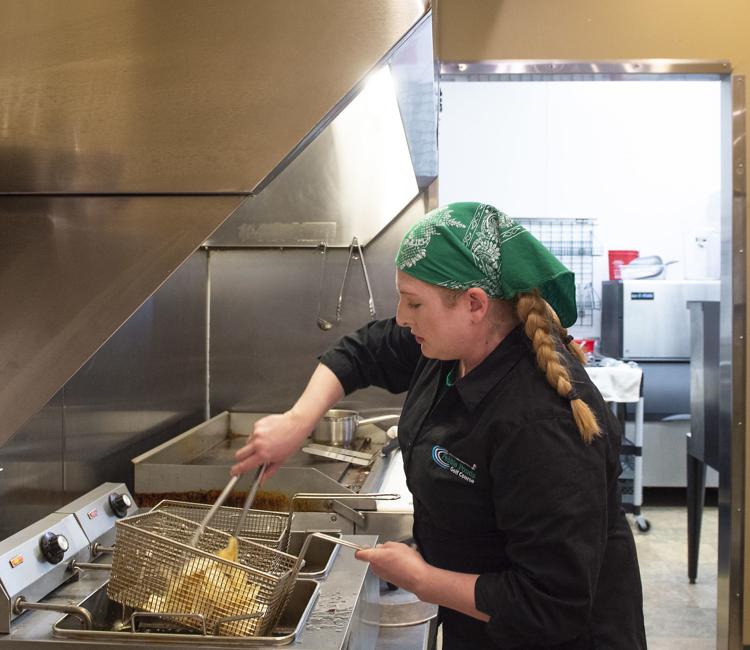 Summer is right around the corner which means swimming pools, camping and most importantly getting to play golf.
Pebble Ponds Golf Course and Restaurant was bought by Amanda and Kyle Vander Stelt in May 2018. The golf course is a nice and easy 9-hole, par 3 golf course. A perfect way to spend a relaxing afternoon in the summer. On top of that, there's a nice restaurant which is where golfers can treat themselves after mastering their short game.
The restaurant was originally Blu before it moved to Twin Falls. Now, it's shaping its identity with a relaxing atmosphere and comfort food. When starting the restaurant, Amanda talked to people in the neighborhood about food they would want and the consensus was burgers and sandwiches. Cook Kendi Lawton plans to expand on the menu this summer with some salads.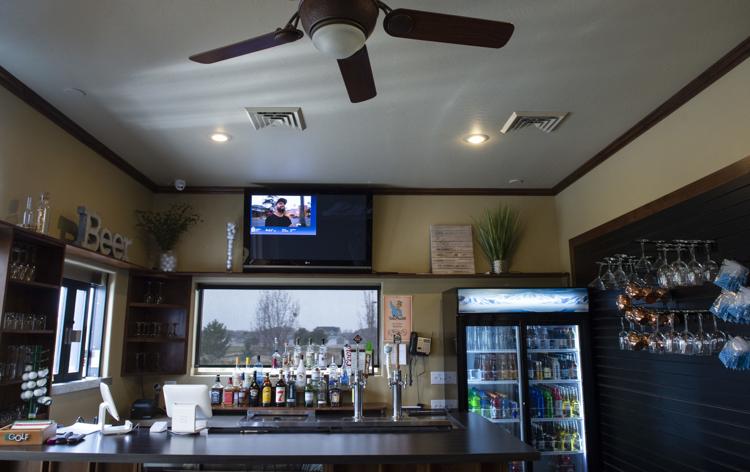 The highlights on the menu is easily the Taco Tuesdays where every taco is only $1.25. A fan favorite are the Yankee Chips—homemade chips with a homemade dill-dip, a snack that might be a bit much for one person but will quickly disappear when sharing it with friends. A good place to look for deals and specials is the Pebble Ponds Facebook.
"We've had people not know about this place," Amanda said. "We just want people to know we are here."
Local Eats: O'Dunkens brings the best of the past to a current menu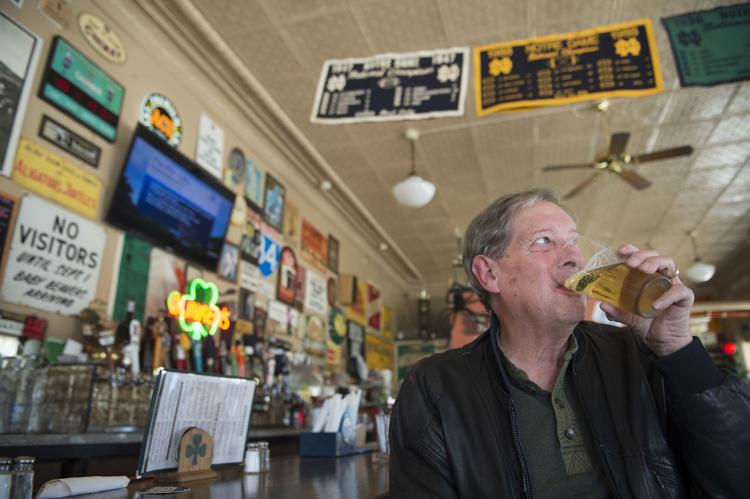 102 Main Ave. W., Twin Falls
Restaurant hours: 11:30 a.m.-9 p.m. Monday through Thursday; 11:30 a.m.-10 p.m. Friday; 12 p.m.-10 p.m. Saturday; and 12 p.m.-5 p.m. Sunday.
Bar hours: 11:30 a.m.-10:30 p.m Monday through Thursday; 11:30 a.m.-10 p.m. Friday; 12 p.m.-10 p.m. Saturday; and 12 p.m.-5 p.m. Sunday.
Menu: O'Dunkens offer more than just Irish fare, they have a variety of pizzas and sandwiches and, of course, Guinness.
When Bev O'Connor and her husband, Steve, bought Dunkens in 2003 they wanted to add something that would last. They needed something that would last.
The restaurant opened in 1990 as Dunkens. So they changed the name to O'Dunkens, as a nod to the O'Connor name. It was a small addition, but O'Dunkens is built on these tiny gestures that build themselves into something grander.
"Every owner put their own special touch," Martinez said. "O'Dunkens is all of us."
The walls are plastered with items added from previous owners to give the restaurant personality. But no part of O'Dunkens shows off the years of collaboration quite like the menu. It features items suggested from past employees with recipes that have been tweaked throughout the years.
A highlight is the stromboli, which is an item that O'Connor recommends. It's a sandwich containing ham, salami, pepperoni, provolone cheese and pepperoncini all heated and cradled in focaccia bread.
O'Connor and her husband bought the business on a whim; it was a daring venture for the couple in their 50s. The most intimidating aspect was overseeing the St. Patrick's Day parade.
"Being around people in the town you realize that is your passion," O'Connor said.
Local Eats: Norm's Cafe offers a sense of family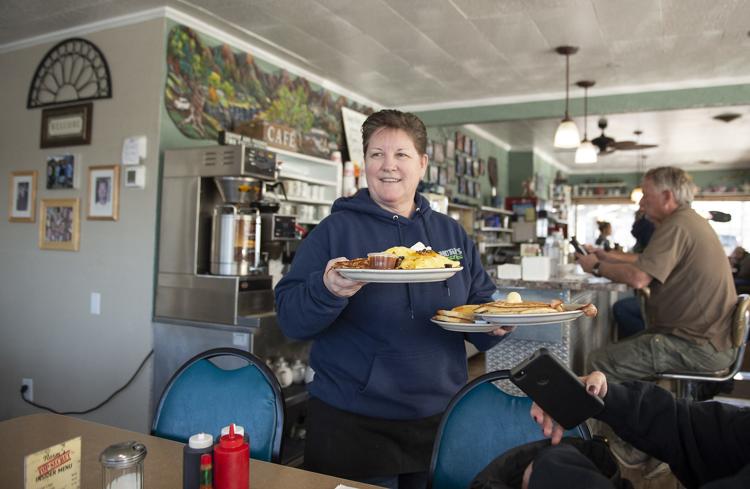 803 Main Ave. N., Twin Falls
Hours: 6 a.m.-8 p.m. Monday through Friday; 6 a.m.-3 p.m. Saturday; and 8 a.m.-3 p.m. Sunday
Menu: Norm's offers standard diner food; an extensive breakfast menu, burgers and more.
In an era where businesses survive off their social media presence and every corporate brand markets fake relatability on Twitter, the classic diner stands as a testament to the importance of making meaningful connections with customers. No diner represents this more than Norm's Cafe.
Norm's Cafe was bought by Tom and Vicki Collins in May 1975 and has stayed in the family since. Kena and Scott Collins manage the restaurant now, as far as they are concerned it serves as a second home.
Throughout the restaurant, there are reminders of family hanging on the wall. Black and white photos of the cafe's origin and a family tree painted above the kitchen serve as reminders for where this eatery started. This feeling of family carries over to every aspect of Norm's.
"For us, [family] isn't just a word. We like for people to feel a part of that," Kena said. "We are off the beaten path. We like to cater to the people who will come back."
Karen wants Norm's to stay small and stay true to their vision of family.
Frank Reed, a regular of Norm's, comes every Thursday for the meatloaf special since 1998. Although he loves the meatloaf he recommends everyone try the chicken noodle dinner. Make sure to get there soon before it runs out.
"People drive from Jackpot just to eat here," Reed said.
Be the first to know
Get local news delivered to your inbox!