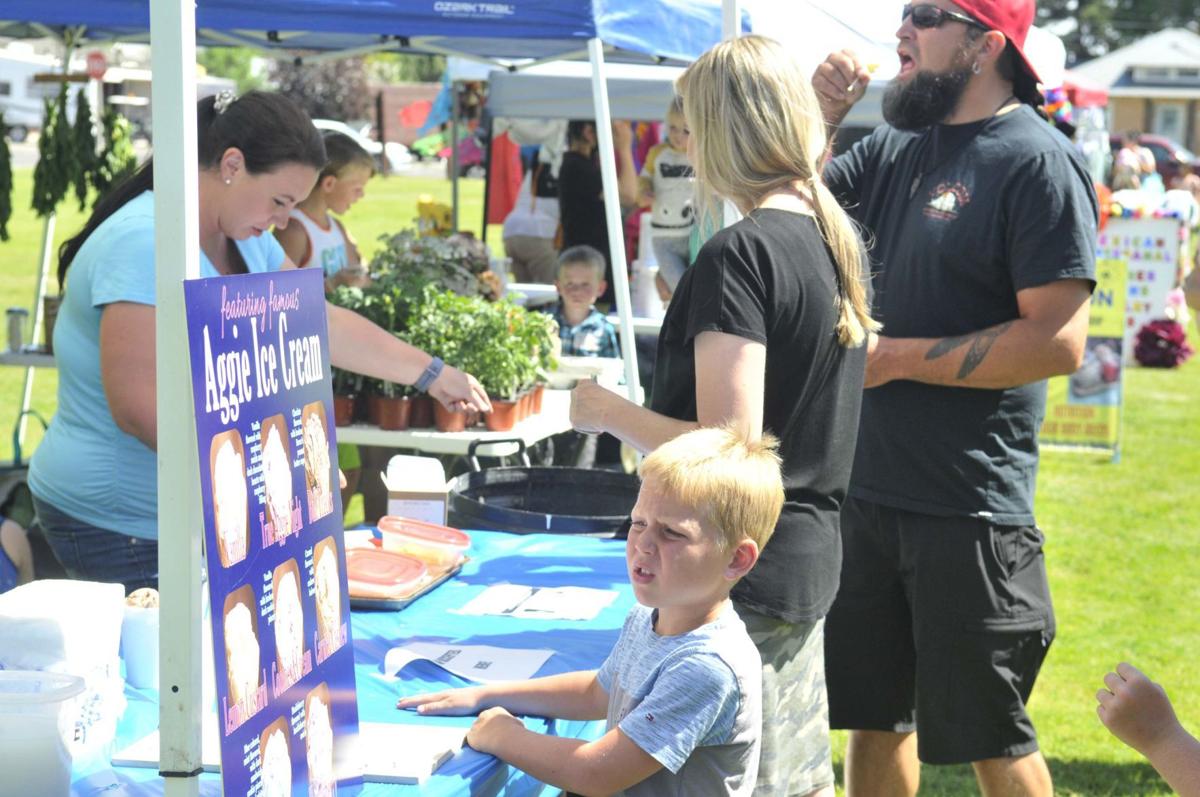 BURLEY — The first Burley Farmers Market launched Thursday at East Park with an array of vendors offering farm to table produce, eggs, lamb, ready-to eat shredded pork sandwiches, and handcrafted products like jewelry and items made from alpaca fiber.
"I think it's just great," said Karena Searle, of Burley, who attended the event with her children. "It brings us a variety of services and showcases local people. It also gives us something to do and it's a fun way to kill a few hours."
The market will be held from 3 to 8 p.m. July 9 and 23, Aug. 6 and 27 and Sept. 10 and 24 Each event will feature entertainment like musical groups, dancing lessons and, for a grand finale, a community talent show.
"It will feature people from all walks of life and with all kinds of talents," said Jessie McAllister, who organized the market in conjunction with Britney Tracy, both of Burley.
"We thought we needed a platform for people to sell their produce and to gather," McAllister said.
The market drew 33 vendors to its inaugural event, and has room to expand, Tracy said.
Burley's Amy Barber, owner of Fuzzy Fiber Farms, has three alpacas that are sheared and she handcrafts items from the fiber, which is hypoallergenic. The products include dryer balls that cost $5 for a small one and handmade soap encased in alpaca fiber, which can be used as a washcloth. She also makes alpaca fiber car fresheners that can be dabbed with essential oils.
She also has a variety of other items like herbs and reusable paper towels made out of flannel that can be washed and re-rolled onto a spindle.
"I love this, I'm so excited to have a farmers market here," said Barber, who moved to the area from Oregon. "Where I used to live there were farmers markets all over but when we moved to this agricultural area, there were none, and yet there are so many people here that grow and make things that could benefit the community."
Laura Welchly, owner of Purple Girl Boutique, which sells handcrafted leather and wooden jewelry, said so many of the small businesses have "been hidden away."
Alisha Samples, owner of Against the Grain, sells gluten-, dairy- and sugar-free mixes for breads, cupcakes, cookies and muffins.
"They are the best gluten-free products I have found. They taste like real food," Samples said.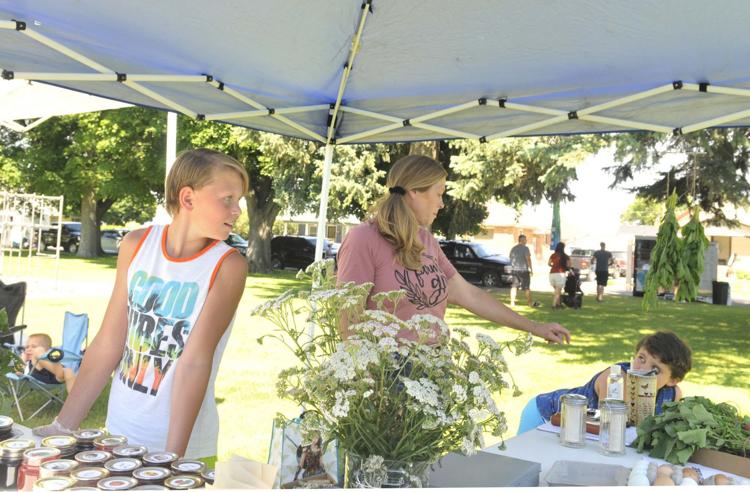 Katie Bunn, of Heyburn, and her two grandsons, Kalup Heward, 11, and Drake Koyle, 9, set up a booth to sell their chicken eggs, jams and fresh produce.
Bunn said her produce will increase as the year's harvest begins to ripen.
"I think it's great to have the whole town come together to show other people what they do," said Dana Yates, who was providing information on an upcoming class about fermenting foods like sourdough, kefir, yogurt and kombucha.
Be the first to know
Get local news delivered to your inbox!