RUPERT — Museum officials are working to identify a World War II camp building donated by the estate of a former Minidoka County commissioner.
Minidoka County Historical Society Museum curator Melissa Alley said David Teeter, who died in August 2018, left the 22-by-70 building to the museum in his will. Museum officials brought in Hanako Wakatsuki, chief of interpretation and education at the Minidoka National Historic Site, to tour the building on Oct. 18. Alley said they hope Wakatsuki's expertise will help them identify what type of building it was and which war camp it came from.
There were several types of WWII war camps in the state, including Camp Rupert, which held German and Italian prisoners, and the Minidoka War Relocation Center, locally known at the time as the Hunt Camp, which housed Japanese-Americans who were taken from their coastal region homes during the war, Wakatsuki said.
Nothing is left to mark Camp Rupert, which was west of Paul, except an interpretive road sign. The camp was the largest POW camp in Idaho and served as a base for 24 camps in Idaho, Montana and Oregon.
The camp had 170 buildings, constructed on 300 acres, including barracks, a field house, hospital, mess halls, chapel, commissaries, a large warehouse and recreation centers.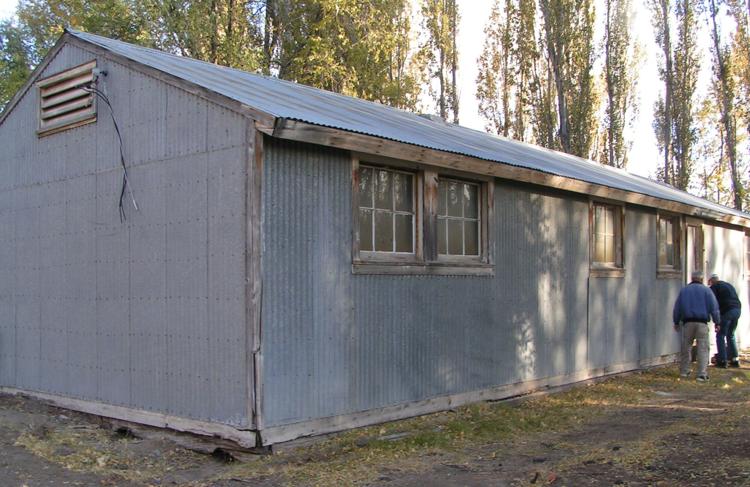 "The buildings were relocated and scattered all over after the war," Alley said.
Wakatsuki is still researching her findings from the building and she has reached out to the Idaho State Historical Society to see if the organization has additional information that may help identify it.
"Right now I'm leaning toward Camp Rupert," Wakatsuki said, but once the tin roofing used as siding comes off, further clues may be revealed.
You have free articles remaining.
The buildings at the relocation center all have doors on one side of the structures. This building has two doors, one on each long side of the building, but one of the doors may have been added after the structure was moved, she said, so further inspection is needed. Other clues include wooden floors in the building that appear nicer than those ordinarily used, Wakatsuki said. The difference could mean it was an officers' quarters or some type of administration building. It is also possible that the floors were installed after the building was relocated after the war.
Old photos show the buildings at Camp Rupert covered with tar paper, and tar paper will be put back on it as the building is restored, said Jim Grisenti, president of the museum's board of trustees.
"Pictures of Camp Rupert show a building similar to this one that shows desks with typewriters in it," Grisenti said.
The museum has some photos and documents from Camp Rupert along with WWII uniforms and other military items which will likely be displayed in the building when it is completed, he said.
The museum is seeking donations of $14,000 to move the building to a site west of 100 East on the museum's land. Cost for a foundation is expected to run $4,000 to $5,000.
"We are also looking for volunteers to help move it," Alley said.
Because contractors are booked up across the region, the project may not be accomplished until spring, she said.
"We are really eager to do this and create a display for the community," Grisenti said.