BURLEY — Cassia County and Minidoka County school districts launched free "Grab and Go" brown bag meals for all children under age 18 on Wednesday in response to the COVID-19 school closures.
Cassia County School District spokeswoman Debbie Critchfield said the program is an extension of the summer food program and the district will offer the meals this week and, if necessary, after spring break.
The district will serve breakfast from 8:30 to 9 a.m. and lunch from 11:30 to 12.30 p.m.
"No child will be turned away," Critchfield said.
The meals will be prepared at John Evans Elementary, Burley High School, White Pine Elementary, Declo Elementary, Oakley Elementary and Raft River Elementary.
Minidoka County School District is handing out lunches from 11:30 a.m. to 12:30 p.m.
The district will prepare the sacks through Friday and after spring break if there is still a need. Students will receive the bagged food at the kitchen door and take it home. No one will be allowed in the buildings.
"This was a really great thing to have available," Critchfield said.
The lunch bags on Wednesday at White Pine contained peanut butter and jelly sandwiches, cheese sticks, peaches and celery with peanut butter along with a container of milk.
Helen Bill, food service employee at Dworshak Elementary, was at White Pine handing out the meals.
"The biggest problem we have right now is that we don't know how many we need," Bill said.
The district's child nutrition programs director Angela Rodriguez was organized and had a plan in place on Monday morning and Tuesday was spent cleaning the kitchen, Critchfield said.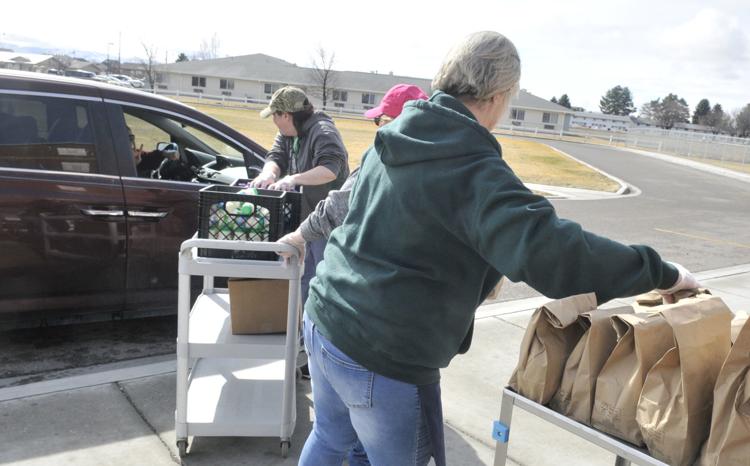 Twin Falls School District said on its website that if approved, it will feed community children at six school locations after March 30, if necessary. The locations are Bickel, Harrison, Lincoln, Morningside, Oregon Train and Perrine. Free breakfasts and lunches will be available to children ages 1 to 18. Children will need to be present to get a meal and they need to be taken off-site. Times will be announced later. Adults can also purchase meals.
The Jerome County School District said on its website that the district is working on a plan to provide breakfast and lunch if there is an extended closure of schools.
Complete coverage: What Idahoans need to know about the coronavirus
Looking for local information on the Coronavirus? We've got you covered.
Concerned about COVID-19?
Sign up now to get the most recent coronavirus headlines and other important local and national news sent to your email inbox daily.