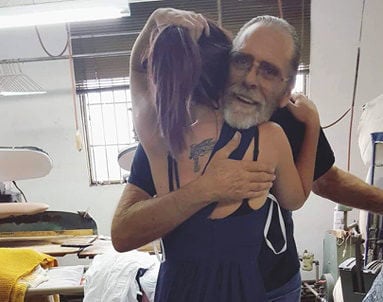 BURLEY — The community is rallying around the owner of Darrell's Dry Cleaners, who fell off the roof of his business April 18 and will be unable to work while he recovers from six broken ribs and a punctured lung.
Kevin Butcher, 63, was released Monday from the hospital but went back to the hospital on Thursday after his lung collapsed again.
Though the dry cleaner's business was experiencing an economic downturn due to the COVID-19 pandemic, Butcher had kept up regular hours for his customers — until Saturday when he missed the top step on the ladder as he came down from the roof, his step-daughter Jamie Walker said.
"He hadn't taken a day off in over 10 years so this is really hard on him," Walker said. "He really puts his heart into the cleaning, and he personally does the pressing. He loves the business — it was his mom and dad's business — and he feels like he has that reputation to uphold."
Butcher was on the roof getting the swamp cooler ready for the season, which is essential due to the nature of the business.
"It is 100 degrees in there and we really need it when the weather gets warmer," Walker said.
Walker's mother, Cindi Butcher, works alongside her husband in the business, but usually takes the weekends off to take care of chores at home.
Out of the blue, she decided to go with him to the dry cleaners, Walker said. Cindi Butcher was there with him when he fell shortly after 1 p.m.
He was descending from the roof to help with a leaking hose when he missed the first step on the ladder.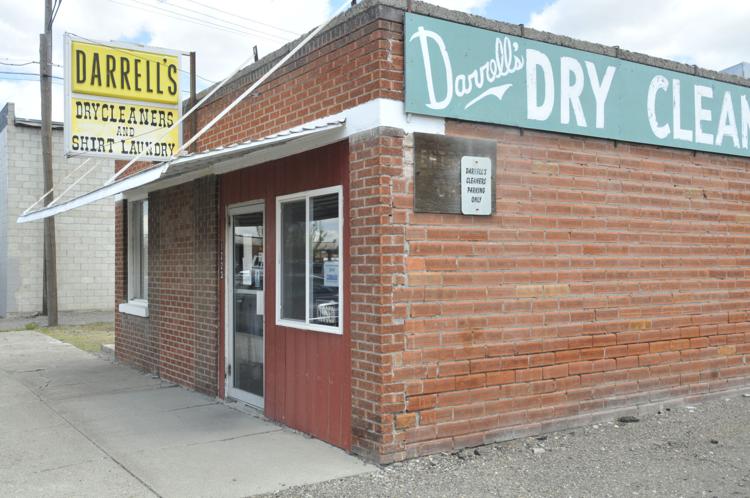 "He tried to grab the roof first and then hit the pickup tailgate, then the ball and the ground," Walker said.
When his wife tried to help him up, he began to vomit.
"She knew then that he was really in trouble and she drove him to the hospital," Walker said. "When they got to the hospital they were locked out."
Due to the COVID-19 outbreak, Cindi Butcher was required to stay outside the hospital as medical staff wheeled her husband into the emergency room.
"She called me from the parking lot and literally didn't know if he was dead or alive," Walker said.
When they called the hospital, they were unable to get information about his condition.
At 3 p.m., Kevin Butcher called home, but he was medicated and slurring his words, so they were uncertain if they were getting the correct information, Walker said.
At around 8 p.m., an emergency room nurse called them and updated them on his condition and said he was being admitted to the hospital.
"I feel so bad for people who have loved ones in a hospital right now," Walker said.
Her step-father was back to "cracking jokes in true Kevin fashion," she said, until Wednesday night when he coughed and his lung collapsed again.
Darrell's Dry Cleaners was opened in 1964 by Darrell and Dorothy Butcher, and is known for its "cowboy starch" on clothing that allows rodeo cowboys to just dust off their clothing after a fall, Walker said.
Her step-father has been known to keep customers' items for long periods of time for them when they're not picked up, she said. He once had a customer who had been jailed for three years, and his leather jacket was waiting for him when he got out.
"The jacket was sentimental to him and it meant a lot to him that it was still there," Walker said.
Nostalgia Coffee & Café owner, Ariel Perley, called Walker and asked if she could run a silent auction for Butcher.
"I cry every time I open that page," Walker said. "Our community is so amazing."
The donated auction items include packages and gift certificates.
"The donations just keep coming," Perley said. "It's really a testament to Kevin and the loyalty of his customers. It's super heartwarming."
Perley said she will start ending auction items at 4 p.m. on May 2, but because it is a fundraiser an item can still be bid on until the bidding for that item is officially closed.
"I obviously can't end all the items right at 4 p.m. so we will take the final bid on the item before it closes," she said.
Perley said this isn't the first auction she's held for small business owners but this one "has taken on a life of its own."
"I figured he's a small business owner and my neighbor so I wanted to do a live auction," she said. "Fifteen minutes later auction items were pouring in."
Donation items can be dropped off at the café. Call 208-678-1368 for more information.
"If individuals want to donate an item," Perley said, "I'd suggest they buy a gift certificate from a small business and donate that."
Perley's business has remained open during the COVID-19 shutdowns with carry-out and curbside service and this week they started delivery service.
"We are just trying to adapt," she said.
Be the first to know
Get local news delivered to your inbox!