BURLEY — Colorful cardboard guitars, intriguing Day of the Dead figures and shrines for important cultural figures along with beautiful art and crafts made by small children and their families are on display during the Emiliano Zapata Head Start Art and Craft Exhibit this week.
Getting parents involved at the school was one area of the program that needed improvement, Gailia Lara, education coordinator at the school said.
"The kids were also not doing well sometimes with self-expression," Lara said.
The school's first arts and craft show, she said, helped fill both needs.
"I think what these teachers are doing with these children is really amazing," Alicia Tellez, employment training counselor at Community Council of Idaho said as she looked at the brightly colored displays on Monday.
The art is on display through Saturday at Community Council's multipurpose room.
The head start program has 40 children enrolled that come from migrant and seasonal worker families.
The guitars were sent home for each family to decorate and they all came back with a unique flair. Fathers helped build art easels and mothers decorated Day of the Dead figures.
Parents also painted numbered blocks that once stacked together form a picture of famous Mexican artist Frida Kahlo.
The children also have numerous art pieces on display, including drawings done by some of the youngest members.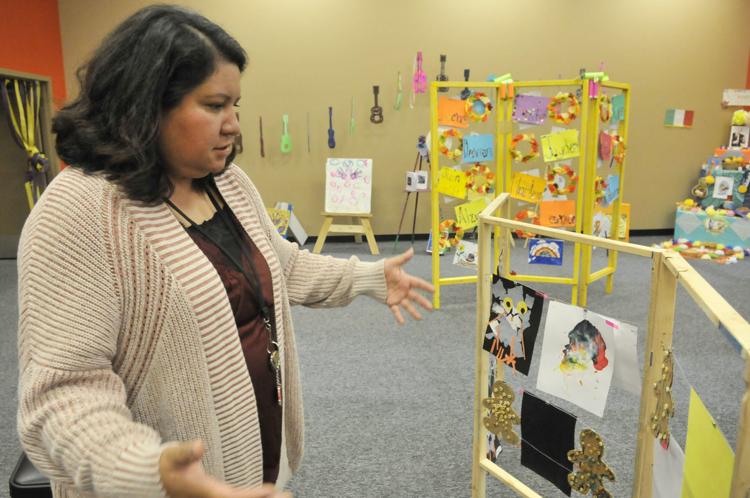 For one of the crafts, the children took laundry detergent and juice bottles that they transformed into an array of vehicles. The vessels were painted and festooned with wheels and are displayed on a streetscape.
A yellow taco bus designed by one child became a favorite with the children, Lara said.
One of the shrines features the school's namesake Emiliano Zapata, a leader in the Mexican Revolution.
The exhibit serves to educate people about Zapata and the cultural aspects of a shrine.
All of the projects were led by the center's seven teachers, who helped come up with the ideas.
"This has really helped the children come out of their shell," Lara said.