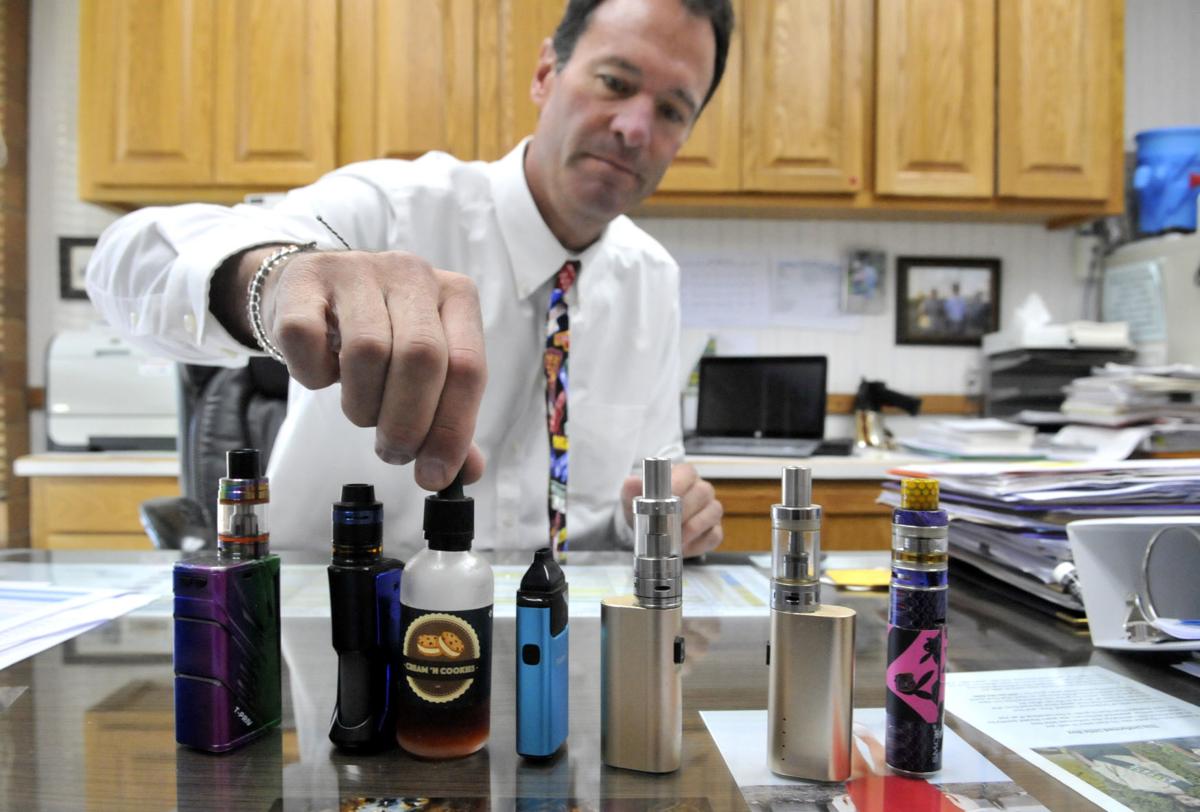 BURLEY — When a parent gets a whiff of bubblegum, blueberries or cookies and cream around their child, it could indicate they are participating in a surprising activity: vaping.
"These vaping companies are marketing their products to kids," said Debbie Critchfield, spokeswoman for the Cassia County School District. "If you walk into your teenage son's bedroom and it smells like blueberries or some other fruity smell, it could be they are vaping."
Critchfield said the problem extends across the district and nation and is not just a problem with high school students. Middle schools are seeing an increase in vaping and it is trickling down to elementary schools.
"We have kids vaping during classes and exhaling into their sleeves, and it just smells like bubblegum," Critchfield said. "They are also getting caught vaping in the bathrooms."
Out of 22 student suspensions across the district in spring 2019, 14% were due to vaping, which tied with the numbers of alcohol use and weapons on the school grounds. Those three reasons came in behind the use of marijuana.
But in the previous fall, Critchfield said, vaping was the No. 1 reason for suspensions.
Under district policy, students can be suspended for three to five days for tobacco, vaping or possession of the products. The student's parents are also called and they may be referred to classes or treatment and face fines for an infraction after the incident is turned over to law enforcement.
"When parents are called in we usually get one of two reactions. It's either, 'Oh my goodness, I'll take care of it,' or they don't think their child was really doing it," Critchfield said.
Critchfield said parents are sometimes "absolutely shocked" and have no idea their child is vaping.
"Yes, it's a problem," Burley Junior High School Principal Steve Copmann said Monday. "We probably have vapes here at the school today."
The school has suspended three students since the beginning of the year and last year suspended 10 students in one day.
"The kids don't realize that little thing can get you hooked and it's like sucking on an exhaust pipe for your lungs," Copmann said. "We haven't caught anyone in class vaping at this school yet; most of them here are doing it in the bathrooms, where there aren't any cameras. But I've heard stories of students doing it in class and blowing it into their sleeve."
Copmann said there is no demographic for student vaping.
Most of the parents brought in to the school after their child was caught vaping were either unaware of it or "didn't care," Copmann said.
"Some of them are great kids, they are just getting into some really nasty stuff," he said.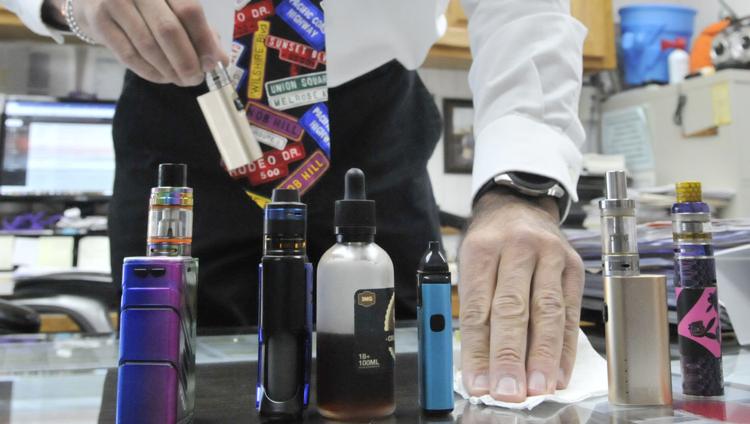 The Twin Falls School District policy on alcohol, tobacco or vapor smoking devices is similar to Cassia County school's policy with a three-day suspension for first-time offenders, a call to parents and the matter is turned over to law enforcement.
But, the district does not track the reasons for student suspensions, Twin Falls Associate Superintendent Bill Brulotte said. The district has not expelled anyone for vaping.
"Anecdotally, I can safely say that vaping has increased at the high school and middle school levels in the last couple of years and that we are starting to see that spill over into the elementary schools," Twin Falls School District spokeswoman Eva Craner wrote in an email.
Cody Orchard, health education specialist with South Central Public Health District, said the aerosol produced during vaping is not a harmless water vapor and it can contain harmful substances, including nicotine and formaldehyde, and many other substances in the flavorings are inhaled into the lungs.
It is a big problem, Orchard said. And most of the harmful effects of vaping are likely still unknown.
The patent on the e-cigarette was issued in 1938, but the first e-cigarette wasn't produced until 2003. Since then, the cigarette morphed into a vape device that often resembles some other piece of technology.
The bottom of the vape has a battery that heats up the device, a liquid cartridge of flavored oil and an atomizer. Some have a button that will drop oil on a hot coil and some types heat a coil that is activated when a person inhales through it.
"They are often small and easy to conceal," Orchard said.
The electronic devices can mimic other products like a flash drive, pen or smartwatch, and one company makes a sweatshirt designed for vaping where the user exhales into the hood string.
"Because they often look like tech devices, kids say they would be more likely to use them," Orchard said. And many young people don't think it's harmful.
It's becoming a rite of passage even to get suspended for vaping, said Orchard.
The oils come in 15,000 flavors and children can easily access vaping products online, which often only require a person to check a box stating they are over age 18 in Idaho.
The main health concerns of vaping are cancers from the formaldehyde created during the vaping process along with seizures from nicotine.
The back label of vape oil usually contains five to six ingredients, not counting the substances that are in the flavorings.
"They are putting chemicals into their lungs that aren't supposed to be there," said Orchard. "You need your lungs to be healthy."
Parents should watch for telltale signs of use like mood swings, anger, anxiety, stress or grades dropping or calmness, which could indicate recent use. Parents should also watch for isolation or a child shutting their bedroom door and if they find a device they are not familiar with, they can take a picture and use Google image to see if it is a vape device.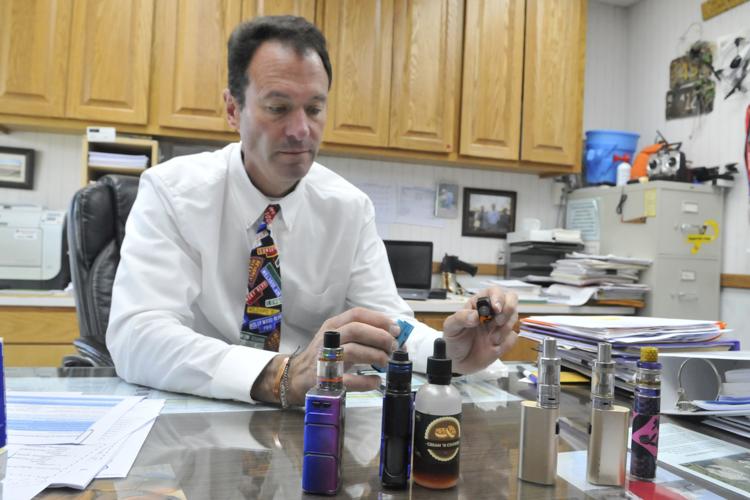 Orchard can provide informational classes on vaping at schools in the region. He can be reached at the health district at 208-737-5968. South Central Public Health District also offers free quit smoking or vaping classes.
Cassia County School District and Intermountain Healthcare will present "Vaping Summit, a Terrifying Epidemic" for parents and students from 6:30 to 7:30 p.m. Oct. 30 at Burley High School's lunchroom.
Be the first to know
Get local news delivered to your inbox!