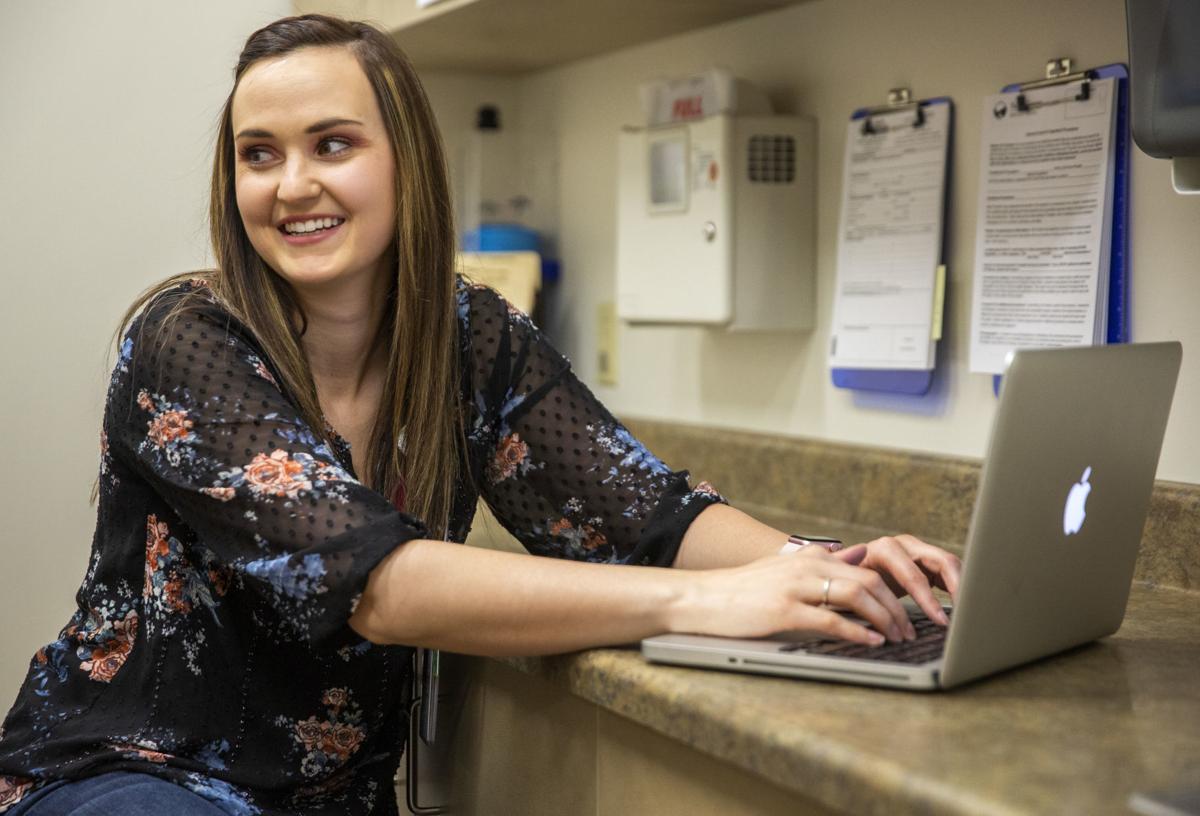 BURLEY — Magic Valley hospitals are limiting non-emergency and outpatient services in case a large influx of patients with COVID-19 are admitted.
A significant number of people are now required to self-quarantine due to contact with people who tested positive in Blaine County, a statement from St. Luke's Wood River Medical Center said, and the number of patients has taxed the hospital there.
Considering the small size of the community, the spread has disproportionately impacted caregivers in Wood River. Effective Friday, the hospital temporarily suspended normal operations, the statement said.
The emergency room will remain open with all admissions transferring to an appropriate facility. Surgical and obstetric staff is on call for emergencies and all non-emergencies and elective procedures are postponed. Services at the clinics in the community are temporarily suspended and staff is contacting patients to convert non-emergency appointments to telehealth options. The walk-in clinic next to the medical center will be open daily from 10 a.m. to 6 p.m.
The hospital is working with patients and their families to transfer or discharge admitted patients if it is medically appropriate and staff is working with first-responders and health care providers to divert new patients to other hospitals.
"Our number one priority is, and will always be, the health and safety of our communities — patients and caregivers," Carmen Jacobsen, chief operating officer and chief nursing officer for the hospital said in the statement. "The challenges we are experiencing in Wood River are perhaps unique, but what is also unique is our resiliency."
"The decision we have made regarding operations at Wood River we feel is an appropriate one to ensure the safety of our patients, providers and staff and will help us focus our resources where they are most needed — the emergency department, screening tent and walk-in clinic," she said. "We will continue to work with patients, their families and our teams at other locations to ensure they receive the care needed. We will continually work to keep our community informed. We thank you for your patience and cooperation."
Cassia Regional Hospital also started postponing non-urgent medical procedures this week to prepare for an expected surge in patients needing hospitalization for the virus, according to a press release issued by the hospital. The hospital also implemented new visitor guidelines and a COVID-10 Symptom Checker, both found on its website.
"If you have something urgent or emergent, of course we are going to take care of it. But we want to postpone something that is elective or that can be safely done later," Ben Smalley, Cassia Regional Hospital administrator, said in a press release. "We feel it would be irresponsible for us not to take this step at this time to keep everyone in our community safe."
While the change may create challenges for some people, it is a necessary and appropriate step, given the anticipated growth in the number of virus cases in the state, the release said. The change also promotes social distancing, which is critical to slow the spread of the coronavirus.
The move will free up space and beds, preserve supplies and ensure medical staff are available to treat coronavirus patients.
Postponed procedures will be rescheduled later. The hospital will continue to provide care for urgent situations and emergency patients.
St. Luke's Health System will suspend all non-urgent and non-emergency operations and invasive procedures starting Monday and suspended non-essential clinic visits. Some visits will be converted to non-traditional visits using phone, video or e-visits, other appointments will be rescheduled.
St. Luke's also implemented a new "no-visitors" policy Friday, with specific and limited exceptions.
"Yes, we have restricted elective procedures, which came from the U.S. Surgeon General," North Canyon Medical Center spokeswoman Shellie Amundson said.
Amundson said the change will also help limit the number of people coming into the building in Gooding.
North Canyon set up a hotline, 208-934-4747, which is staffed 24-hours a day, seven days a week, by registered nurses to help people walk through symptoms to assess whether they need medical care.
Tom Murphy, administrator at Minidoka Memorial Hospital, said some cases at the hospital are being postponed and some are being canceled due to screening.
"We are trying to continue these services as much as possible as some of them are vital services done on an out-patient basis that can prevent further decline in a patient's health status, thus keeping them from becoming an inpatient," Murphy said.
Murphy said the staff is monitoring the services on a daily basis because the situation can change rapidly.
The hospital has also isolated its outpatient and surgical services from acute care and inpatient.
"We realize that COVID-19 has been very disruptive to everyone," he said, "and we are doing everything in our control to protect patients, staff and community members."
Off-site hospital bedsAmundson said the hospital has an emergency plan in case something happens to the building or during a natural disaster that includes an off-site patient overflow facility and the hospital has the ability to set up off-site triage and screening.
North Canyon has negative pressure rooms that control airborne contaminants, but it does not have an ICU, so if a patient needs a ventilator they would be transferred to another hospital, she said.
Murphy said Minidoka Memorial does not plan to open up off-site facilities at this time.
"We have contingency plans that may involve applying for bed capacity waivers from the state in order to increase available beds," he said.
Stephanie Curtis, spokeswoman for Cassia Regional, said the hospital has a pandemic plan in place and ready to be implemented if need be for the community.
"We are exploring a range of options as part of our surge plan that will assist in informing adjustments to our operations that might be needed," said Michelle Bartlome, spokeswoman for St. Luke's Magic Valley Medical Center. "Our leadership, providers and staff train, drill and prepare for scenarios such as infectious diseases on a regular basis. As it relates to these types of facilities, we would coordinate such planning with other community resources who will be responding, and coordinate needed activities and resources accordingly."
Triage and screening sitesAccording to the hospital's website, St. Luke's has a triage and screening hotline, 208-381-9500. A clinical staff member will complete a risk assessment and provide next-step guidance, which may include specimen collection and testing.
In Wood River, drive-up screening and specimen collection is available at St. Luke's Wood River Hospital.
St. Luke's will be setting up COVID-19 tents for screening and specimen collection at all urgent care, emergency departments and ambulatory clinic sites. The tents will hold supplies and patients will stay in their cars for screening, registration and testing collection. If they need medical care they will be appropriately directed. The tents will be set up city by city and the situation is changing on an hourly basis.
Concerned about COVID-19?
Sign up now to get the most recent coronavirus headlines and other important local and national news sent to your email inbox daily.