BURLEY — The Magic Valley's first baby of 2019 made her appearance relatively late in the day — at 4:06 p.m. on Jan. 1 — but a week early according to her due date.
Amyiah Cortez was born at Cassia Regional Hospital to Jazel Tena and Austin Tamcke of Burley. She was the only baby born at hospitals across the valley on Jan. 1.
She weighed in at 8 pounds and was 20 inches long.
"I didn't think she'd be the New Year's baby," Tena said Jan. 2 as she held her daughter, who slightly wrinkled her tiny nose and kept her eyes tightly shut against the light streaming from the window at Cassia Regional Hospital. "I thought someone else would have one first. I think it's a little exciting and it's a big surprise. I wasn't expecting this at all."
Tena, who plans to become a registered nurse and eventually pursue a career as a nurse practitioner, said her coworkers at Park View Rehabilitation and Care Center in Burley, where she works as a certified nursing assistant, kept telling her she was going to have her baby on New Year's Day.
Tamcke said he was still trying to process bringing a daughter into the world, let alone being the parents of the first New Year's baby.
"It's a lot to take in," he said.
Stephanie Curtis, spokeswoman at the hospital, arrived at the maternity ward on Jan. 2 to present the new parents with a gray backpack diaper bag, as a gift from the hospital. The pack was stuffed with a blanket, bath towel, pink jammies, bibs, other baby care items and a couple of plush toys, along with a $50 gift certificate to be used at the hospital's gift shop.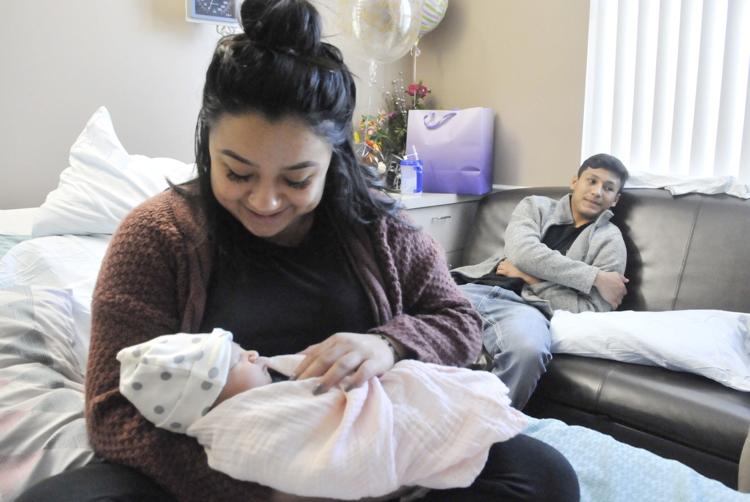 "It's been a while since we've been around babies and it's been a while since we've been changing diapers. That's our baby over there," Tena's mother, Erika Cortez, also of Burley said gesturing to her youngest child, Javier Tena, 17, who was sitting on a couch next to his sister and her new baby.
"I am her uncle," Javier Tena said. "And I am not ready for this."
Janel Tena's father, Adrian Cortez, and her mother were hoping their first grandchild would be born as a Christmas baby — because their daughter had some labor-type pains over the holiday.
No babies at all were born on Jan. 1 at St. Luke's in Twin Falls or Jerome.
It was an unusual twist, especially for St. Luke's Magic Valley Medical Center in Twin Falls, which delivers about 1,800 babies a year and typically has three or four babies arriving each year on New Year's Day.
After the quiet start to 2019, St. Luke's Magic Valley welcomed Andrey J. Miranda at 6:41 a.m. Wednesday. He is the son of Annette Miranda and weighed 7 pounds 10 ounces and measured 19.5 inches long.
Angelique Iniguez-Elize made her debut at 8:18 a.m. Wednesday at St. Luke's Jerome. She weighed 7 pounds 4 ounces and was 19.45 inches long. She is the daughter of Gloria and Eduardo Iniguez.
As of Wednesday afternoon, St. Luke's Wood River Medical Center still hadn't delivered its first baby of 2019.
Minidoka Memorial Hospital in Rupert and North Canyon Medical Center in Gooding do not deliver babies.
BOISE — As a labor and delivery nurse at Saint Alphonsus, Baylee Swift knows the first baby born in the new year is an exciting occurrence. Wh…