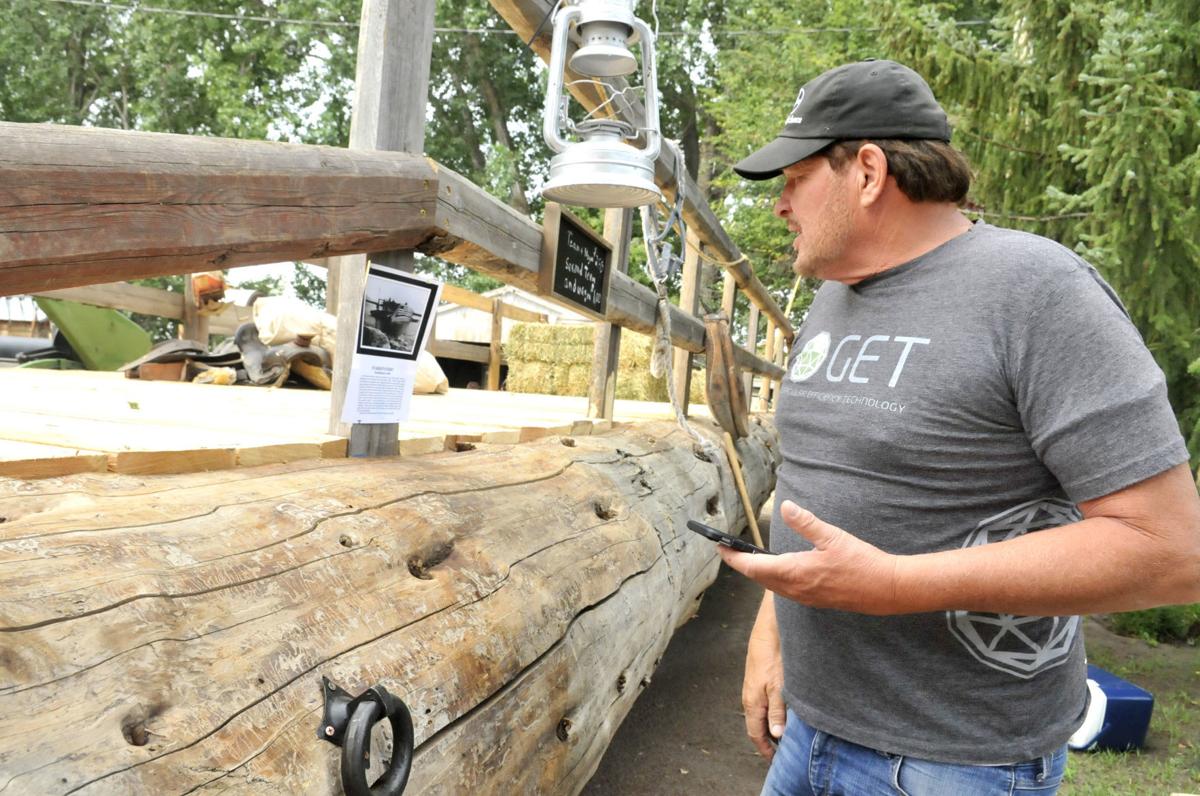 BURLEY — Mark Hobson grew up on a farm little more than a stone's throw from the remnants of Starrh's Ferry, which was the only way to cross the Snake River around the turn of the 20th Century.
As a boy, when the water dipped low enough, he could see the concrete moorings for the ferry.
About 10 years ago, Hobson, who still lives on the family farm, began dreaming of building a replica.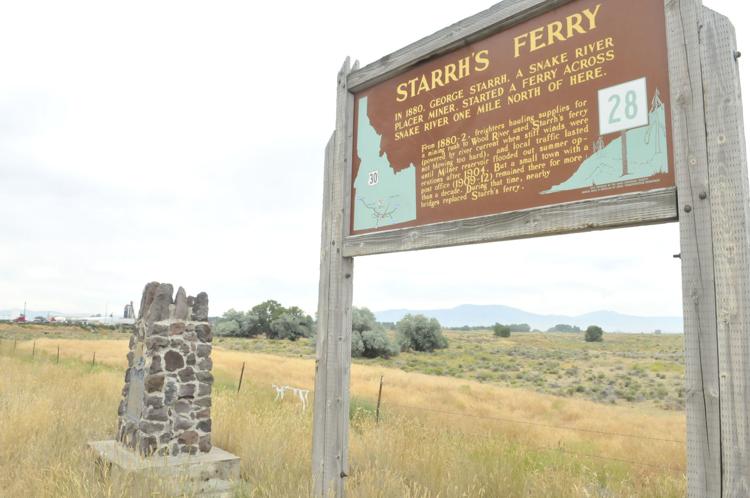 "They made me parade chairman at my ward about four years ago and I started drumming up business trying to get people to put wagons and things in the parade held at the church each year," Hobson said.
The Church of Jesus Christ of Latter-day Saints holds a Pioneer Day festival annually on July 24 commemorating the day church leader Brigham Young and the first Mormon pioneers entered the Salt Lake valley in 1847.
Hobson had watched numerous videos of past celebrations at his church, which fueled his desire to build something spectacular for people to enjoy.
"I began to think about it seriously about nine months ago," Hobson said. He had an old 10-wheeler chassis with a flatbed and began building around it.
"I had a vision of a ferry," he said, and he began studying photos of other ferries in the state and reading historical information on the Starrh's Ferry.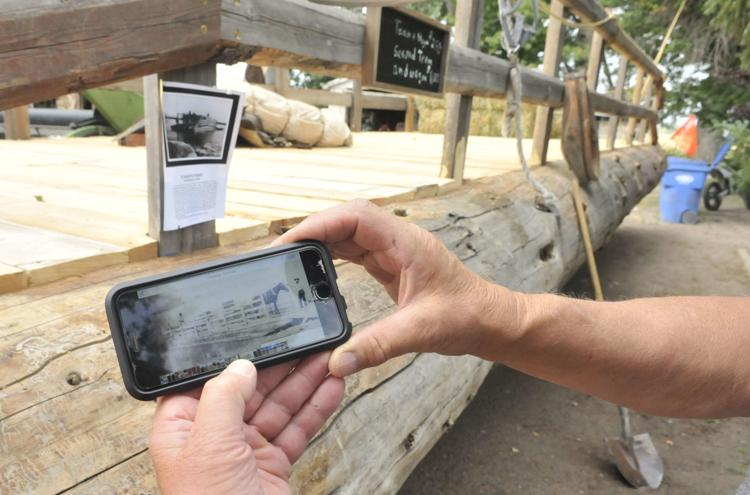 He started making phone calls to lumber recyclers about a month ago to find a suitably large log, and while they said they had some, they also said he wouldn't be able to afford them, because they are mainly used in the construction of houses in Blaine County, and they come at a hefty premium.
In Shoshone, he found a company with a 40-foot-long log that was sawed in half to make the outside rails of the 14-foot-wide ferry.
"I have no idea how much it weighs," Hobson said, who has decked out the replica with old lanterns, tack and small farming equipment.
The project cost many hours and about $6,000 to build.
You have free articles remaining.
In the summer of 1880, a placer miner named George Starrh established the ferry 4 miles west of Burley, according to a historical marker on U.S. Highway 30, near the original site.
When rich mineral mines were discovered in Wood River, the ferry was used to haul freight from the mines to Kelton, Utah.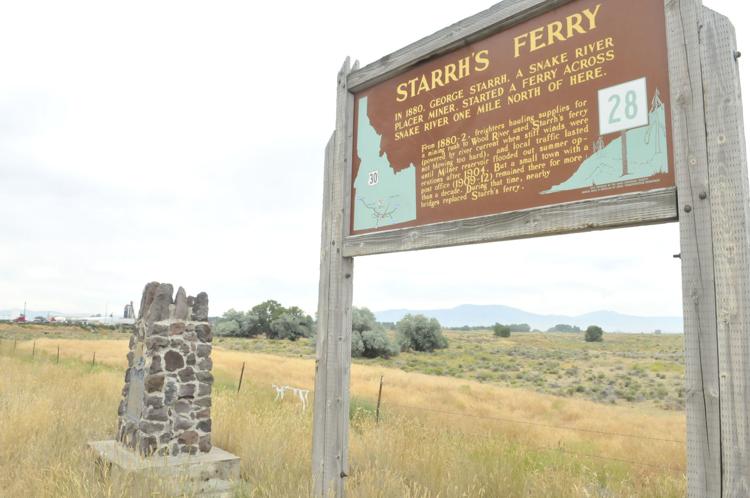 Starrh's brother, Thomas Starrh, took over the operation of the ferry after George Starrh returned to mining. The cost to ferry a team and wagon across the river was $2.50 and it cost $1 for each additional team. The ferry was attached to a cable running across the river and it was powered by the wind. The ferry couldn't run on very windy days because it would blow the ferry underneath the cable, according to historical documents at the Cassia County Courthouse.
Sometimes 50 wagons would be lined up waiting for three or four days for the wind to stop blowing.
The ferry remained in use until the Milner Reservoir flooded out the operations around 1904. A small town and post office remained for another decade. During that time, the ferry was replaced by bridges.
"I think the ferry he built is so cool and it looks really period specific," said Eli Hansen, Hobson's neighbor.
Hobson said his son, Presley Hobson, 24, has been less enthusiastic about the large wooden craft perched in the driveway.
"He asked me what I planned to do with that thing," Hobson said.
He put it in his church's July 24 pioneer celebration and he intends to enter it in the Cassia County Parade and then possibly offer it for use as a stage or bandstand.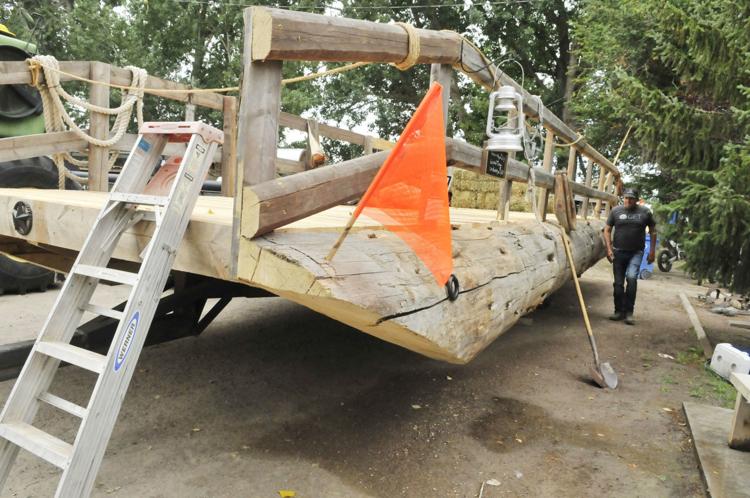 Hobson also pulled it in the Oakley Pioneer Days Parade mid-July, where it was a big hit.
"People kept coming up to my window and asking me about it," Hobson said.
Hobson intends to leave it uncovered for a while to allow the newer looking lumber on the ferry deck to bleach out for a more authentic look, and then cover it with a tarp this winter.
"I have no place for it inside," he said.