RUPERT — The moment Cayvun jumps from her kennel in the back of dog handler Lynn Porter's pickup, she understands her mission.
"Find the dead guy," Porter tells her. The directive is cushioned in the Gaelic language for the benefit of family members who have lost a loved one.
Cayvun in a cadaver dog and her reaction is swift.
The three-year-old sable German shepherd with soft brown eyes focuses on the training task Nov. 12 and begins wide sweeps at the Minidoka County Fairground, her nose millimeters from the grass and crunchy golden leaves.
Time spent training is vital to a search dog's success, but nothing prepares the handler — or the dog — for performing a search in real time with cameras rolling.
Porter and Cayvun will be featured on the cable channel Investigation Discovery at 7 p.m. Nov. 29 and Dec. 6 in a two-part special called "Cold Valley."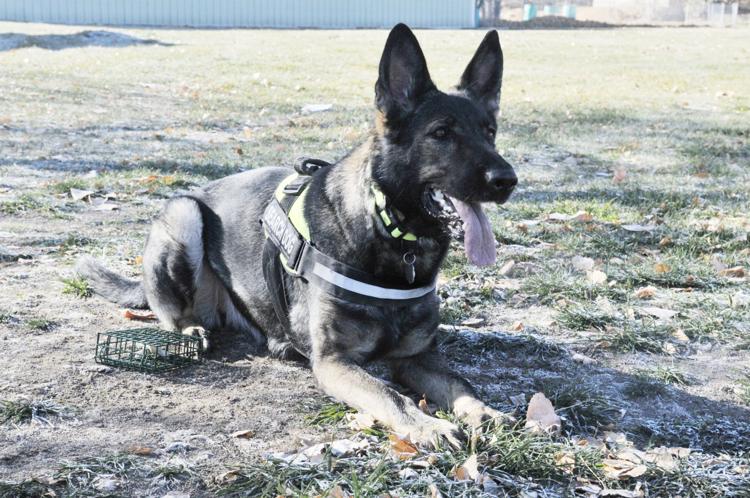 The documentary follows an Asotin, Wash., sheriff's detective and a relative of a missing woman as they try to solve the disappearances of five people between 1979 and 1982 in Lewis Clark Valley along the Washington and Idaho border. They may have been victims of a suspected serial killer.
"This investigation is incredibly unique because it is so close to being finally solved," Henry Schleiff, group president of Investigation Discovery, Travel Channel, American Heroes Channel and Destination America, said in a statement. "Part of our mission at ID is to show real people with real stories and, here the two women we feature are pursuing a story so chilling and compelling it's hard to believe it's actually true."
Officials previously found the bodies of three women who had disappeared, but the bodies of a 12-year-old girl and a 35-year-old man have never been found.
The search for the girl and man — recorded for the television show — took place a year ago at a parcel of Washington property tied to a "person of interest" in the case.
"There were cameramen and producers and everyone was in front of me and I couldn't see my dog half the time," Porter said about the experience.
Generally, if someone accompanies her on a search, they stay behind her or to the side, she said.
Cayvun didn't mind replaying one scene for the cameras when they asked that the dog come out of a barn a second time and head straight toward the camera, Porter said.
"My dog is a bit of a clown," she said. "The cameraman was kneeling and she headed straight towards him. At the last minute, she diverted a bit to the side of him and licked his ear."
Although no remains were discovered and no arrests have been made in the case, it certainly was an interesting experience, she said.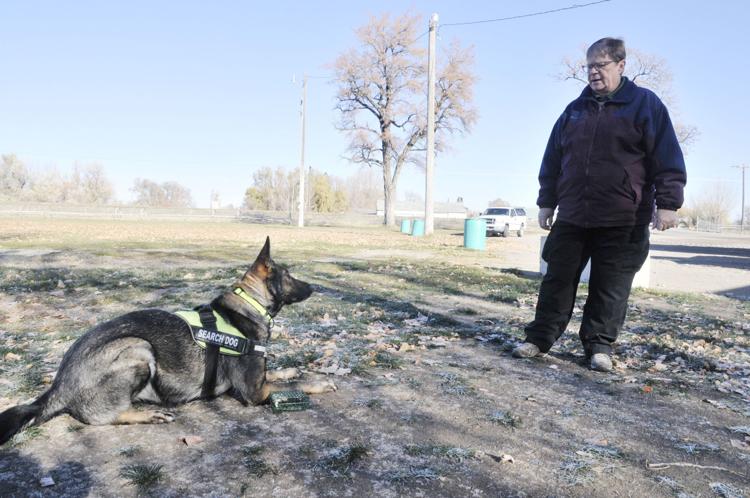 Porter, who never owned a dog growing up, said she first became interested in search and rescue in 1988 and has done cadaver searches with dogs since 2000.
She owns Semper Vigilans, which provides cold case-, forensic archaeology-, missing persons- and historic grave-location assistance at no cost. But, if the search is state-sponsored, Cayvun is reimbursed at $25 per hour.
Porter has owned several search dogs, including Beretta, who found the remains of missing Rupert mother Norine Boyd in 2012 at the City of Rocks National Reserve after Boyd had been missing for 24 years.
Beretta has since retired.
Owning and training search dogs is expensive. Over and above the dog training, the handlers have to undergo training in vehicle and building searches along with crime scene and evidence protection in order to be used by law enforcement.
The fairgrounds is the perfect place to hold training exercises because it is infused with the smell of thousands of people and other animals.
Cadaver dogs, however, hone in on only one thing: the smell of human remains.
The dogs are trained by hiding pieces of human bone, which, Porter said, can be purchased on the internet.
Once the remains are found, Cayvun has been taught to lie down beside it. Afterward, her reward is a short playtime with a favorite ball.
A successful search when remains are found can bring a rush of emotions, Porter said. You've accomplished your mission, but, on the other hand, there is a sense of sadness.
"You just proved someone's loved one is dead."
BOISE — Gene Ralston spends the majority of his days with a boat named Kathy G. — but that wasn't always its name.