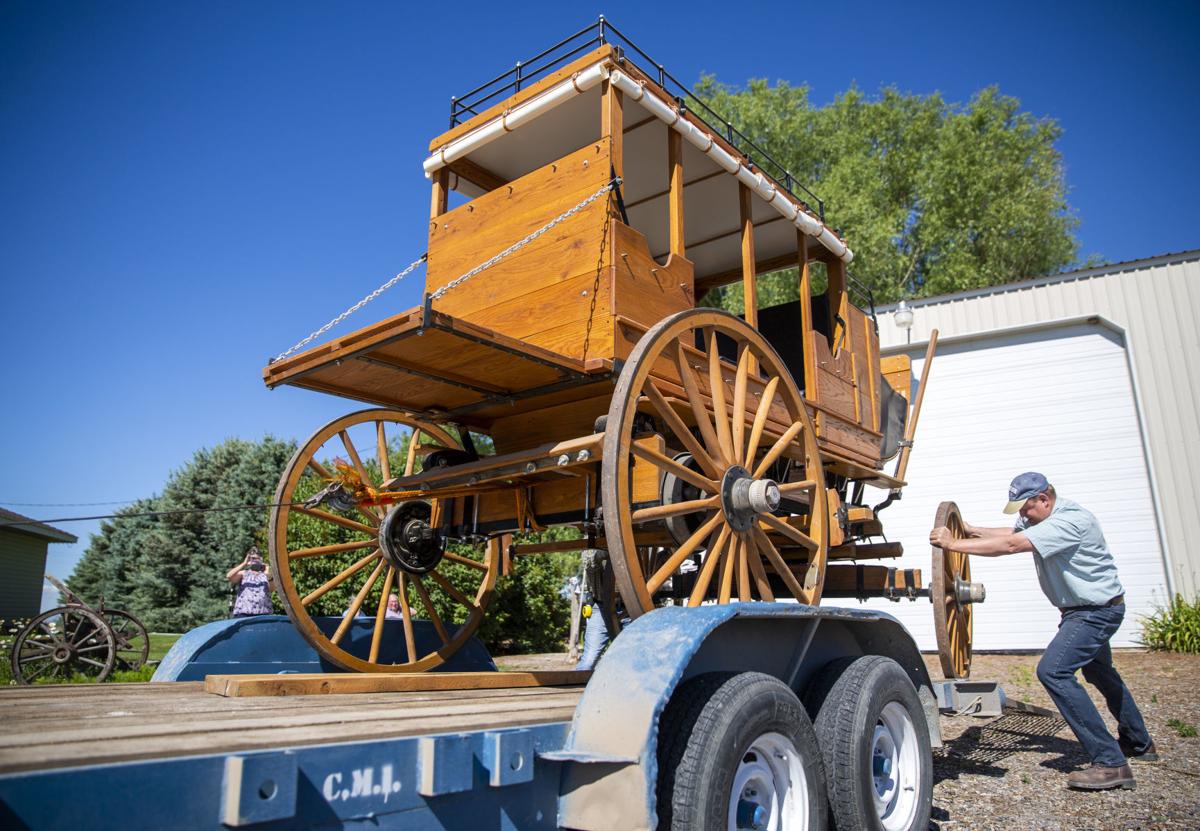 PAUL— The amount of time, talent, money and attention to detail that goes into building and restoring wagons, buggies and carriages is never fully repaid with dollars.
For Dallas Stoller, 87, and his wife, Sandy Stoller, 84, who operated J Diamond Carriage Shop in Rupert for 30 years, it didn't matter.
The couple is donating Dallas' favorite and last project, a Concord mud wagon, to the Minidoka County Historical Society. They will bid the wagon farewell during a final ride at Rupert's Fourth of July Parade.
"It's never been kept outside in the sunlight," said the couple's daughter, Nancy Kunau. "It's always been inside and covered."
Kunau said the Concord, popular in the 1800s, typically held four to six people with some of the bigger ones holding up to 11, and weighed up to 2,500 pounds.
The nine-feet tall wagon was pulled by teams of two to six horses or mules and was so sturdily built and traversed such rough terrain that it earned the nickname of mud wagon.
Underneath the carriage there are stacked strips of bull hide leather, which serves as springs to cushion the heavy wagon and keep it from breaking.
"When you rode in one, it was like bouncing on a trampoline," Kunau said.
In all, Dallas Stoller invested about $25,000 worth of leather, metal and wood in the wagon.
He said the Concord project started when a man brought him just a wheel.
"His wagon was shot," he said.
Dallas worked rebuilding the wagon for three years and it became his last project as he carefully fitted and finished the white oak wood, chosen for its strength, sewed the interior seats and fashioned the wooden wheels cased in metal, which he said were always the hardest part of any restoration job.
Dallas learned his skills from Amish wheelwright Howard Miller, of Arthur, Illinois, and later he took classes to learn the nearly lost craft of wheelwright.
He learned to build a wheel from the hub, spokes and metal frame and how to shrink the wheels using fire and water to ensure a tight fit.
"Oh I fought the wheels like you can't believe," he said.
The formed steel had to exactly fit the wood.
"It was difficult, but that's what made it interesting," he said.
Hundreds of hours and thousands of pieces go into restoring a wagon — with each piece engineered, handcrafted and painstakingly finished — and the end result appearing as a single object.
"Anyone who is a craftsman is really an engineer at heart," Kunau said. "It's all about the math."
Her dad didn't make much money per hour doing it, she said, but he loved it.
In his spare time, over the course of three decades, he restored or built about 40 vehicles.
They included doctor's buggies, wedding wagons, coaches and others, and with each one his skills became more refined.
His largest project was a parade beer wagon that he built for Anheuser-Busch.
Thirty thousand dollars just in supplies went into the beer wagon, Dallas said.
Through it all, Sandy, who was a registered nurse and a mother to five girls, was often by his side carrying the heavy oak or working on a wheel.
She did it, she said, mainly because he asked for her help.
Dallas's father, Walter "Shorty" Stoller, was a sheepherder in Paul, so as Dallas grew up he was no stranger to wagons.
His interest in restoring them began to grow as an adult when he noticed fewer and fewer of them around that were in original condition.
"When I saw them I was usually thinking about the things that I wanted to change on them," he said.
Dallas attended auctions and purchased wagon pieces, specialty tools and broken wagons.
Often someone would tell him he could have a broken wagon on their property if he would dig it out of the earth and remove it.
The couple traveled across Idaho, Montana and Wyoming picking up pieces of wagons and often bringing home what looked like junk — but would eventually be transformed into stunning works of art through his craftsmanship.
Sadly, said Kunau, few people now are willing to put in the work to keep a team of horses to pull a wagon or carriage and even fewer still possess the skills to restore or maintain a wagon.
So Dallas made the decision to donate the Concord wagon to the museum.
"I kind of hate to see it go," he said.
But he's glad that generations of people in the future will be able to enjoy it.
Be the first to know
Get local news delivered to your inbox!