BURLEY — The Cassia County Sheriff's Office is sporting some new colors — pink and purple — on two new patrol vehicles.
Two new white 2019 Dodge Durango patrol vehicles assigned to the city division were striped with different colored ribbons to bring attention to breast cancer and domestic violence.
"What brought this around is that we have a deputy whose mother is battling breast cancer and he asked if we could look into doing it," Cassia County Undersheriff George Warrell said. "We thought it was a good idea to bring attention to such serious issues."
Warrell said several other members of the sheriff's office have also been affected by breast cancer.
One of the vehicles has a pink breast cancer ribbon on the hood with the message "no one fights alone" and pink striping on the sides and the second vehicle has a purple ribbon on the hood and says "break the silence" with purple side striping.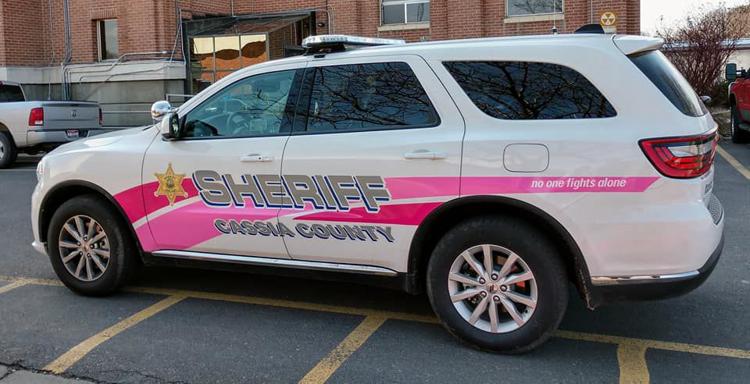 "Putting these messages on the cars is a unique thing and it really brings attention to these issues," Warrell said. "We are getting a lot of comments and most of them are positive. The only negative ones have come in through the internet. Most people think it's neat and they like to see the change."
Warrell said there were no additional costs for changing the color of the striping from the traditional gold.
The sheriff's office just received the vehicles, which cost $28,000 each.
Warrell said the department will consider striping other new vehicles in the future to bring attention to other issues.