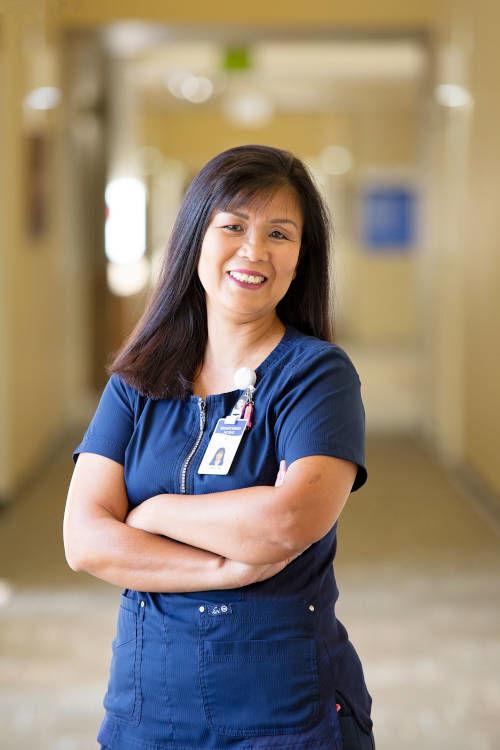 BURLEY — Registered Nurse Linnie Jones, with Intermountain Cassia Regional Hospital, was awarded the 2020 Nursing Excellence Award in front of her peers, co-workers, family members and administration during a video conference meeting recently.
The award recognizes the impact and importance of nursing on patient care.
Jones was one of many nominated by her peers from over 80 registered nurses at the hospital. In addition to being a nurse on the medical and surgical and intensive care unit floors, she also serves in leadership roles including charge nurse and house supervisor.
Bowen Harris, nurse administrator of Cassia Regional, presented the award to Jones. "I am honored to recognize Linnie," he said. "She is an outstanding nurse and treats those she cares for with compassion, dignity and the highest level of care. Our nurses make an immeasurable difference in the lives of our patients."
Jones was selected because she exemplifies the elements in Intermountain's Nursing Professional Practice Model, which are empower, advocate, lead, innovate, and collaborate and consistently provides safe, clinically excellent, and compassionate care for patients, families, and co-workers. Her peers and co-workers shared a long list of compelling reasons why she should be honored.
One nomination wrote that, "Linnie serves her patients with excellence and demonstrates genuine care for each one of them."
A peer shared that she is well-respected and her leadership "has made us a safer, cohesive, and more productive team."
Another nomination stated that she is an excellent nurse, but what sets her apart is her "tireless care of her Intermountain family and her community". Linnie is involved on the leadership team of a very busy food bank in the community, and "jumps at every chance to help her coworkers with such things as food at Thanksgiving, baby and wedding showers, trading shifts, and providing a shoulder to cry on". In the same vein, another peer shared that Linnie "exudes a heart of utter unselfishness."
Another team member stated that she is an "insatiable learner and always finds opportunities to further her expertise as a caregiver and resource."
Harris also stated that Jones is always willing to step up to the challenges and changes we face in healthcare. "Because of her can-do attitude and early adoption of change, she has excelled in leading her fellow teammates through the challenging times COVID-19 has brought this year," he said.
Intermountain Cassia Regional Hospital selects one award recipient to receive the Nursing Excellence Award each year.