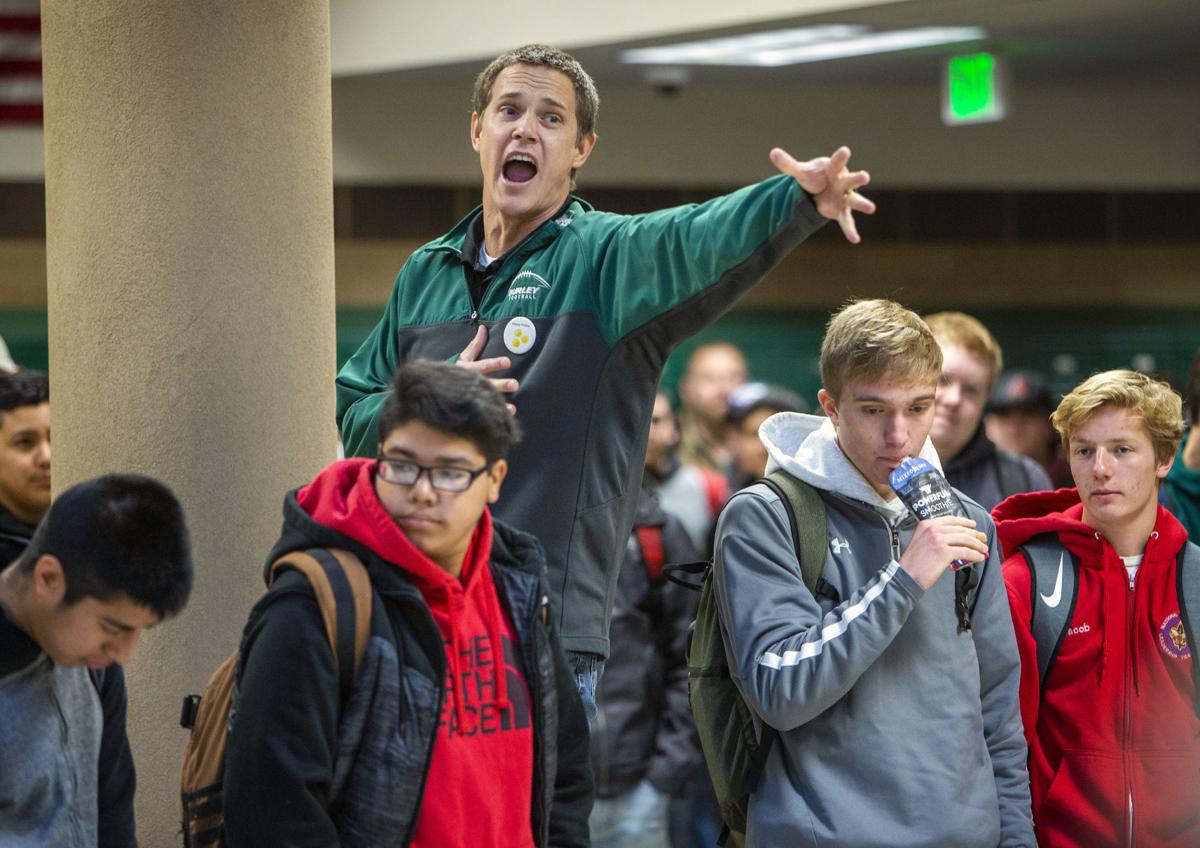 Standing above everyone else atop bench in the front foyer at Burley High School before classes twice a week, teacher Jed Thomas has five minutes to impact students' lives.
On Jan. 17, he delved into how easily morals can be swayed with a focus on pornography and premarital sex, which he said, "can have big, dangerous consequences."
"I'm not here to tell you what's right or wrong," he said.
Thomas told the students they are at the most vulnerable stage of their lives.
"And these are two huge things you will face," he said.
Someone may choose to look at pornography and tell themselves they aren't really hurting anyone. Or a teen may allow physical contact with someone they love to progress until the couple has a baby on the way.
Can teenagers raise a tiny human, when they struggle to even turn in their homework, he asked.
His speeches touch upon difficult subjects like why girls shouldn't send explicit photos of themselves on their cellphones, the importance of stopping bullying and why the teens should sometimes just put their cellphones down and talk with people.
"I think it is pretty motivation," said student Alejandra Melendres. "At first I thought it was just about spirit day, then he started talking about really serious topics."
Student Ramsey Trevino said he's listened to all of Thomas's speeches.
"They're good and I think they could help students," he said.
His favorite one was about respecting parents, he said.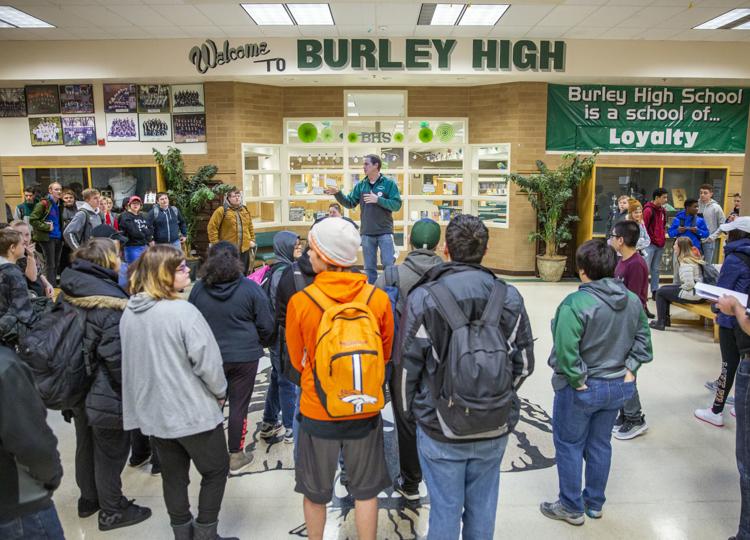 Burley High administrators implemented the speeches at the beginning of the year, with the vision of it being more of a spirit day chant lead by teachers on a rotation.
"This kind of just happened and it became more than a chant," said Burley High School Principal Levi Power.
The response from teachers, parents and students has been positive, he said.
No one ever knows who it might impact, Power said.
"The thing about Jed is that he doesn't do it for the attention," Power said. "He does it because he is very passionate and he cares about the kids."
Thomas, a resource and special education teacher and former football coach, said he was asked to do the first one, then the second, and then he was asked to do them all the time.
But he wasn't always a natural public speaker.
You have free articles remaining.
"In college, I was terrified in speech class. It gave me so much anxiety," he said. But, his time as a coach helped relieved some of that angst.
The topics he chooses comes from incidents he sees during the school week.
"I try to speak from the heart," he said.
Many of his topics seem like subjects parents should be discussing with their children, he said, but sometimes hearing the information from someone else resonates more.
Other teachers have told him the messages he's delivering are good ones, he said.
"But I always ask them, 'Was it the truth?'"
The topic on students sending explicit photos over their phones came to him via a parent's request.
Parents hand their children a cellphone with access to 8 billion people, where they can see everything imaginable and then parents don't really teach them how to use it, he said.
"Kids don't realize the long-lasting effects of some of the things they do," he said, and as teachers it is easy to assume that students know things that they may not fully understand.
A teacher may assume a student knows what a table of contents is or how to solve an equation, but in reality, they don't and a teacher may have to explain it over and over until they understand, he said.
It's the same with life lessons, he said, sometimes they have to be repeated.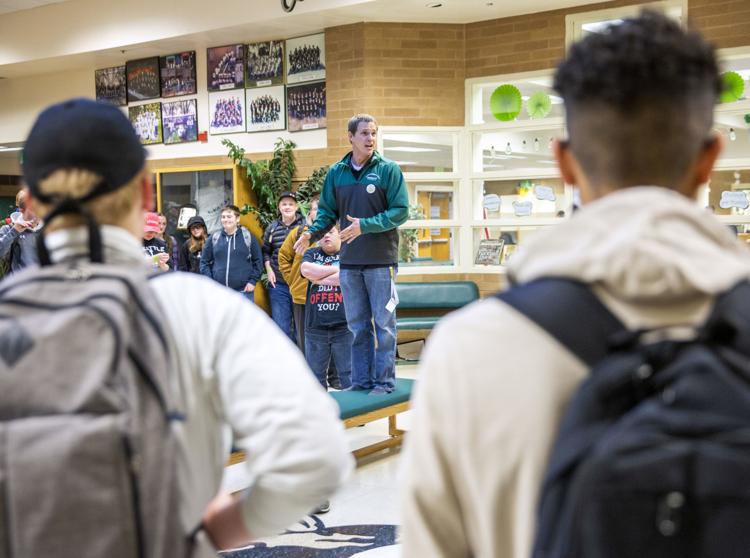 Thomas, who was a talented athlete in school, often doubted himself.
Being a teenager today is even harder, he said.
"Everyone usually does a pretty good job of hiding their weaknesses," he said. "And teens are trying to figure out who they are. Bullying is different these days. Before, it was physical and maybe you'd get slammed up against a locker, but no one was telling you to go kill yourself on social media."
Words hurt people way more than shoving does, he said.
"It's scary; I wouldn't want to be a kid in today's world," he said.
Student Lilianna Reyes said Thomas is always a caring teacher.
"He will stop kids in the hall and make sure they are OK. He always has a positive attitude and never says anything negative," Reyes said.
The messages, she said, could be really helpful, but it will depend on if the students who need to hear them, will stop and listen.
Thomas said he never knows if students relate to the messages.
"But if I change one kid's life, their outlook or thought process, it was worth it," he said.