BURLEY — The COVID-19 pandemic has forced many Magic Valley businesses to make changes — and one cleaning company found a way to expand its services to include helping other companies disinfect their buildings after virus outbreaks.
American Overhead Industrial Cleaning Specialties Inc., based in Burley, cleans overhead surfaces like ceilings, rafters and pipes at factories and other types of businesses.
Simon said his company is the only one he knows of in Idaho performing overhead cleaning.
The company invested in specialized equipment that sprays a food grade quaternary disinfectant fog or mist that kills the coronavirus and allows businesses to get production back online quickly.
At one factory, the company was called in at 10:30 p.m. to disinfect after a virus outbreak, and was able to get the job completed and the factory was able to restart production at 4 a.m., owner Kelly Simon said.
Simon tries to work with companies to provide the service during their closed hours.
"You have to wait until the fog settles down and dissipates before going back in," Simon said. "That usually takes about two to three hours."
The disinfectant is recommended by the Centers for Disease Control, Simon said, and is broken down by the machine's fans into micron-sized particles "that wrap around everything."
The solution is heated before it leaves the nozzle, but produces a safe fog so pilot lights do not have to be extinguished.
A fogger or a sprayer is used depending on the application.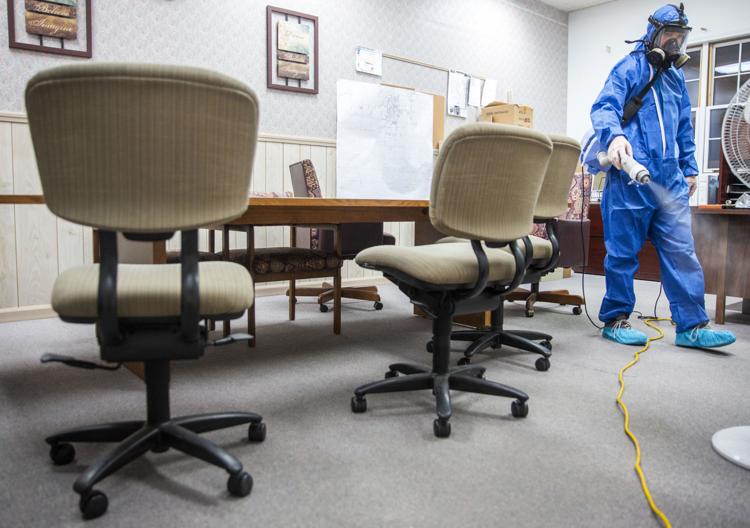 On Wednesday, Simon's company provided its disinfecting services to the Senior Junction in Burley as a precautionary measure at no cost. The center has not had any reported cases of coronavirus.
"We've made some good money on the bigger jobs and that allows us to do some of these smaller ones for free," Simon said.
Workers are covered from head to toe with protective suits, hoods, gloves, booties and full-face respirators and they don a backpack filled with sanitizing solution to begin the process.
"We suit down because we do jobs where there are confirmed cases of the virus," Simon said.
The workers are also protected because the solution is broken into small particles and can be harmful if ingested. Once the disinfectant dries it is not a hazard to people in the building, he said.
The company has been called to 30 businesses in Burley, Boise and Nampa to disinfect for coronavirus so far, including factories, dairies and a lot of offices.
About 75% of the jobs have been in Burley.
"A lot of them have been small office buildings," he said.
Simon has offered the disinfectant service at no cost to cities and counties in Mini-Cassia and has provided the disinfecting service at the Mini-Cassia Juvenile Probation Center.
The average bill for the service runs about $355.
After workers completed the job at the senior center, Simon provided a courtesy disinfecting at the Rupert Baptist Church.
Having the senior center completely disinfected will provide peace of mind for the staff and clients, said Bob Alverson, Senior Junction site director.
"Every day we sanitize all the tables and chairs and everything people touch," Alverson said. "And we are constantly sanitizing all the stainless tables in the kitchen. But, it's kind of nice to have everything sanitized like this."
Alverson said the numbers of seniors coming in for meals has started to pick up with more than a dozen coming in to eat, along with the Meals on Wheels food that is delivered.
Simon said he wanted to perform the disinfection service for the center because his mother, Carrol Simon, 79, is an Interlink volunteer and she regularly brings a group of seniors who are blind to the center for meetings.
Interlink volunteers help clients get to doctor's appointments, get groceries and run other errands.
"I do think it makes them feel more at ease to have this done," said Carrol Simon. "Many of them have underlying health conditions too, along with being blind."
Editor's note: A change was made in this story to reflect Simon clarifying that his business is the only one in Idaho performing overhead cleaning work.
Be the first to know
Get local news delivered to your inbox!