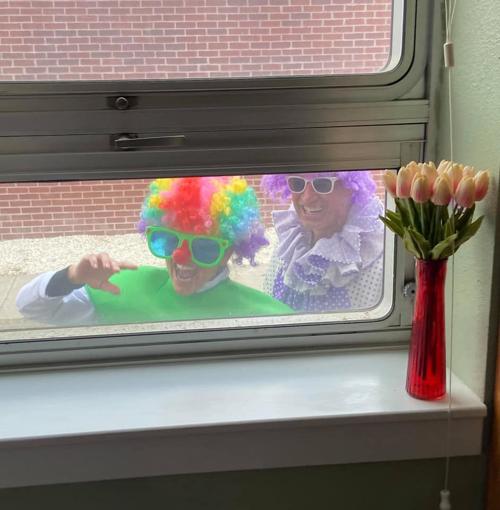 BURLEY — Seeing two clowns outside your window might scare some people.
But for residents at the Parke View Rehabilitation and Care Center who are locked down because of the COVID-19 outbreak, it was a welcome surprise on Monday, March 16.
Alice and Wayne Schenk of Paul were the clowns — at least for the day. They dressed in multi-colored wigs and funky glasses in an attempt to uplift the spirits of Irene Myers, Alice's 88-year-old mother, and other nursing home residents through their room windows.
They jumped around, waved and smiled, while a staff member opened the blinds in the rooms.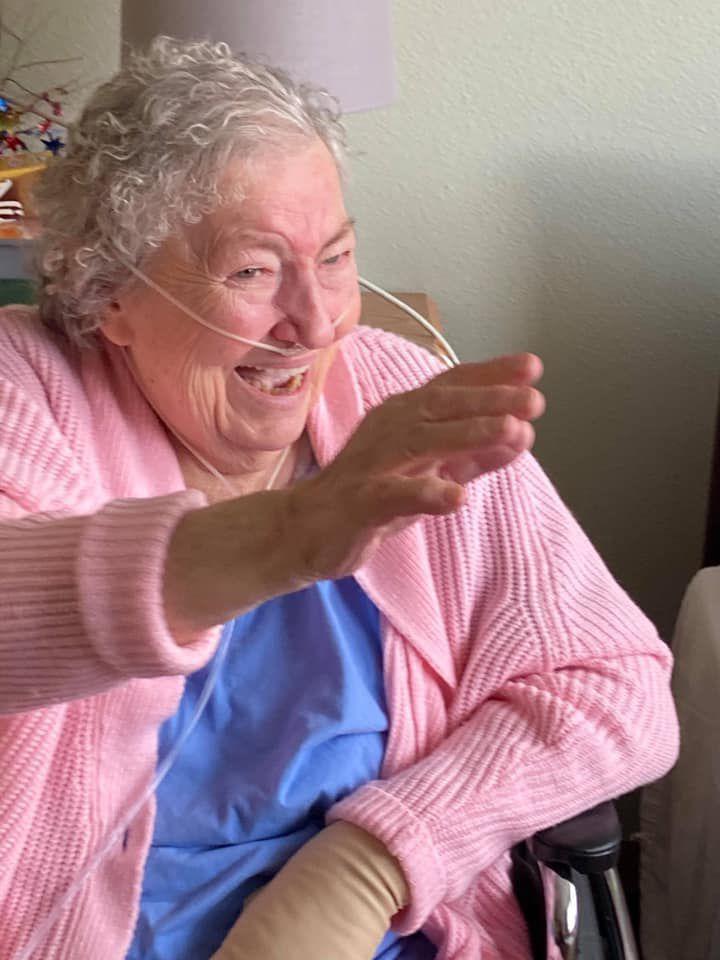 "They looked like clowns," Myers said as she recounted the incident on Tuesday. "Alice is always doing something fun."
Myers said her friend, Betty, who lives across the hall from her, also saw them through a window.
Myers is keeping busy during the restriction period, which includes keeping six feet away from other residents, by reading books, including her Bible.
"I'm used to being alone," she said. "But I hope this gets over quickly for all the other people."
Corwin Lewis, executive director at the care center, told the Times-News in an email that anything community members can do that "brings light and joy to the residents will be a great thing," like writing letters, drawing pictures, sending cards or posting videos.
Alice Schenk said people need to realize that many items sent to the facility, even letters or cards, will be quarantined for a period of time before they are given to residents.
Schenk, who teaches the College of Southern Idaho Over 60 & Getting Fit classes in Rupert, said she was notified that those classes are canceled at all locations until fall — but she wasn't expecting the nursing home visitor restrictions.
She said she feels grateful that she visited her mother last Thursday before the restrictions were placed.
"It caught me off guard, I don't know why," she said. "I understand the residents are an at-risk population and it can be life-threatening. But the ripple effects are huge."
The news, she said, was gut-wrenching.
"It made me so sad because these people so look forward to having company," she said.
She got the idea of dressing like a clown after seeing a photo of someone else in Seattle who did a nursing home window visit.
"God is the ultimate creator, but we've also been given a measure of creativity," she said about her plan, which she dubbed "Operation: Visit Mother."
"It blessed our hearts and was a fun way to encourage them," she said.
Alice Schenk said Wayne, who is also a Minidoka County commissioner, joined her mission.
"He does a lot of fun things with me," she said.
She enlisted the help of a staff member to make sure some of the residents had their blinds — which are usually closed — open at 4:30 p.m.
She also sent flowers and cards to all the residents in her mother's wing at the center, which were put in quarantine until deemed safe.
"We do want to be cautious," Alice Schenk said.
Complete coverage: What Idahoans need to know about the coronavirus
Looking for local information on the Coronavirus? We've got you covered.
Concerned about COVID-19?
Sign up now to get the most recent coronavirus headlines and other important local and national news sent to your email inbox daily.