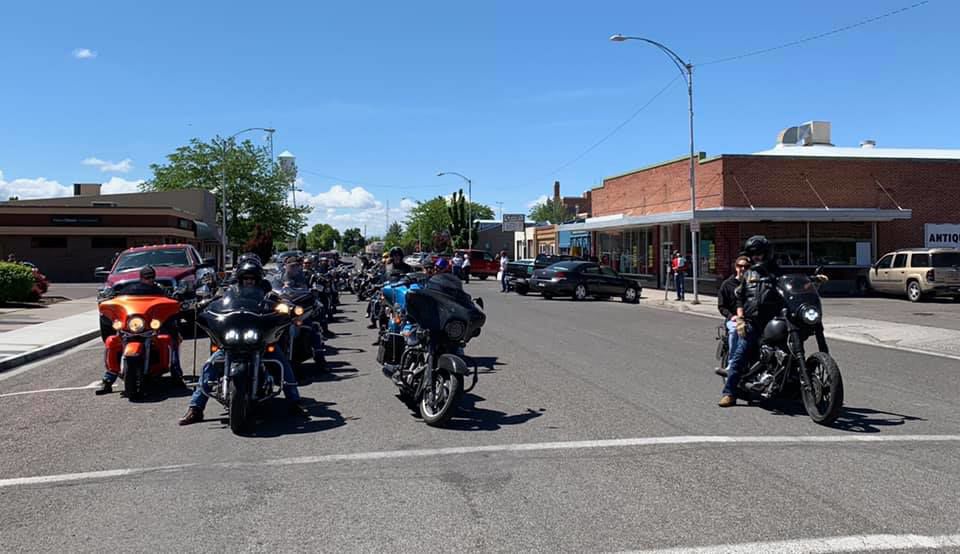 RUPERT — A once-struggling domestic violence shelter is growing again, thanks in part to support from a motorcycle club.
The Disruptors MC on Wednesday gave Crossroads Harbor domestic violence shelter $7,800 raised by the club's members during a June bike ride, "Disrupt Domestic Violence."
This is the third year for the event and in total the club has given the shelter $26,000, which includes a monthly donation of food product sponsored by McCain Foods USA, club president Tom Tolness said.
"We used the money they gave us last year for operations," said Robin Bronson, executive director at Crossroads Harbor.
Tolness said the club chose to support the charity because of the wide impact domestic violence has in the community.
"Next year we hope we can do something even bigger," said Tolness.
The shelter, which provides domestic violence services and a safe house in Minidoka County and Cassia County, experienced some difficulty and transition during the past couple of years due to lost grant funding and changes in administration.
The shelter was forced to move its office from a city of Rupert-owned location to Burley when the Boys and Girls Club of Magic Valley moved from its former building. The shelter moved its office back to Rupert in July, Bronson said.
The shelter office simply outgrew the space at South Central Community Action Partnership, Bronson said.
The office is now at 818 S. Oneida St. Suite 1, next to Quality Tire Service Inc.
The larger office has a classroom with a computer that will be available to people staying at the safe house or those who are trying to leave a domestic violence situation at their home.
"They will be able to complete housing applications and safety plans and paperwork for protection orders on the computer. Sometimes people are not able to do those things at home where an abuser can track them," Bronson said.
You have free articles remaining.
The shelter will soon hire an advocate to assist Bronson with an increasing caseload.
Bronson was hired in 2018 and her caseload has almost tripled, she said.
"We are growing and growing fast," Bronson said. "We are getting more crisis calls and there is more need for shelter. There is more of a need for everything."
The shelter is also receiving increased requests for support services.
Crossroads Harbor now has funding to offer counseling for people dealing with domestic violence.
"If they can't afford a counselor or don't have insurance, they can request help from us," Bronson said. "That's huge and that's new."
The new office has room to hold classes and has a children's playroom along with areas to store canned food and a separate room to house the new pillows and blankets given to people when they arrive at the shelter.
"We are finding that a lot of people still don't realize we are here in the area," Bronson said.
Donations and volunteers are always needed, she said, and the shelter likes to collect extra gift items for the clients they serve during the holidays.
People who want to make holiday donations can come into the office and select a recipient's name from the Christmas tree or call the shelter at 208-436-0987 for more information.
People can also visit the shelter's website to watch for upcoming fundraisers and other news.
The shelter accepts donations of all types of household goods and supplies, along with monetary donations.
Items they receive but can not use will be passed along to other people in the community who need them free of charge.
"If someone didn't want to give us money directly, they could also pay some money towards our electric bill," Bronson said.