JEROME — Nearly two months after testing positive for COVID-19, Cole Lickley can still feel it in his lungs.
Lickley, 23, first got sick March 21. He had the sniffles, congestion, and other mild symptoms for what he assumed was a head cold.
But when he woke up two days later, "it just kind of got worse," he said.
And it got even worse the day after that.
Lickley was very fatigued with no motivation to do anything. He said he had really bad congestion and chills.
"It's definitely worse than any cold or flu I've ever had, absolutely, far above it," he said. "I didn't feel very good at all."
Testing
Lickley called the St. Luke's triage hotline on March 24 to explain his symptoms. He was told to get tested. Later that day, he and his fiancé, Anna Pratt, made the trip from Jerome to Wood River Valley Medical Center in Ketchum — one of only two testing sites in Idaho at the time.
They waited behind a few cars at the drive-up testing site before a nurse approached them dressed head-to-toe in personal protective equipment. She asked Lickley about his symptoms and his recent travel history. At first, it was unclear whether he even qualified for a test due to the limited supply, but a supervisor ultimately deemed it necessary.
After walking him through the exam, the nurse propped his head back and proceeded to stick a "very long Q-tip" deep into his nose. It was a lengthy 15 seconds, he said.
"Holy cow, it was not fun," Lickley said. "It felt like she was tickling my brain. It was way back there."
After that, "it was just kind of hurry up and wait," he said.
Lickley returned home with instructions to presume he was positive and self-quarantine — not that he was feeling well enough to do much of anything. He admitted to feeling a bit nervous during that interim period, especially as he began to get sicker. He soon lost his sense of taste and smell in addition to the ongoing symptoms.
On April 3, about 10 days after taking the test, health officials called to tell him he was positive.
Exposure
Idaho Gov. Brad Little issued an emergency declaration on March 13, and later that day reported the first positive COVID-19 case in Ada County.
On March 14, a week before getting sick, Lickley and Pratt had taken a day trip to Sun Valley to celebrate Pratt's birthday. They were aware of the virus and took precautions — washing their hands frequently and maintaining social distance — but they felt relatively safe 150 miles away from the only known case in the state.
It was on their drive home, however, that the first case was reported in Blaine County.
"That was very unnerving," Lickley said.
The trip is when Lickley believes he was exposed to the virus. Since the first reported case, the number of positive tests in Blaine County spiked and the area quickly became a hotspot, with per capita case numbers that rivaled New York City and Wuhan.
Long-term effects
Lickley started to feel better after the first few days but it was a full two weeks before he felt mostly back to normal. And even now, more than two months removed from the first signs of illness, he said he can still feel the effects of the virus on his lungs when he's pitchforking hay or doing other physical activities. It's not enough to where he's scared he won't catch his breath, but he does have to take occasional breaks when his lungs start to hurt.
"I do feel like my lungs took a hit," he said. "It's taken a long time to recover those."
And while his taste came back after a few weeks, he still lacks much of his sense of smell.
"It is the weirdest thing," he said. "I sure hope I get my smell back. … It's very inconvenient."
Lickley was no longer contagious after about 10 days, but he has remained cautious when leaving the house.
Officials maintained contact with Lickley and his family to find out where they'd been and who they may have come into contact with. They were also monitored for symptoms of the virus, though nobody in the family besides Lickley got sick or got tested.
Lickley said that's one curiosity that remains, especially considering he and Pratt continued to share cups, food and living space while he was contagious.
"We're pretty sure that she had to have got it," Lickley said. "We didn't change our lives inside the house whatsoever."
New perspective
Lickley said there were a lot of emotions for him and his family throughout the ordeal. He'd seen coverage of the virus globally but never expected it to affect him so personally, especially as a young and healthy person living in a rural area.
"As a 23-year-old, I'm kind of invincible," he said. "I didn't think it would be something that would affect me, especially early on.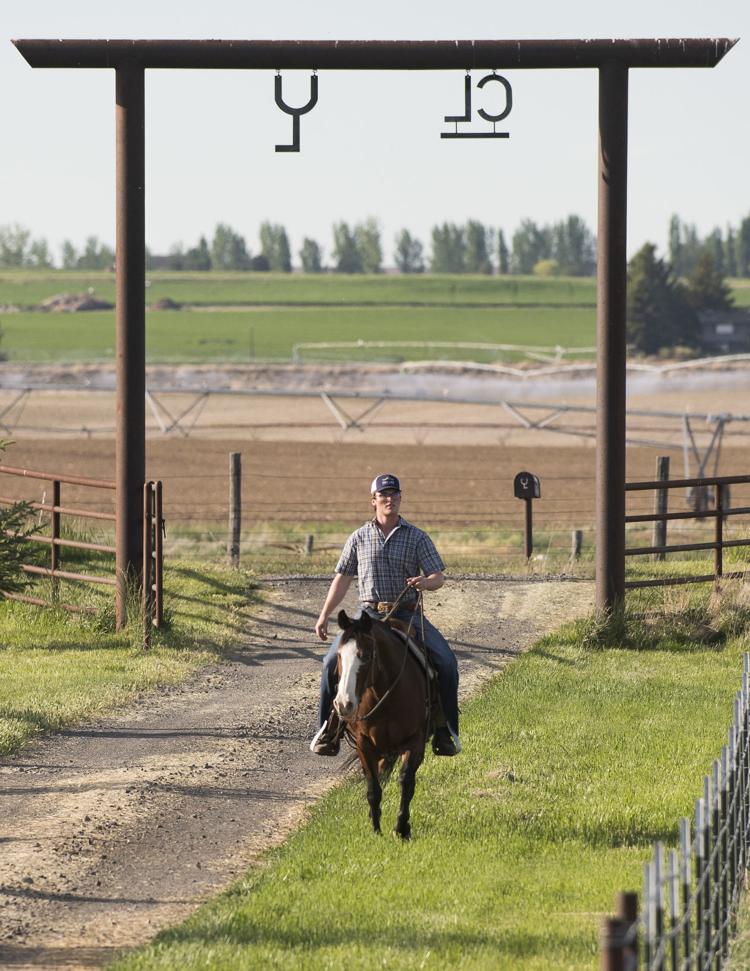 Lickley's mother, Idaho Rep. Laurie Lickley, a Republican from Jerome, said she was surprised to learn her son had tested positive. She admitted it changed her perspective on the pandemic.
"We took it seriously, we just didn't take it as seriously as maybe we should have in the beginning," she said. "Once he tested positive, we recognized that this is real, and we immediately quarantined.
"I think it made us kind of appreciate what was happening. If your 23-year-old son could contract this then it was pretty serious and we needed to take it pretty serious. … It just kind of solidified the intensity of what this looked like. If it happened to us, it could happen to others."
The pandemic has become a divisive issue in Idaho, and especially within the state's Republican Party. Several lawmakers have pushed against Little's regulations on business and public gatherings, and some have encouraged openly defying his orders.
Rep. Lickley urged people to listen to public health experts. She said there is much to consider and many difficult conversations to be had, but leaders need to "leave the hate, bullying, egos and disconnect at the doorstep."
"I look at what happened after 9/11, and how this country unified — I'm not seeing that now," she said. "I really would challenge people to look at unification versus division."
Cole Lickley said the pandemic has become very polarized and people need to "take a deep breath, take a step back," and consider the wide range of consequences for the virus, including public safety.
"There's a lot of politics at play out there and everybody is one side or the other," he said. "I want people to be aware that this is real.
"I worry about our economy and people losing jobs because that's very serious, and with that comes very serious consequences, but with the coronavirus also comes very serious consequences for certain groups of people."
Ultimately, people need to have faith in elected officials, scientists and medical professionals, he said.
"It will be OK," he said. "We're very resilient people. We've come back from many things and in the end we'll come back from this, too."
Be the first to know
Get local news delivered to your inbox!