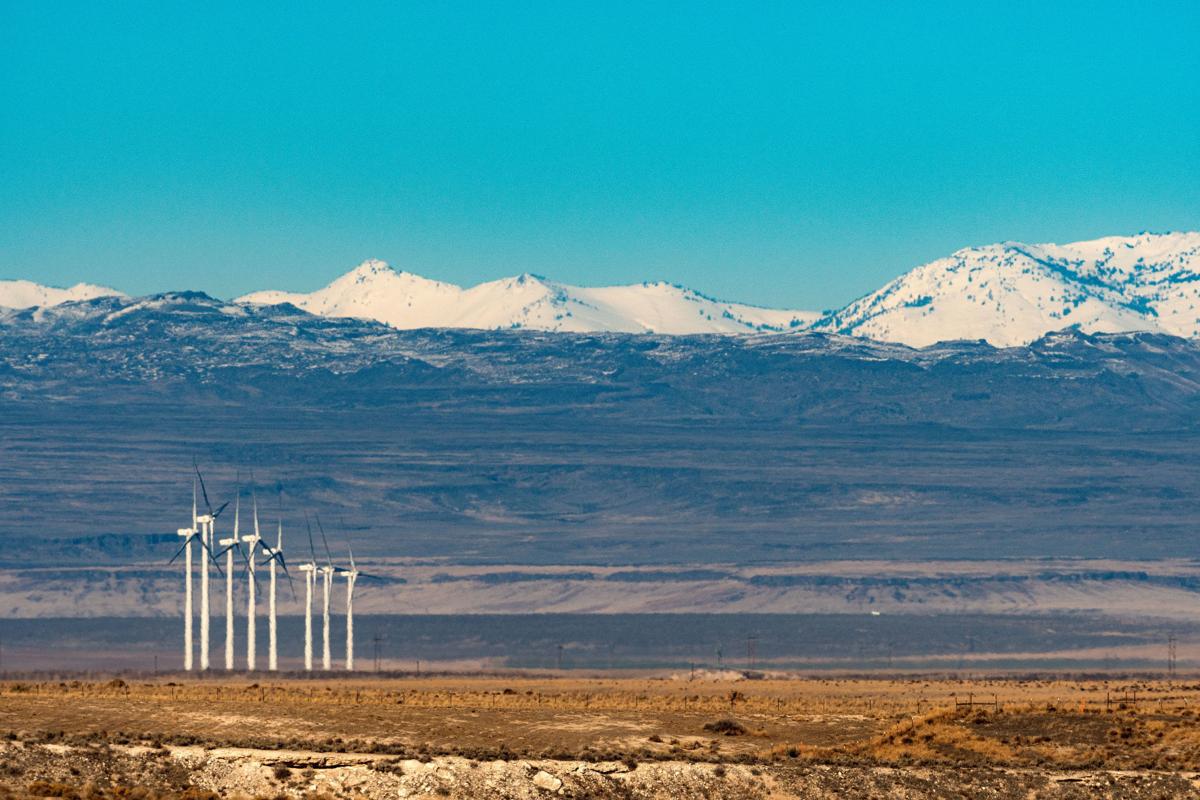 SHOSHONE — A massive, $1 billion wind farm could net Magic Valley governments nearly $4 million a year once its turbines are up and spinning.
Magic Valley Energy, an affiliate of LS Power, announced back in March its plans for a wind farm that would stretch across public land in Lincoln, Jerome and Minidoka counties. At 1,000 megawatts, the Lava Ridge wind farm wouldn't just be one of Idaho's largest wind projects, it'd be one of the biggest wind farms in the world.
Now Lava Ridge has a clearer development timeline and Magic Valley Energy has also provided more information on the project's estimated economic impact.
During the two-year construction phase, Lava Ridge could employ 700 people and net Idaho and local governments $80 million in tax revenue, according to an analysis conducted by two economists from Boise State University and the University of Idaho. The total economic output during construction could be in the $500 million range.
Sales taxes would be the biggest boon for governments at first. Those revenues go to the state. Idaho could get $77 million in sales tax from Lava Ridge during construction.
After construction, local governments would start receiving a greater share of the tax benefits. Annual property tax payments from the project could be about $4 million. The wind farm would create 20 full-time jobs and have an estimated annual economic output of $15 million per year. The economic analysis estimates Lava Ridge would indirectly create 33 jobs, in addition to the 20 people working on the wind farm itself.
Lincoln County would be home to the largest portion of the wind farm and would see the greatest chunk of the tax revenues. The county specifically — not including its ambulance, cemetery, recreation, school, highway and fire districts — could take in more than $1 million per year.
"That's a huge windfall," Lincoln County Commissioner Rebecca Wood said. "That's like 25% of our annual budget."
Smaller taxing districts within the county would receive huge sums of their own. For instance, Dietrich School District 314 could see $241,300 a year and Shoshone School District 312 could get $203,700 (about a fifth of the school's budget). Dietrich Highway District 5 could get more than a quarter of a million dollars per year.
Wood noted that Idaho school districts are always struggling financially — increasing local school revenues could be enormously beneficial.
Jerome County could get $436,600 per year in tax revenue for itself. Jerome School District 261 could get $327,100 per year, while the county's Hillsdale Highway District could take in $174,900. Minidoka County, which would be home to a smaller part of the wind farm, could receive $69,400 per year.
Boise State economics professor and Energy Policy Institute associate Geoffrey Black, who studied Lava Ridge's economic impacts with University of Idaho economist Steven Peterson, said he did a standard input-output analysis for the project that uses county-specific data.
"We feel pretty confident on the numbers we came up with," Black said.
He added that if the project goes through, local taxing districts could see big annual tax payments for decades.
"Once that wind farm is there, you've got that stream of revenue for the life of that wind farm, which we said is 20 years but is probably going to be a lot longer than that," Black said.
The wind farm could have economic benefits beyond just tax revenue for Lincoln, Jerome and Minidoka counties. Workers could spend thousands of dollars at local businesses. There could be new RV parks; hotels will likely have fewer vacancies.
"Every sandwich and gallon of milk makes a difference for our small businesses here," Wood said.
Wood also added that "there'll be opportunities for housing and economic development for 20, 25 years over the length of the project."
Lava Ridge isn't a done deal. It's possible that the Bureau of Land Management could oppose the project, or scale back its size. Public scoping on the proposal will start soon and carry on through summer. You can sign up for the Lava Ridge mailing list at lavaridgewind.com to receive notifications of upcoming meetings.
The BLM will likely release a draft Environmental Impact Statement next winter with a final version is expected to come out next summer. If the BLM approves the project, construction is expected to begin in 2022 and wrap up in 2023.
Wood emphasized that Lava Ridge could be historically beneficial.
"It really could be a huge economic boom like we've never seen in Lincoln County," she said, "if it goes through."