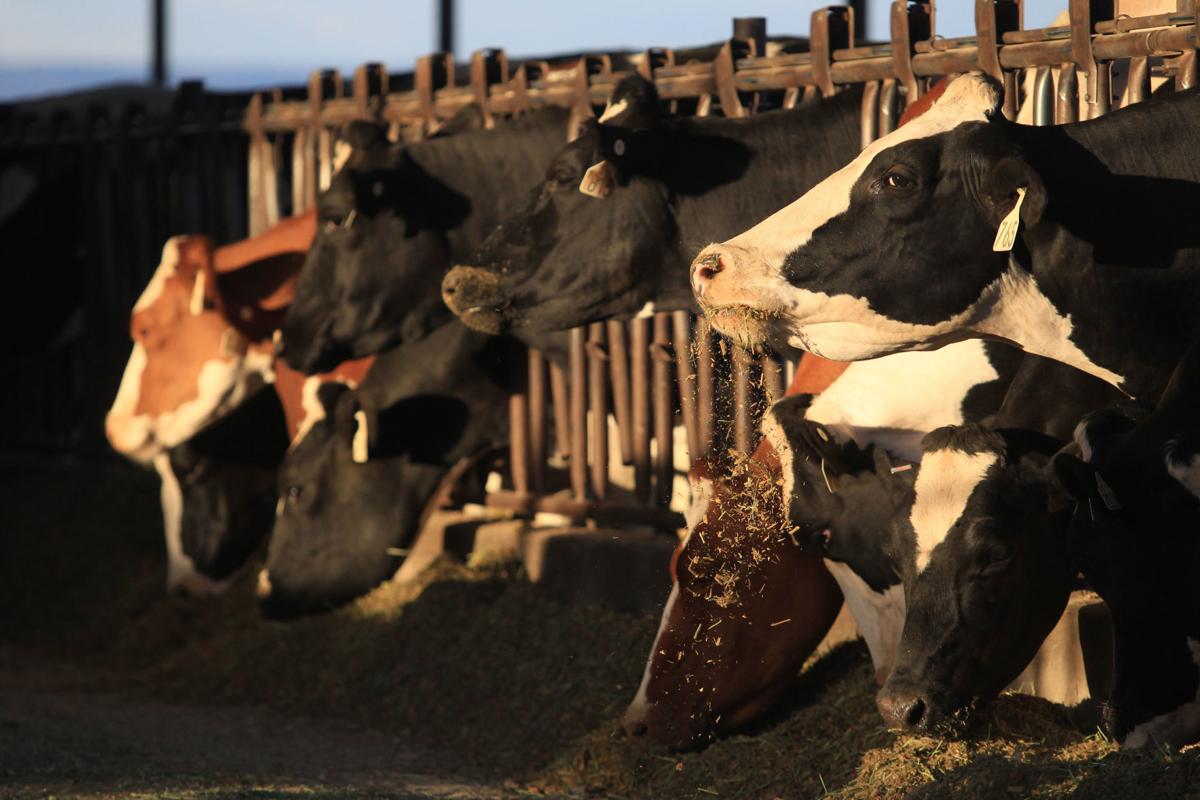 TWIN FALLS — The Magic Valley is home to a lot of cows. There are roughly 417,000 of them, more than twice as many as the area's human inhabitants.
And at 120 pounds of manure per day per cow, the animals produce considerably more waste than people.
A new Idaho Conservation League report says that the sheer amount of nutrients produced by the region's cattle is putting the region's water supply at risk for phosphorus and nitrate pollution.
"There's a simple math problem," Central Idaho Conservation Associate Josh Johnson said.
After years of growth, dairies are simply producing more waste than can be used for fertilizer, Johnson said.
If too many nutrients from that waste leach into the highly permeable Eastern Snake Plain Aquifer, the Magic Valley's primary source of drinking water, it could have an impact on what residents drink out of their taps.
A long-standing dairy boom
The Magic Valley's dairy industry has expanded exponentially since the 1980s, growing by more than 400%. That growth has made the Gem State the third-largest dairy producer in the country, and a hub for dairy innovation. It has also led to a massive increase in manure.
Manure serves a vital agricultural purpose by fertilizing crops. But a conundrum arises when the amount of manure eclipses the demand for fertilizer. The Idaho Conservation League says that the Magic Valley doesn't grow enough crops to handle produced manure.
It's important to not over-fertilize crops, because manure that isn't taken up by plants can leach underground and enter aquifers or run off fields into surface water supplies.
When fertilizer leaches into an aquifer, it can raise the levels of phosphorus and nitrogen, which foster algal growth. Algal blooms can alter pH levels and use up oxygen, leaving fish gasping for air. Algal blooms can make people sick, too. For instance, high nitrate levels in drinking water can affect an infant's ability to process oxygen, leading to blue baby syndrome.
Although nitrate and phosphorus haven't had any noticeable impacts on people in the Magic Valley yet, the conservation league says it's important to limit pollution to ensure problems don't arise in the future.
Johnson said that U.S. Geological Survey, Idaho Department of Environmental Quality and Idaho Fish and Game data show the rise in pollutant levels mirrors the growth of the dairy industry. Industry needs to change its practices or see stricter regulations, he said.
Burdensome regulations?
Idaho Dairymen's Association CEO Rick Naerebout said he believes some new regulations on how dairies handle waste have increased costs.
"Our average dairy producer does feel that it's overly burdensome," Naerebout said.
He also said that the dairy industry isn't the sole contributor to nitrate and phosphorus pollution.
Plus, no Magic Valley industry is more heavily regulated, he said. In his eyes, the industry is working hard to combat pollution, and is being unfairly blamed for the problem.
The Idaho State Department of Agriculture inspected each dairy, on average, more than five times last year, Naerebout pointed out, and each dairy is required to have an approved nutrient management plan — meaning they need to demonstrate an ability to responsibly handle their manure. He said it's frustrating to have dairies singled out as polluters given the industry's efforts.
"(Dairies) are trying to do the right thing," he said. "They're highly regulated, they're living with all these expenses due to the regulation, and yet we're still held out there as being bad actors."
Naerebout pointed out that two years ago the Department of Agriculture instituted new, stricter regulations that make it harder for farmers to over-fertilize. Now farmers have to analyze the slope of a field and more extensively evaluate nutrient levels in the soil before developing a fertilizer plan based on what they intend to plant.
An efficient solution?
There aren't many simple solutions for the excess nutrient problem, but there is one that Johnson thinks could have a real impact.
Methane digesters, biofuel generators that extract the methane from manure and use it to generate electricity, could play an important role. They're not new to the Magic Valley either. GESS International, a North Carolina-based company, recently announced a plan to build six $40-million methane digesters in Burley.
Methane digesters don't extract the nutrients from manure, however. There is still a waste product full of nitrogen and phosphorous.
"It's not the silver bullet that they think it is," Naerebout said.
Still, methane digesters can make it easier to handle manure, and reduce the volume somewhat.
Clean water and profitable dairies
Johnson acknowledged that addressing the pollution problem will involve a financial cost. He noted that stricter regulations caused some dairies to leave California back in the 1980s. At the same time, ensuring clean drinking water should be given the utmost importance.
"Doing some of these things will involve spending money," Johnson said. "They won't be able to (dispose of waste) as cheaply as before. But ultimately, their long-term success, I would think, is predicated on not harming the environment."
Reducing nitrogen and phosphorus probably won't come from new regulations; it will take initiative from the dairy industry.
"I think (dairies) can do a better job," Johnson said.
Naerebout said protecting groundwater is critical, but people have to be realistic.
"We have to make sure that our expectations don't come with such a high regulatory cost that we damage our local economy," he said.
For now, the ICL says that excess nutrients haven't led to any adverse effects on human health in the eight-county region. But the numbers are trending in the wrong direction, and changes need to come quickly.
The business news you need
With a weekly newsletter looking back at local history.