TWIN FALLS — The Magic Valley experienced some good labor force growth in December compared to the rest of the state.
According to preliminary data released by the Idaho Department of Labor, the eight counties of south-central Idaho grew their labor force by 0.6 percent between November and December 2018. Idaho as a whole, meanwhile, grew only 0.2 percent. The south-central Idaho region accounted for almost 30 percent of the state's total labor force growth.
"That doesn't happen very often," said Jan Roeser, regional economist for the Idaho Department of Labor.
But if you look at the year-over-year growth, the picture isn't so bright. The region grew its labor force only 0.6 percent from a year ago, where the state grew 1.7 percent in the civilian labor force — the number of people 16 and older who are working or looking for work.
"We're kind of flattening out," Roeser said.
The state agency estimates the region's labor force was 101,486 in December. And earlier estimates for November were lowered upon revision.
Unemployment, meanwhile, remained flat statewide at 2.6 percent. But the Magic Valley, which previously sat at 2.3 percent in November, rose to match the state's rate. The region's lowest unemployment rate was in Camas County at 2.3 percent, while Twin Falls County had the highest at 2.8 percent.
Idaho's statewide unemployment rate has been below 3 percent for 16 months, but south-central Idaho has been below 3 percent for longer than that: 21 months. The streak started in April 2017.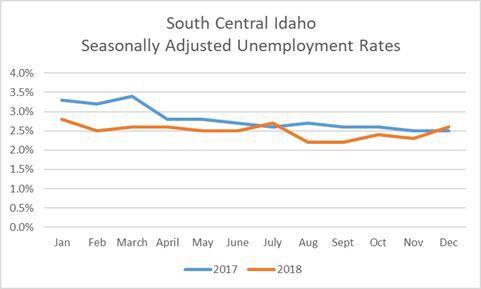 "This is the longest systemically low unemployment rate for the region as a whole," Roeser said. "In previous expansionary times, not all the counties were on the same page, so to speak."
For example, the tourism industry in Blaine County took a hard hit after 9/11, she said. And when J.R. Simplot Co.'s potato processing plant closed in Heyburn, Minidoka and Cassia counties had a big reversal of fortune. Mini-Cassia did, however, come through the Great Recession better than the other counties, Roeser said.
Now, the attraction of new businesses and job growth have helped boost the economy throughout the region, she said.
Unemployment claims accelerated rapidly in December when south-central Idaho accounted for 12 percent of all claims in the state. Administration and waste continued to be the industry with the highest number of claims in the region.
But construction and agriculture surpassed manufacturing and retail last month for the No. 2 and No. 3 spots, respectively. According to the Idaho Department of Labor, agriculture unemployment claims in the region were 177 percent higher than a month ago.
Online job postings, meanwhile, continued to decline. According to Wanted Analytics, south-central Idaho had 2,220 postings in December, down 5.6 percent from the previous month.