HAGERMAN — At a bend in the Snake River, on the Magic Valley's western edge, there's a small turquoise cove that looks like it was transplanted from the Caribbean.
In summer, tourists from south-central Idaho, Boise and elsewhere flock to Blue Heart Springs, boating or kayaking the mile-and-a-half down the river to spend a day at the lush, idyllic spot cradled in the Snake River Canyon.
But something's growing at the bottom of Blue Heart Springs, threatening its blue beauty.
Aquatic plants have been expanding recently at Blue Heart. As the plants grow, they're obscuring the flat, sandy bottom. Without that clean surface, the place won't look blue.
Southern Idaho Tourism Executive Director Melissa Barry brought the issue to the Idaho State Department of Agriculture's attention. The agency, which oversees invasive species in Idaho, took plant samples from Blue Heart Springs in mid-February.
Swimming holes are summer hits, and this one is sure not to disappoint.
The test results are back, and they show two types of watermilfoil, one native and one non-native. ISDA Noxious Weeds Program Manager Jeremey Varley said that at this point the agency will have to wait until summer, when the plants are alive and growing, to get a good sense of which watermilfoil is the bigger culprit.
But whether it's the native or invasive milfoil expanding, the tourist spot's picturesque nature is at risk.
"We can't lose Blue Heart," Barry said. "It's extremely important."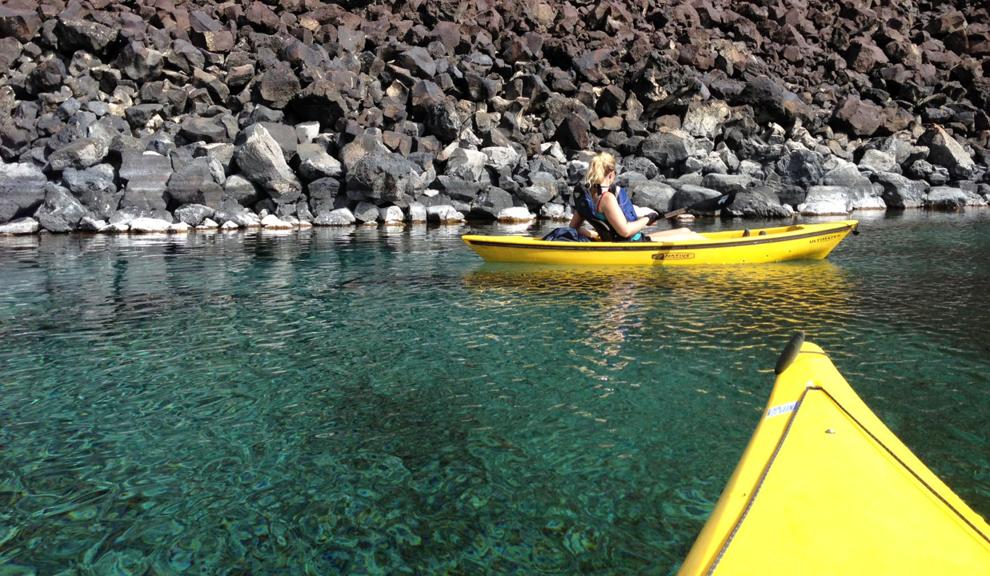 Tourism hotspot
A few years ago, Blue Heart Springs was a little-known gem in the Magic Valley. But recently it has become a common tourist destination — the spot likely saw record visitation this summer as COVID-19 pushed more people outdoors.
The cove can essentially be reached only by boat — it takes about 45 minutes to paddle there by kayak — but lots of people make the trek even though the site's out of the way. It's worth it, most figure, because Blue Heart is so stunning and unique, tucked into the side of the Snake River. It's also a popular destination for motorboaters, who drop anchor and spend the day there.
Blue Heart is fed by springs, which pour out of the Eastern Snake Plain Aquifer. The water is cold and well oxygenated. Constant water flow from the springs ensures Blue Heart is always full of spring water, not just water from the Snake. The clear floor at the bottom of Blue Heart, combined with the aquifer water, gives it the eye-opening blue hue.
The special spot might have looked more majestic in the past. Barry said that over time, the springs' flows have receded somewhat as the aquifer that feeds them has been depleted.
But it's the encroachment of aquatic plants that has Barry most concerned.
Varley said it's not clear why the plants are expanding at Blue Heart. There are some hypotheses, he said, but nothing concrete. He emphasized that ISDA needs to do more research to pinpoint the cause.
Barry said it could be that as springwater flows have decreased the clean aquifer water hasn't been flowing out into the Snake, effectively cleaning out Blue Heart. Maybe weakened springwater flows have enabled the plants to wash in and get more of a foothold.
It's also possible that as more people have visited Blue Heart they've been bringing in more plant matter and seeds on their boats and kayaks.
"With added people going in and out there's a possibility of contamination, too," Barry said.
What happens now?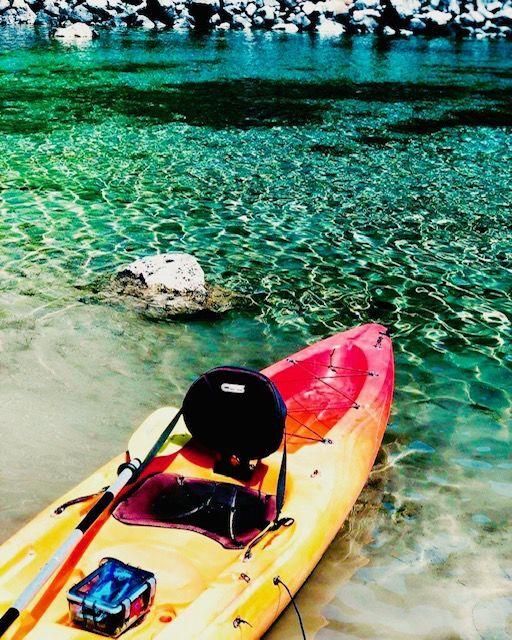 Between now and this summer ISDA plans on holding multiple stakeholder meetings to come up with a plan for handling the new plant growth.
If the problem is mainly the Eurasian watermilfoil, the solution might be more straightforward. There could be a wide range of mechanical or chemical options for removing the invasive plants.
AWOL Adventure Sports owner Paul Melni said there are plenty of Magic Valley scuba divers who would be happy to volunteer their time to tear the invasive plants out. Varley said that it's possible volunteer divers could be a good way to remove the plants.
Blue Heart is a special place, Melni said. It has to be protected.
"Once that thing goes green, it ruins it for everybody," he said.
The real question is what stakeholders will do if it's mostly the native Andean watermilfoil expanding at Blue Heart.
"I don't have jurisdiction over what happens if it's a native species," Varley said.
Barry said it's not exactly clear yet who would be in charge of what happens at Blue Heart's plants in that scenario.
But she emphasized that Blue Heart Springs is important for southern Idaho's tourism industry and economy. She hopes Magic Valley stakeholders can take care of the problem on their own.
"Once you lose it, it's way harder to get it back than if you were just to maintain it," she said. "I don't want it to get caught in someone else's responsibility."