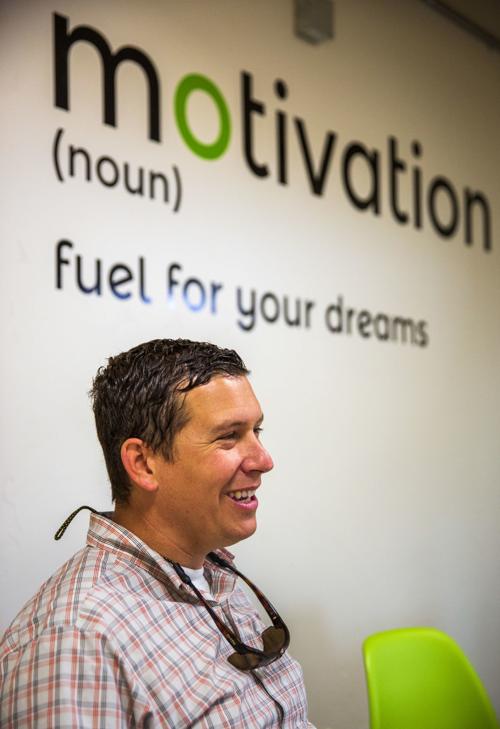 TWIN FALLS — Spencer Patterson never planned to get into tech. None of his first five jobs had much to do with running a software company.
"It totally snuck up on me," Patterson said with a laugh. "My plan was to be a communications professor for the rest of my life."
Entering college, he planned to be a dentist. But his first job after college was painting lines in parking lots. Then he took a job training employees at a title and escrow company. Not too long ago, he was a professor at Brigham Young University in Provo, Utah.
Now Patterson is CEO of Resultier, a software development company based in Twin Falls that does millions of dollars in revenue and has employees on two continents. Only a fraction of Resultier employees live in the United States: Four work in Twin Falls and 10 in Lehi, Utah. Seventy workers work in both India and Mexico, and an office in Madrid will be up and running by the end of the year.
Demand for Resultier's work is spiking, Patterson said, and he has big plans for the company's future.
"We want to build the best technology company in the world," he said. "The sky's the limit."
Resultier often builds software for financial institutions — they built the first online bank in Mexico. The company also has extensive experience designing surveys, but its clients don't fall into any particular niche. Exxon, Pepsi, Dell and Goodyear are just a few of the big-name businesses that have paid for Resultier's programming expertise, but a handful of Magic Valley companies use Resultier software, too.
According to Patterson, Resultier can design products that help companies streamline their work. That can entail making mobile apps to help large corporations communicate with workers, or improving how businesses manage and analyze data. Often a business will simply need entirely new software to address a unique challenge and will have Resultier invent a software system for them.
Twin Falls might seem an unlikely place for a growing software company to set up shop.
"People are always asking me when I tell them I'm in Twin Falls, Idaho, 'What are you doing there? What the heck?'" Patterson said with a grin. "I'm like, 'I just like Twin Falls.'"
"I don't think you have to live in Silicon Valley to have a tech company."
Patterson thinks the Magic Valley is a good place for tech.
"I want to see more technology in Twin Falls," he said. "That's one of my personal missions. Technology can bring jobs and bring money."
A Magic Valley man
Patterson took a long, winding path to CEO at a software development company. He grew up in Twin Falls and graduated in 1999 from Twin Falls High School as class president.
Then he enrolled at Brigham Young University-Idaho, then known as Ricks College. He planned to play cornerback for the Vikings, but that didn't work out too well due to a pinky injury.
At first, Patterson planned to enter his father's line of work — dentistry.
"I worked as a dental assistant and realized I hated it," he said.
At that point, he was three years into his degree, but he switched his major to sociology. After five years he graduated with a degree in university studies, with four minors: biology, sociology, chemistry and French.
After BYU-Idaho, he started his own parking lot striping business and got a contract with Flying J striping parking lots up and down the West Coast.
"It was a lot of late nights in sketchy places," he said.
Patterson got a master's degree in organizational communication at Idaho State University. Next came a turn at First American, an escrow and title company. When the recession hit in 2008, he went back to the University of Ohio for his doctorate, after which he created a company to study rare diseases, such as multiple myeloma.
After more academic research and working in medical analysis, he became a professor at BYU. He taught at Utah Valley University at the same time and worked in venture capitalism on the side.
"It's a non-traditional pathway," Patterson said.
But it's a pathway that has led him, albeit after 20 years, back to his hometown, leading a multimillion-dollar company with more than a hundred employees.
Resultier is growing fast, Patterson said. He sees opportunities for the company to grow even more, and build on its strengths.
"I think as far as bridging the gap between overseas and U.S.-based projects, we're the best," Patterson said. "We think this can be a $100 million company."
The business news you need
With a weekly newsletter looking back at local history.