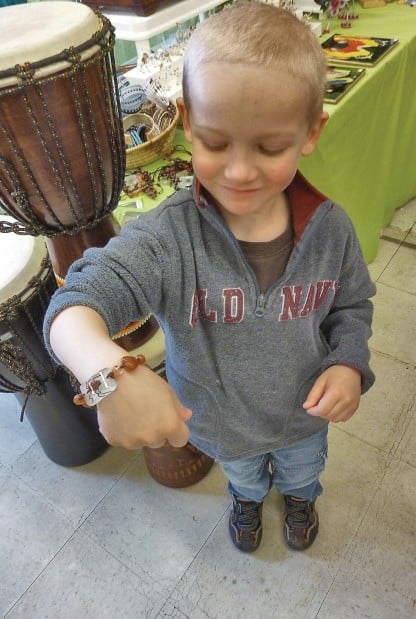 HAGERMAN — After Chappel's grocery store built a new facility, its original Main Street storefront sat empty for five years. But last fall, the building got new tenants.
The building now hosts the Fantastic Flea Market, held every Saturday.
Shoppers wind in between Donna Jensen's jalapeno cupcakes and Ronda Painter's fleece hats, cut from a pattern she created.
There are antiques, cosmetics, knives, food in the back and even a black lab mascot named Midnight, who mingles with attendees, collecting an entrance fee of behind-the-ear scratches.
The move into the previously abandoned building is the brainchild of Kay Phillips.
Phillips started the market at nearby Billingsley Creek State Park, but moved to Hagerman in search of a more permanent location.
Phillips said the downtown location has captured the attention of people driving through Hagerman, either on their way to nearby hot springs or to local sports showdowns.
It's also drawn a crowd of close-knit vendors.
"I've done a lot of shows and there are a lot of stick-in-the-mud people," Phillips said. "These people are great."
Each week, about 20 vendors pay $25 for booth space. Most of the vendors earn about $70 to $200 a week, depending on the weather.
Victoria Holloway Berglund sells antiques and plants as a volunteer fundraiser for a local high school. She said sales have only once failed to cover her booth rent. Most Saturdays, she draws about $70, but as much as $150.
"Some days are longer than others," Berglund said. "It gets hot, it gets colder out. I really look forward to seeing my friends."
That sense of community is shared among the other vendors. Ronda Painter runs a business of sewing alterations, but the flea market, where she sells hats, aprons and other stitched goods, is her break from the daily whir of her sewing machine.
"This is my getaway because I'm away from home, from sewing 18 hours a day," Painter said. "We've all become such good friends. I look forward to it. It's my day out."
But it's not just about the vendors. Customers also return to the flea market for its sense of community.
James and Lindsay Mills and their four children have been coming to the flea market since they moved to the area about a year ago.
"It's gotten so everyone knows us," James said.
On last Saturday, 5-year-old Sam Everett was especially drawn to a bug bracelet at Robbie Regan's stall of Indonesian and Thai imports.
"They do chores for their allowance and they end up spending most of it here," his mother Lindsay said.
This Saturday was no exception. After consulting with Regan about bug types and which bracelet would fit best, Sam left with a creepy crawly encased in jade around his wrist.
That sort of camaraderie is what Phillips originally had in mind for the flea.
"It's a good place where people can come and have fun and walk out the door with something," she said. "When I first started, I wanted to create a social event, especially because it's a small town. Now that were back in town, it has turned into a social thing."
The Fantastic Flea Market is held from 10 a.m. to 5 p.m., Saturdays through December at 120 Main Street, Hagerman.
The business news you need
With a weekly newsletter looking back at local history.