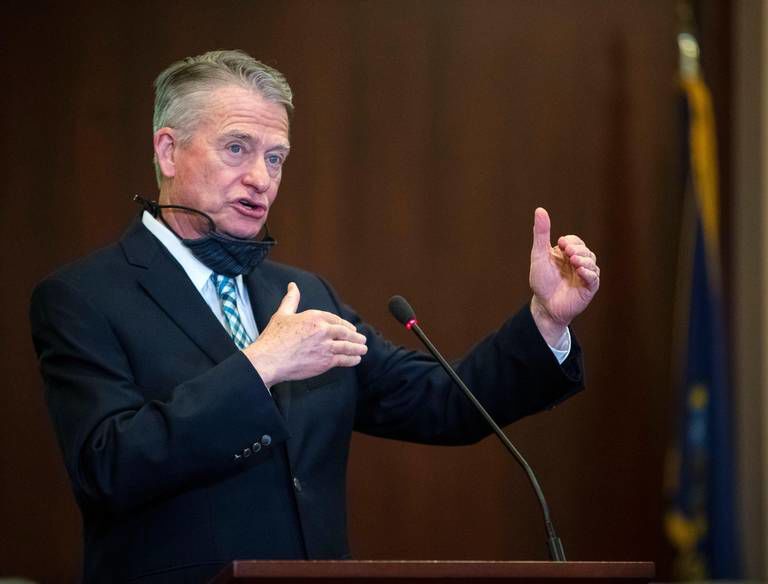 BOISE — Idaho has paid out less than a quarter of the $100 million set aside by Gov. Brad Little to encourage laid-off Idahoans to return to work.
So far, $20.3 million has been issued by the Idaho Tax Commission in back-to-work bonuses, with an additional $2.1 million approved for distribution.
Last month, Little announced that the state would give up to $1,500 to full-time workers, those working at least 30 hours per week, to return to work. Employees who worked a minimum of 20 hours per week were offered up to $750. The entire program has $100 million available on a first-come, first-served basis.
The bonuses were given as bait to encourage workers earning $75,000 or less a year to get back to work, rather than continue drawing unemployment. The bonuses are paid after a worker has put in four weeks of work after returning to work between May 1 and July 15.
"The Return-to-Work bonuses reflect Gov. Little's belief that we want people working," Marissa Morrison Hyer, Little's press secretary, said in an email to the Idaho Statesman. "Idaho now ranks in the top three states nationally for lowest unemployment and first in the nation in economic momentum during the COVID-19 months. Idaho's strong economic rebound is the result of the foresighted stimulus efforts and the great work Idaho businesses have done in re-opening safely."
Little created the bonuses using part of the $1.25 billion he received for state and local use under the $2.2 trillion coronavirus relief law Congress passed in March.
He created the bonuses to counter the $600 weekly federal supplements to Idaho's unemployment compensation that Congress authorized in that same law. Those supplements gave laid-off people an incentive not to return to work, the governor said in an interview this week.
"In an ideal world, if I was crafting everything, I wouldn't have to do the back-to-work," Little said. "Congress would have created a better incentive for people to go back to work."
He said Congress created a cookie-cutter approach that applied the same to someone in Manhattan, where it's very expensive to live, and to someone in Aberdeen, Idaho, where the cost of living is much less.
"What we need is some kind of incentive for people go back to work," Little said. "And everybody, even the proponents of it, said in some areas, it was a disincentive for people to go back to work."
So far, 3,956 employers, representing 23,346 workers, have taken the governor up on his offer. Nearly 15,100 workers have had payments issued, with 1,573 more approved for payment, leaving 6,706 in review, according to a report from the Idaho Tax Commission.
It's unclear why more employers did not take the offer. While most businesses have reopened, restaurants are unable to serve as many customers while maintaining social distancing, and hotels and other businesses dependent upon tourists have not seen business return to the same levels as in summers past.
Calls to the Idaho Associated General Contractors, the Idaho Lodging and Restaurant Association and the Idaho Retailers Association were not returned.
Little and the Coronavirus Financial Advisory Committee will determine how best to use any leftover money, Morrison Hyer said. "The governor has stated that any unspent money at the end of the year would likely go to the unemployment insurance trust fund," she said.
Idaho's unemployment rate ballooned to 11.8% in April, with more than 100,000 people out of work. It improved to 9% in May and 5.6% in June, according to the U.S. Bureau of Labor Statistics.
The sooner they returned to work, the bigger the bonus workers were offered. Full-time employees who came back to work from May 1 to July 1 could earn the full $1,500. Those returning to work July 2 to 8 were eligible for $1,000, while those starting back to work July 9 to 15 could receive $500.
In those same time periods, part-time workers could earn $750, $500 or $250.
Forty percent of the payments that have been approved or are in the pipeline are for people employed at restaurants, hotels, and the health-care and-social assistance sectors, according to the tax commission. They are slated to share in $12.3 million.
Store clerks and other retail workers put in claims totaling $4.9 million. Manufacturing employees put in for $4.1 million.
Eighty percent of the claims, 18,748, were submitted in the first five days of the program, between July 13 and July 17.
Payments are being made within about a week after the application is approved.
For those still out of work, the $600 a week supplemental unemployment benefit provided by the federal government is scheduled to end at the end of the week.
In May, the Democratic-led House passed an extension that would continue the $600 payment through the end of the year. Republicans and the White House oppose maintaining the $600 level, saying it discourages people from going back to work.
GOP senators suggested lowering it to $200 a week through September, according to the $1 trillion HEALS Act proposed on Monday. In October, the payment would rise to as much as $500 a week that when combined with state unemployment payments would give workers 70% of their working salaries.
The $600 supplements expired Saturday.