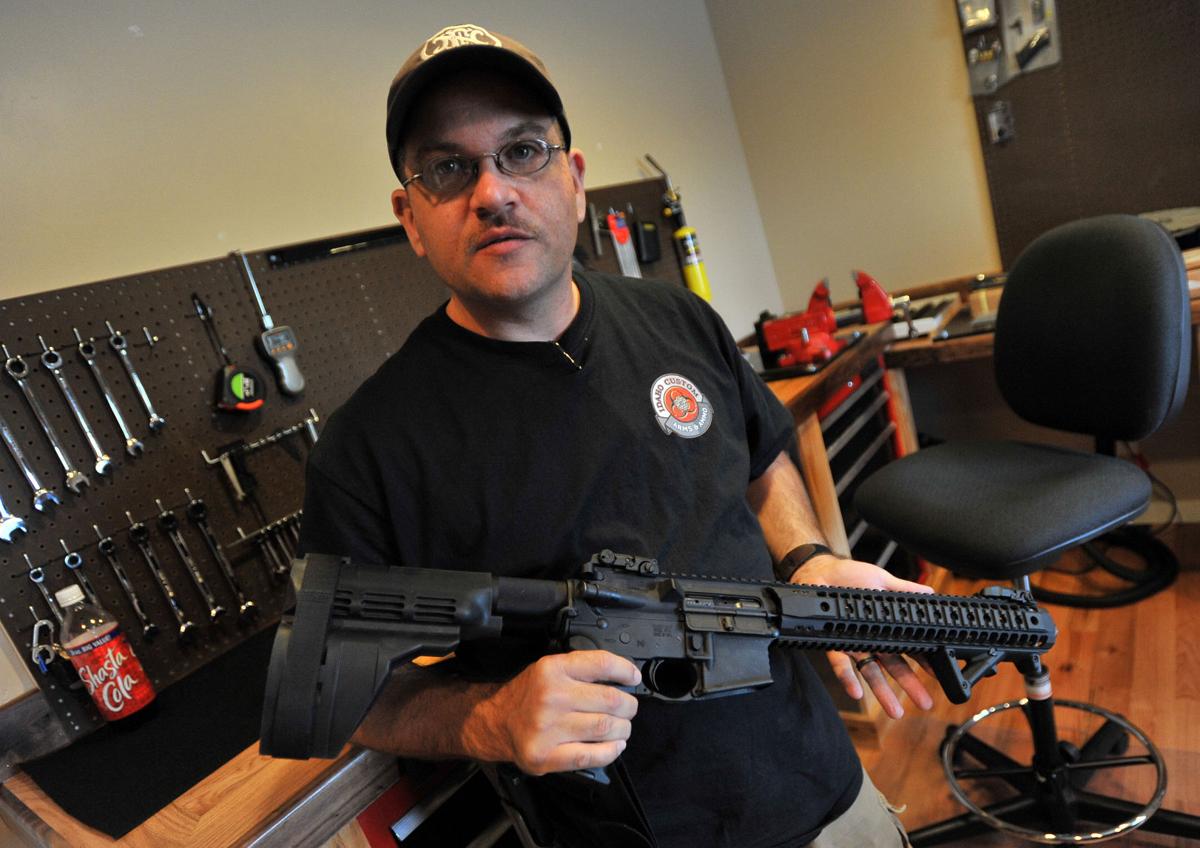 KIMBERLY, Idaho • This is my rifle. There are many like it, but this one is mine.
The Rifleman's Creed is mandatory learning for U.S. Marines in basic training. It's also well known among civilians, thanks to a scene in Stanley Kubrick's Vietnam War movie Full Metal Jacket. To a trio of local firearms enthusiasts, the first two lines have become a business model.
"You can trick out your jeep, or you can trick out your gun," Chad Heider, said Thursday.
Heider is a co-owner of Idaho Custom Arms & Ammo, of Kimberly. His partners are Ryan Carpenter, of Jerome, and George Kinslow, of Kimberly. Their services include loading bulk and custom ammunition and cleaning, repairing and customizing guns.
"We can put on all the furniture, glitz and glam you want," Heider said.
Kinslow, who primed the operation, started gunsmithing at age 12.
"My father helped me build an air rifle and I got the bug then," he said, seated at the company's headquarters, with an FNP-9mm holstered on his hip.
The bug lead Kinslow to mowing lawns, a startup business that paid for hands-on training — a "cheap .22."
"I would tear it all apart to see how it works," he said.
Kinslow later served in the U.S. Marine Corps Reserves and the Army during the Gulf War, but never saw active duty.
"You join the military to see the world and I never got out of the states," he said. In hindsight, he's glad he never saw conflict.
What he did see was an armorer's course, a military gunsmith school that lead him deeper into the craft.
In 2002, Kinslow started Idaho Ordnance as a "hobby business." He offered gunsmithing services as well as firearms training. Over the years, the small shop became successful enough to bury Kinslow beneath a growing inventory of firearm parts and customer's guns.
"I had guns stacked on top of each other," he said. "I was out of room for them. They were in every nook and cranny."
With his work space consumed, Kinslow was unable to add the machinery he needed to physically expand his business and services.
That's when friend and fellow gun enthusiast Heider stepped in. Sharing a similar interest in firearms, from a less tactical background, he'd been hanging around Kinslow's shop for years.
"I just have a love for guns and a love for hunting," Heider said.
After selling off a part of his lawn care business, Heider was looking for another venture. He partnered with Kinslow, and hoping to be the yin and yang of custom arms.
"We hope between the three of us, we'll be able to meet the needs of the community," Kinslow said.
The trio recently reopened the shop in Hieder's lawn care office, and renamed the business. They brought Carpenter on along the way.
He shares both sides of his counterparts interest in guns, he said. He's an avid hunter who also has a keen interest in the minutia of munitions.
"My wife calls it the most boring hobby in the world and the most expensive hole punch," he said of his passion for fine tuning rifle accuracy.
Heider and Kinslow are quick to point out that they aren't a pawn shop or a retail gun dealer.
"We are in a position to complement gun stores," Kinslow said.
Complementing gun stores means providing a service that allows people to personalize their guns. A lot of people know what they want, Heider said, but they don't always want standard issue.
Modern handguns and tactical rifles have paved the way for accessorizing and customization.
"It's a whole new world," Heider said.
Kinslow said the AR-15 has been in production for a long time, but the ability to customize it has increased it's popularity. Numerous modifications such as grips, barrels, optics and muzzle devices are possible.
"They're like Legos," he said.
The company is already operational, and their reloading service already is growing the business, Heider said. They're shooting for a grand opening in September.
The business news you need
With a weekly newsletter looking back at local history.