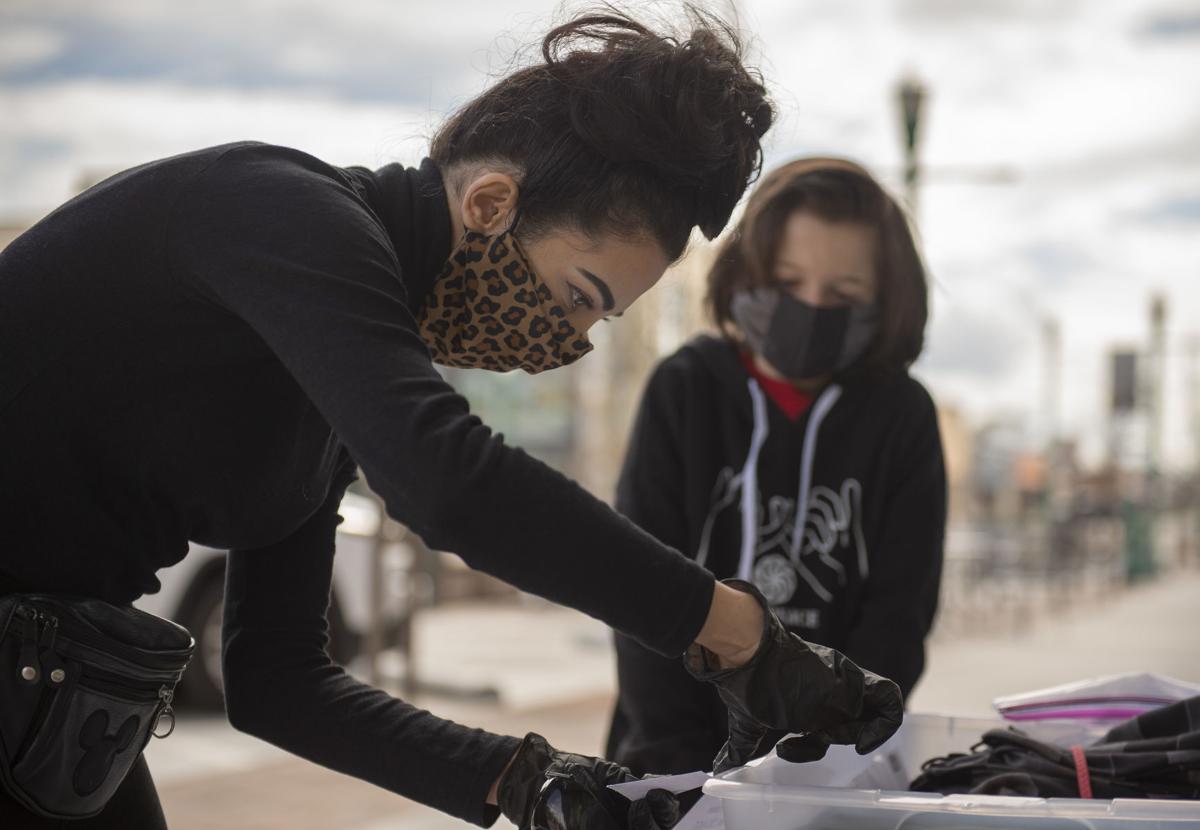 TWIN FALLS — Just as governments, schools and everyday families across America are making changes due to the COVID-19 pandemic, thousands of businesses are adapting to keep serving their customers during this challenging time.
Magic Valley health officials say the actions businesses take are key to protecting public health and safety, but customers can also do their part to help safe local businesses stay open.
Businesses working hard to put good health and safety practices in place not only help the employees of the business stay health, but help the broader community as well, St. Luke's Magic Valley Medical Center spokesperson Michelle Bartlome said.
"Businesses are an essential part of any healthy economy," she said, "So as they decide to participate in implementing good safety practices, it helps the overall health of the community."
South Central Public Health District spokesperson Brianna Bodily said customers supporting businesses that take safety measures seriously also helps the entire community.
"If your health is not protected, don't enter that space," Bodily said. "If your health is protected, then reward them. Help them to continue to keep their business afloat since they are showing their commitment to keeping you healthy."
Businesses need that support because it is not easy for all of them to survive in the pandemic.
"It's never going to be popular to require anything of your patrons except for payment," she said. "So when we ask these businesses to require more, to ask for that social distancing, or limit how many patrons can even enter their business, we are asking them to put their patrons before their bottom line."
But when businesses cooperate and customers respond positively, both customers and businesses benefit, she said.
"It also sets a very good example for the rest of the community," Bodily said. "As one business does it, another business is encouraged to do it."
What does a business adhering to health recommendations look like?
"Businesses can lead by example and follow guidelines of organizations like the CDC and our local health district, South Central Public Health District," Bartlome said.
Bodily said the first thing businesses can do to protect the spread of the disease is take steps internally like requiring masks for both employees and patrons and making sure social distancing is not only an option but encouraged at all times.
She also said it is relatively obvious when a business is committed to following precautions and guidance — keeping their staff and patrons safe — and people can see it when entering that business.
"Additional strategies businesses can consider include improving ventilation, adjusting seating arrangements to ensure proper distance between customers, limiting the number of people in their business at a given time, adding curb-side pick-up for items, and adding touch-less menus and payment options," Bartlome said.
Why do businesses need to follow the health recommendations?
Bodily said some people assume catching COVID-19 is not that big of a deal or think immunity might come from having the disease so they can resume their normal way of life, however, the reality is that every individual who contracts the disease brings impactful consequences to the rest of their community.
"We have some businesses that are very open about disregarding all precautions, even the governor's health order," she said. "We have some businesses that are very careful and want to protect their staff and patrons, and then we have plenty of businesses somewhere in between."
As the winter months begin and people have indoor parties, get-togethers, and celebrate the holidays, if safety precautions are not taken at those events they become good opportunities for the virus to spread, Bodily said.
As a result, some community members will lose important income because they become sick and cannot work, she said, or they may lose their business because they are unable to keep it running, or they may lose a loved one because even though they can handle the disease well if contracted, they unintentionally pass it onto somebody who cannot.
How does a business help the health care system?
Ongoing challenges the health care system is experiencing are tied to how the public and businesses operate in the community, officials said.
The more people and businesses in a community do not follow the recommendations, the more of a negative impact it will have on the health care system. And if staff members at the health care facilities catch COVID-19, there will be fewer people at the facilities to operate them, Bodily said.
Several hospitals have reported difficulties in keeping beds open, but the more common issue the health district hears from the hospitals is keeping the staff well.
"Having very close contact with individuals who are not only facing, fighting COVID-19, but a myriad of other diseases is one challenge," Bodily said. "As they see an influx in patients, caring for these very contagious, viral diseases, they are more likely to lose employees to sickness, and it makes a big impact on what they are able to do and how much care they are able to provide."
Health officials recognize there is "caution fatigue" — people want to ignore the virus and return to regular-day life. But ignoring the virus is not effective and is something people just can't do, Bodily said.
"Facilities or businesses that are throwing caution in the wind, I recognize their is likely exhaustion. The pandemic has been hard on everybody and we've seen loses, especially in our economic sector," Bodily said. "But I also have seen from my own experience how different the response is from the public when you do not take precautions and when you do not require them. You are going to get crowding in your facility and then you can have people within 6 feet of each other, people not wearing masks, and you are potentially hosting a super-spreader event. That is exactly what we want to avoid."