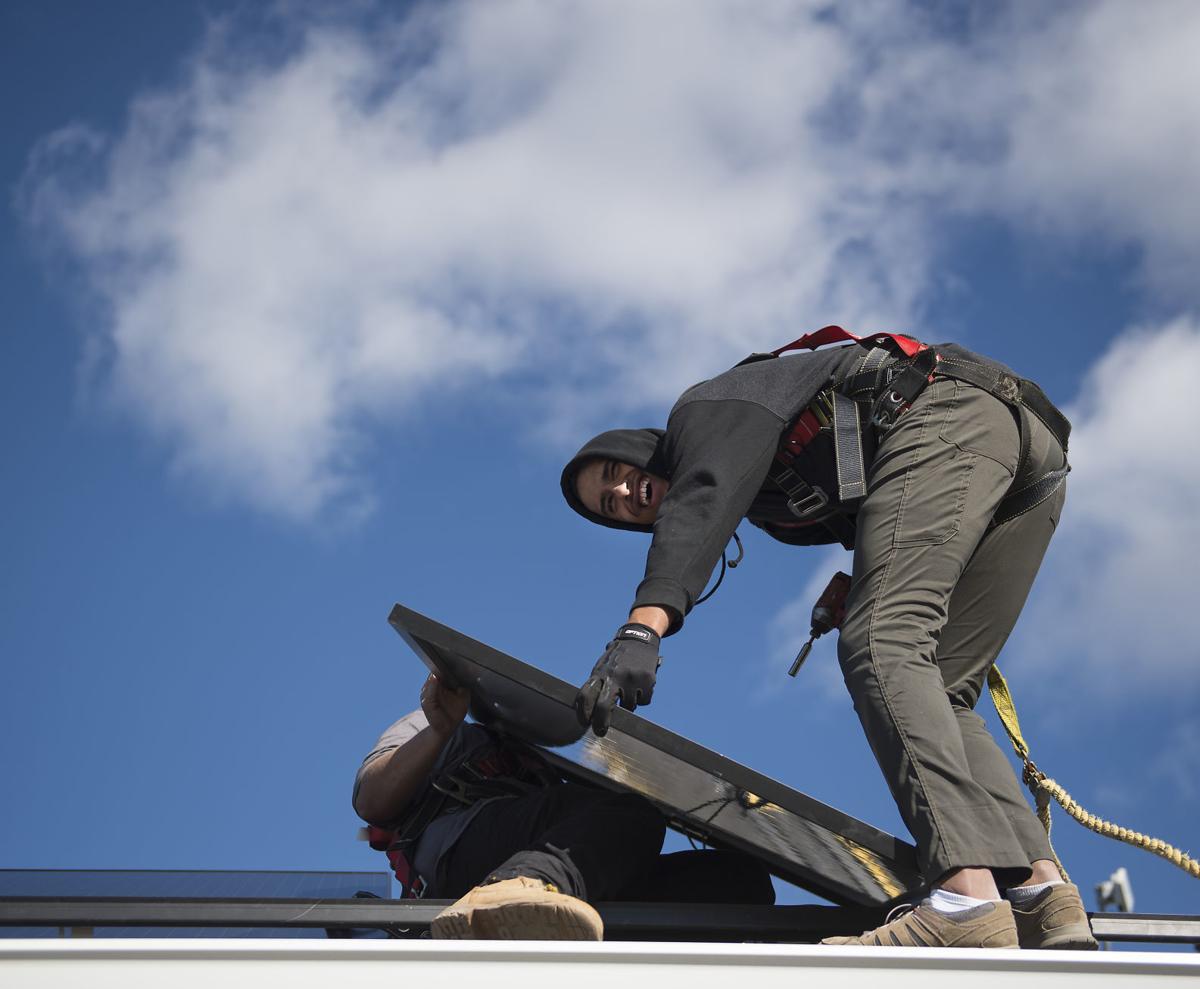 TWIN FALLS — Solar panel owners can breathe a sigh of relief after an Idaho Public Utilities Commission decision announced Feb. 6. But the financial benefits of solar panels in Idaho remain unclear for future owners.
That uncertainty is hurting local businesses.
Joey Richardson is a project engineer with the Buhl-based installer Gietzen Solar. He said some people who wanted him to install panels on their roofs have now lost interest because the future costs and benefits are up in the air.
Many Idaho installers are already scaling back, Richardson said, and some are pulling out of the state entirely.
A fight over metering
Back in December, the Public Utilities Commission rejected a proposed settlement between Idaho Power and other groups, including the Sierra Club and the Idaho Clean Energy Association. That settlement would have generally made solar panels half as valuable by changing how panel owners are compensated for electricity they send back to the grid.
The PUC decided that anyone with panels prior to Dec. 20 will be grandfathered and continue to be metered monthly and credited for electricity at the retail rate until 2045. That decision was welcomed by panel owners and installers like Gietzen Solar. Idaho Power did not contest grandfathering.
But after the PUC rejected the settlement, Idaho Power petitioned the commission to reconsider it. The PUC rejected Idaho Power's petition Thursday.
Are solar panels fair?
For now, solar panel owners in Idaho receive credit on their electric bill for the electricity they produce but don't use. They are credited for that energy at the retail rate, 10 cents per kilowatt-hour. In other words, Idaho Power pays for the electricity at the same rate it charges for it.
But Idaho Power wants to change that. Under the proposed settlement that the PUC rejected, the utility would have paid panel owners about half the retail rate. That transition would have happened gradually over eight years.
Additionally, Idaho Power wants to switch from monthly to hourly metering for panel owners. That also would make solar panels less valuable, plus it makes it hard for panel installers to give potential buyers forecasts on their savings.
Idaho Power Communications Specialist Jordan Rodriguez said everyone without solar panels is subsidizing those who have them.
"The company believes that there's a fairness issue with the pricing for net metering," Rodriguez said.
Four thousand, or less than 1% of Idaho Power's customers, have solar panels. Rodriguez said that as more people install panels, the more unfair things get.
But not everyone agrees that the average homeowner is getting punished just because solar panel owners are being credited at the retail rate.
Idaho Conservation League Energy Associate Ben Otto said there isn't any good data suggesting that's the case, and he added that there's evidence suggesting the opposite, that more solar panels reduce costs for all by reducing a utility's infrastructure needs.
Otto said Idaho Power is fighting to make solar panels less attractive in order to maintain its energy monopoly.
"They don't want people to buy solar panels," he said. "All utilities' business model is to be the people who sell electricity. If you provide it for yourself, that's less business for them."
Solar might have cloudy days ahead
When the PUC rejected the proposed settlement, it told Idaho Power that it had to conduct a thorough study of the costs and benefits of customer-generated solar. When Idaho Power finishes that study, it will reappear before the PUC, and the crediting system will change, likely to the detriment of new panel owners.
Rodriguez said Idaho Power does not have an estimate for how long the study might take, but until it's done, there won't be a new crediting system in place. And, without a certain system, there's no way for companies such as Gietzen Solar to estimate costs and savings for potential customers.
Otto is worried if that study isn't finished quickly, few people will feel comfortable making such an uncertain, expensive, long-term investment.
"I think we'll see a slowdown in the market," he said.
Richardson shares those worries. But he emphasized that, while the financial benefits of solar will probably take a hit, it still pays to get panels. Solar's going to keep growing.
"Solar's still going to be a big win for somebody who can go the long haul," he said. "It's still going to make a lot of sense regardless of what Idaho Power does."