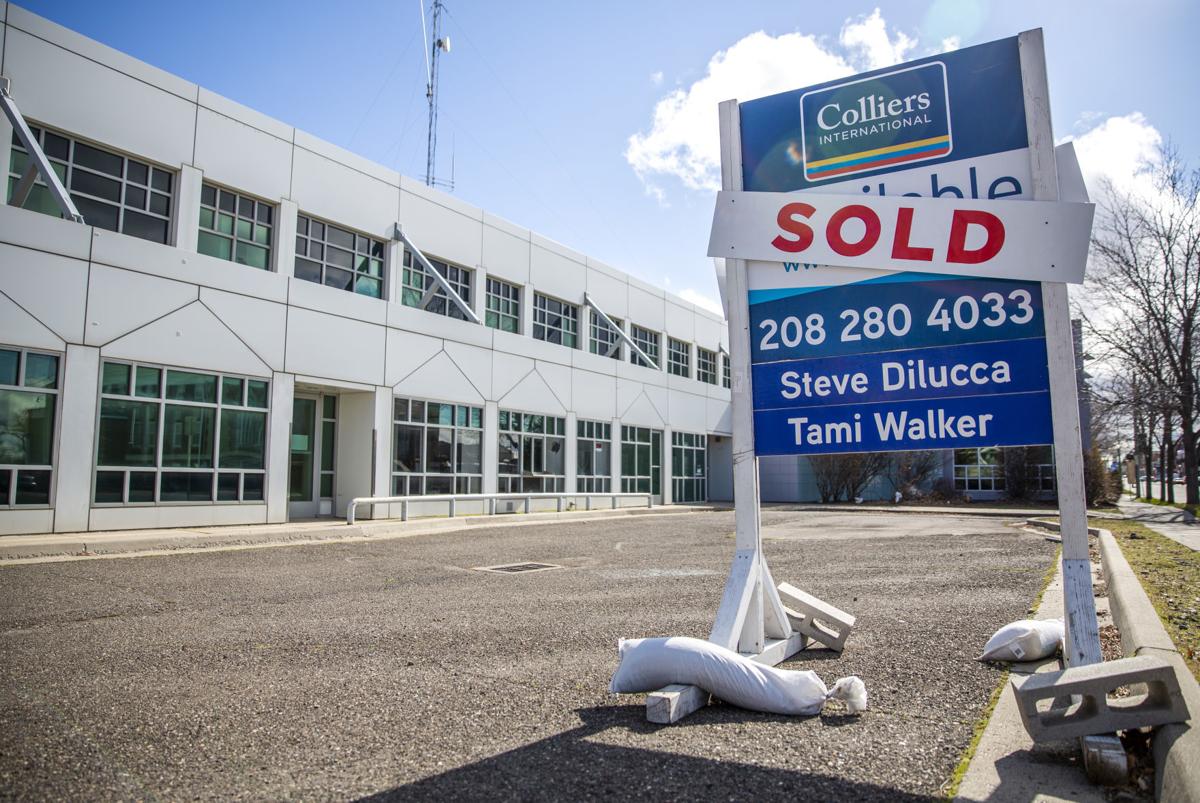 TWIN FALLS — The downtown housing project shot down by the City Council on June 8 could be proposed again in truncated form according to the property owner.
"We're still trying to figure it out," Galena Opportunity Fund CEO Bill Truax said. "The economic viability of that project is severely limited now."
Two weeks ago, the City Council voted against the Galena Opportunity Fund's plan for two 56-unit, five-story apartment buildings near Twin Falls City Park. The $30-million development would have included 67 market-rate and 45 affordable units, but it received fervent opposition from residents who worried the project would reduce parking on public streets and ruin the neighborhood aesthetic.
Truax said Monday he still hopes to bring residential units to the properties on Shoshone Street and Seventh Avenue, but the plan to place a charter school in the old clinic building is almost certainly dead. The charter school — which is just a stone's throw away from the two would-be apartment building sites — was not part of the proposal that appeared before City Council, but the Galena Opportunity Fund's plans for the three properties were intertwined.
If a project comes to the two relatively unused parking lots and long-abandoned clinic building, Truax said, it will probably have to be smaller.
He said that's disappointing because bringing in new residents of diverse economic backgrounds is essential if downtown Twin Falls is going to prosper.
"What I was hopeful for is that this pandemic that we're in right now would give people a sense of understanding of how fragile the economic system is and how much you need all people to form robust economic systems," he said.
Does the city want more downtown housing?
Truax said the City Council's decision to deny the project's plans was frustrating for several reasons. Perhaps most notably, the project would appear to have given the city exactly what it says it wants: More downtown housing.
"I was frustrated with certain council positions on the matter, because I felt like they went against what was called for in the comp(rehensive) plan," Truax said.
Planning and Zoning staff submitted to City Council a report on the project prior to the meeting. That report states that the project conforms with the city's comprehensive plan — a document that outlines Twin Falls' urban planning objectives.
While the project would have exceeded the housing density goals outlined in the comprehensive plan, Planning and Zoning staff wrote "there are numerous other goals and objectives outlined within the document (the comprehensive plan) which point towards projects like this as being desirable in this area of our city."
The Planning and Zoning Commission had voted to recommend City Council approve the project under the condition that the developer resolve parking issues — the commission did not object to the density or height of the project.
City leaders say that increasing the number of residents downtown is a must in order to support downtown businesses. Twin Falls officials have also said that taller, more dense housing such as that proposed by the Galena Opportunity Fund, is needed in order to slow urban sprawl and preserve agricultural land.
Mayor Suzanne Hawkins said increasing housing downtown is important. Promoting growth and business are important, too, she said, but this proposal wasn't right.
"The project does have to fit the property," Hawkins said Tuesday.
The project was mischaracterized in a handful of ways, Truax said. For one, he rejected the idea that lower income residents won't support nearby businesses. Even if that were true — he said it isn't because these apartments would have been in large part occupied by single people or couples, who have more discretionary spending power — more than half of the units were market-rate anyway.
Truax also said the parking discussion was problematic.
The project failed to provide enough off-street parking per city zoning rules. But Truax said the neighborhood could have handled the additional vehicles. Plus, he said, no one has a claim to public parking.
"We own the property that takes up most of Seventh (Avenue), and the same argument could be made from our side, that we don't want other people using our parking," Truax said. "The reality is it's public parking, it's a public road."
Truax also noted that parking concerns are often raised when residents don't want low-income residents moving into their neighborhood.
"It's the one thing you can discuss," he said.
Too many exceptions
The City Council voted unanimously to reject the Galena Opportunity Fund's request — Councilman Shawn Barigar recused himself.
Mayor Suzanne Hawkins said she voted no only because the project required too many variations, too many special exceptions to city zoning.
She noted that, as far as she remembers, in her time on City Council she has never voted against a development project, even ones that come with zoning exceptions. Generally speaking, it's important to honor personal property rights, she said.
This project, however, with its requests for additional height, reduced parking requirements and no setbacks from the street, required too many exceptions at once.
"Those zoning ordinances that are there are there to protect current property owners," Hawkins said.
She also said that the project isn't comparable to the proposals that City Council approved for a four-story hotel on the canyon rim or for a six-story building in place of the Youth Ranch on Main Avenue.
Ultimately, Hawkins said she voted no due to safety concerns. If the project doesn't have setbacks — if it's too close to the street — drivers won't be able to see around it. She said that could cause accidents.
"I don't want an eyesore road block where traffic can't see," she said.
Even though the Galena Opportunity Fund won't be able to build the two large apartment buildings, Truax said the investment group still wants to build here.
"As a market, we love Twin Falls," Truax said. "We're not leaving the area."
The business news you need
With a weekly newsletter looking back at local history.