TWIN FALLS — Showing off your talent in front of recruiters isn't just for football players anymore: A group of Twin Falls students demonstrated their construction skills for prizes and even the chance to get a job offer.
"The idea originated kind of from the NFL Combine," Scott Stephens said. "We invited the contractors — just like the NFL teams — to evaluate the students and then offer them a job."
The Construction Expo at the College of Southern Idaho was the second event of its kind in the state. Organizers borrowed the idea from Stephens, a business consultant with Idaho State University who hosted a "Construction Combine" in Pocatello last year.
A year after the Pocatello event, several builders say they still have some of those workers who accepted jobs. That's really attractive to employers who struggle to find workers during the current construction boom.
Stephens was asked by the state builders association to test his idea out in other places to see how well it works. More events like this are scheduled to take place in Coeur d'Alene, Idaho Falls and Ontario, Ore., in the coming weeks.
The Twin Falls event took place March 14-15 at the CSI Expo Center. Twin Falls Economic Development Director Nathan Murray said he reached out to the Magic Valley Builders Association to recruit interested contractors in different construction-related fields.
"For me, it's helping out these contractors who are having a hard time hiring right now," Murray said.
In the eight counties of south-central Idaho, average construction employment still lags nearly 21 percent behind its peak in 2007. Workers ages 55 and older are a growing percentage of the construction workforce, while the younger workforce (14-22 years old) was hit hard, and has yet to bounce back from the recession.
That may be why 16 businesses signed on to help teach students about homebuilding, drywall, cabinets, countertops, solar panels, plumbing, roofing, flooring and painting.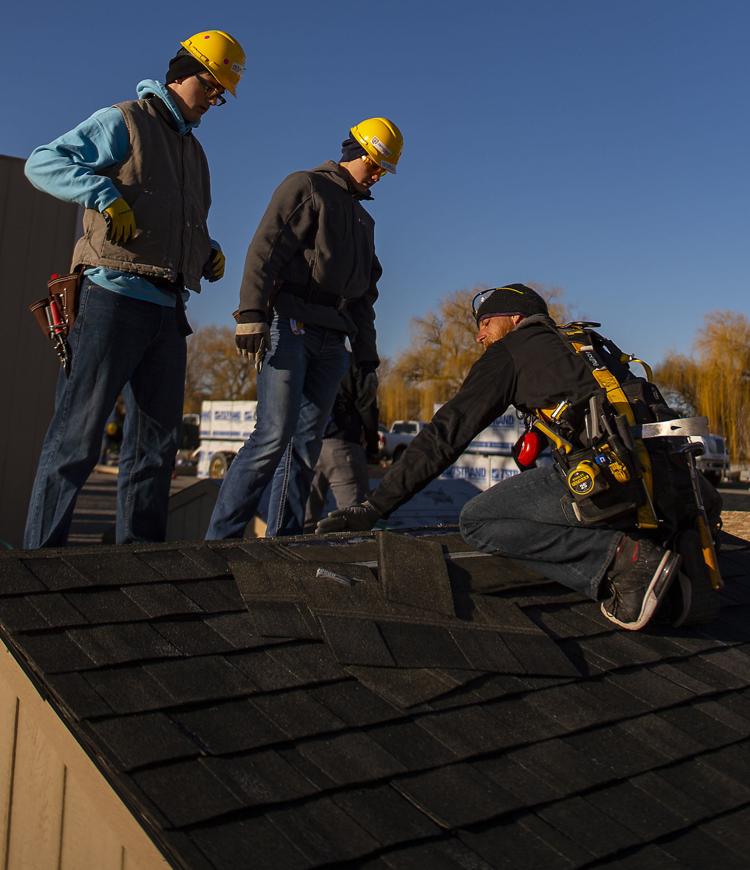 Thirty students showed up from Kimberly, Murtaugh, Xavier, Twin Falls, Canyon Ridge and Magic Valley high schools. These were mostly juniors and seniors who told their counselors they had an interest in construction-related careers.
Students put their skills to the test by constructing eight sheds and assembling seven bathroom vanities. The sheds were to be donated to local veterans, and vanities were going to a Habitat for Humanity home, Valley House and the Boys & Girls Club auction.
Contractors were also asked to evaluate the students based on their aptitude and enthusiasm for the task. Students earned stickers on their hard hats, and the four with the most stickers would each receive a toolkit at a ceremony Friday evening. A select few would also get job offers.
As of Thursday afternoon, Twin Falls High School senior Tom Cserepes and junior Kayden Jensen each had 14 stickers — and were tied for the most.
"I really enjoyed the shingling station," Cserepes said. "I got a job offer today."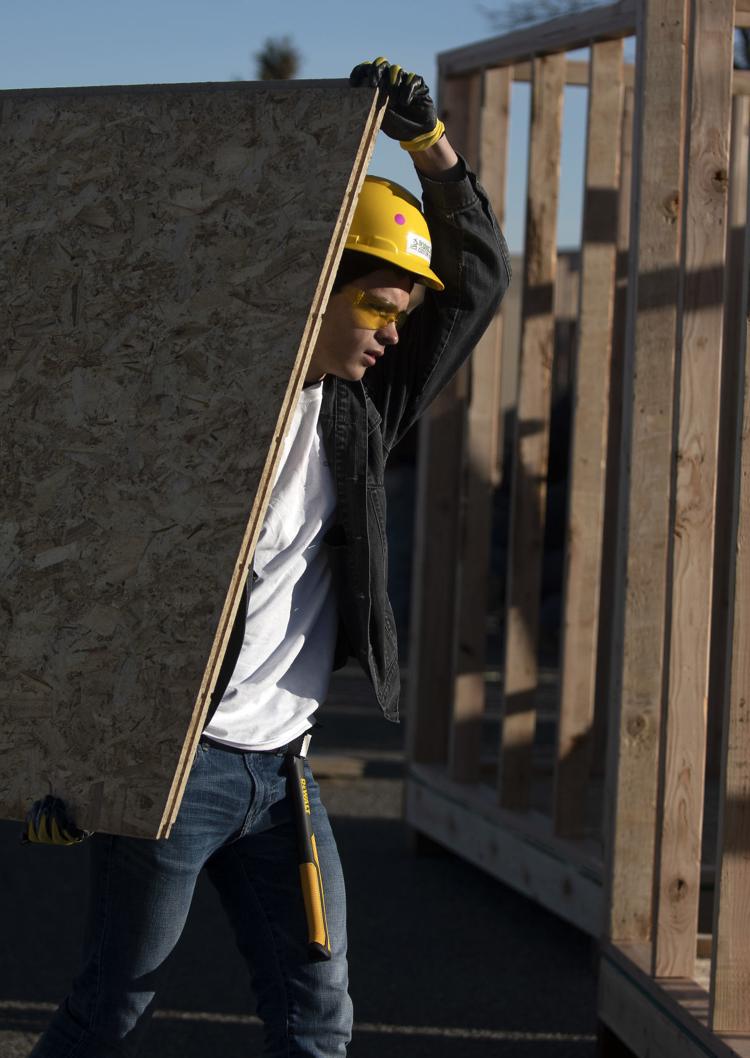 The two friends are already employed as installers with Classic Stoneworks, which was at the expo having students assemble the vanities. Jensen said he planned to come back to next year's event to show off his experience and hone his skills.
"It just seemed really interesting," Jensen said. "Everything is very informational."
Murtaugh High School junior Kade Setoki was hoping to get a job offer on Friday, and also expected to come back next year.
"It's really fun," Setoki said. "You get to stay outside a lot more than you usually do."
Not all of the participants were seriously considering construction careers. Elizabeth Newland, 17, of Xavier High School said she wanted to have the skills and experience to be able to do projects at home.
"I enjoyed it all, except for electrical," she said.
Still, employers such as Rain Guard Roofing preferred going to the Construction Expo over a career fair.
"Career fairs are tough," Operations Manager Stephanie Caine said. "These kids have some sort of desire to be in construction."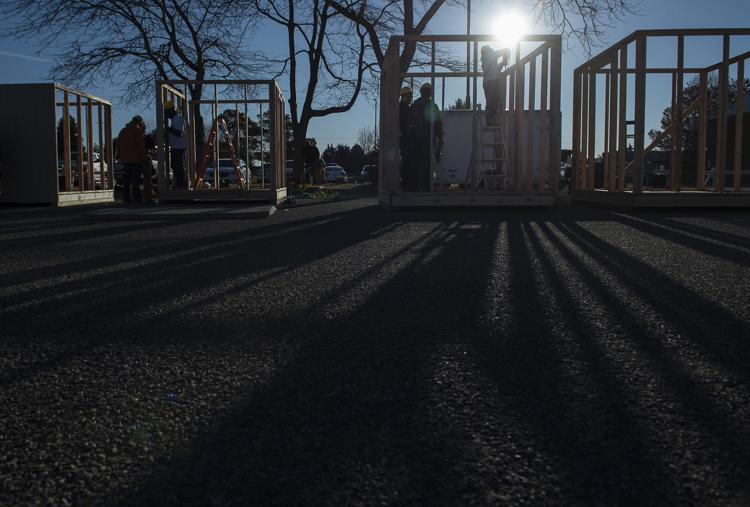 Adapting for the next generation
Over the past year-and-a-half, Rain Guard Roofing has been undergoing a culture shift at its office, Caine said. As the company recruits younger workers, it's finding new ways to keep them happy and to feel like they're part of a work family.
Rain Guard Roofing now posts photos of the workers on its Facebook page and at the office. The company's television also displays a collection of photos showing workers in the field.
"They like to see themselves on the TV," Caine said.
It also raised its starting hourly wage to $15 and hosts three or four company parties a year. If an employee has a baby, he or she receives a Rain Guard Roofing onesie.
Workers today have a different expectation of their employers, Caine said, but "it's been fun changing."
While at the Expo on Thursday, Caine said she hoped to hire for three to five positions. In fact, she'd given stickers to several students, along with a card that said: "You're awesome. Can we hire you?"
Caine wanted someone who was willing to step up to the plate, but who was also having fun.
"You can't find that in every person," she said.
Jennifer Jensen, sales manager at Classic Stoneworks, was also hoping to hire three countertop installers. But she said it's hard right now for contractors to compete with all the other companies demanding laborers — such as manufacturers. There's a higher demand for all sorts of employees, and the students know that, she said.
"They have more choices right now," Jensen said.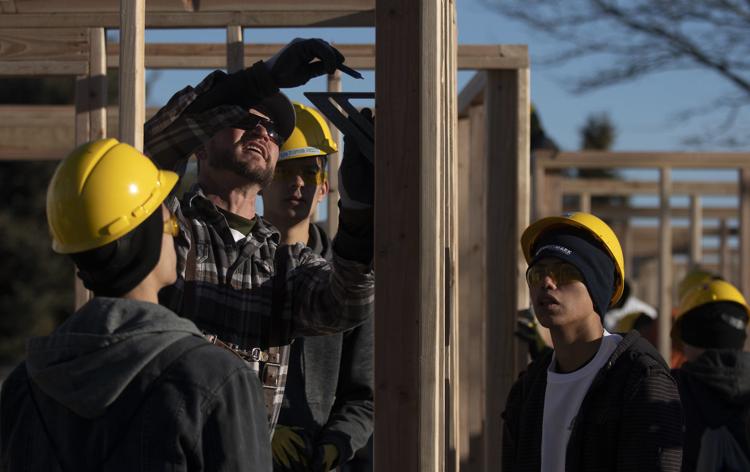 Catching up
According to the Idaho Department of Labor, Magic Valley's eight counties reached a peak in construction employment in 2007, when the average employment was 6,362. But while the region was slow to drop off into the recession, construction employment eventually dropped off nearly 41 percent — to a low of 3,767 in 2012.
Idaho Department of Labor Regional Economist Jan Roeser believes that a lot of those younger workers who were laid off during the recession have since chosen not to return.
"The older workforce has really taken over in construction," she said.
And while the local economy has recovered, construction employment has yet to make a complete rebound.
Local school districts and CSI work with industries to try to determine needs for employment in area. When the Twin Falls School District chose to expand its offerings for career pathways, community and business members offered several suggestions.
"Construction sort of rose to the top," Twin Falls School District spokeswoman Eva Craner said. "It's been a challenge for folks to keep people in the industry. The labor market is so competitive."
Murray believes that while there's been a hard push to send students to college, the need for skilled tradesmen shouldn't be overlooked. Sari Jayo, executive officer for the Magic Valley Builders Association, hoped the Construction Expo would help students "know that they don't have to go to a four-year college to feel like they're worth something."
While some construction careers don't require much advanced training, the school district wants to give them a head-start. Employers may prefer laborers with skills already under their belts, Craner said.
This fall, Twin Falls sophomores through juniors will have the opportunity to enroll in "Building Construction I." The semester-long course is part of a three-course career pathway that students can complete in two years, Craner said. Students from all three Twin Falls high schools may apply to be in the course, which will be hosted in a neutral off-site location.
"Our hope is that we can touch on construction topics that are across the board," she said. "Maybe beyond the basics."
Students will still have the option to continue onto college to earn certifications if they wish.
Bridger Smith, owner of Bridger Smith Construction, said there is a big demand for framers, people who do the rough carpentry work in construction. While at the Construction Expo on Friday, he hoped to spark interest in students and show them that they can build a career out of those skills.
"We just thought it was a great thing and a great cause," Smith said. "These guys are very hands-on."