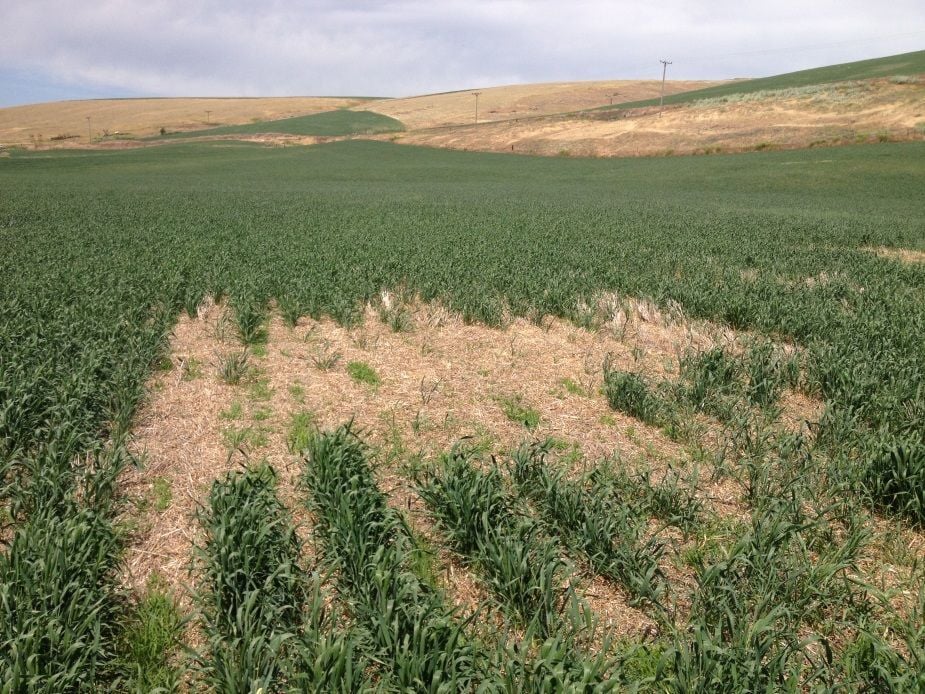 BURLEY • If you see patches of green in an otherwise mature grain field, you most likely have wireworm damage. Wireworms feed on the roots of growing plants, delaying maturity in the affected plants. They can also destroy seedlings and reduce stands.
Wireworms are actually the larval stage of click beetles. Click beets emerge from hibernation the spring and lay eggs in their preferred hosts. The eggs hatch in early- to mid-summer and into very small "neonate" wireworms. What makes wireworms different than other insect larvae is that they can live in the soil for three to five years, and some for up to 10 years.
"Their long lifetime as a larvae is one of the most troubling aspects of wireworms," explained Arash Rashed, University of Idaho Extension entomologist. The other is that the environmentally persistent conventional insecticides that growers used to use to control wireworms have been taken off the market.
"The chemicals that we have registered now don't kill the insects, they just make them sick," Rashed said.
Not only that, but different wireworm species react differently to seed treatments or other chemical controls. Rashed found eight different species during his field surveys in 2015, with the sugarbeet wireworm the most common. More than one wireworm species can be found within the same field.
Rashed surveyed more than 70 fields last year, up from 14 the previous year. This is the last year of the three-year study. He samples every two to four weeks throughout the year except during December and January.
Any wireworms present for more than one year are called "resident" wireworms. It's at this stage when they are typically large enough to start causing damage. Both the neonate and resident larvae feed on seeds and later on roots.
"There is no way to control wireworms, but you can minimize the damage," Rashed said.
Wireworms are often found in patches within a field. Wireworms are not particularly mobile, moving just 9 centimeters —about 3.5 inches — a year.
Field preparation is key because well-packed soil both increases soil-to-seed contact and hastens germination, but can also limit wireworm movement. No-till planting practices may also help restrict wireworm movements because of the low amount of soil disturbance.
Seeding depth is also important. Maintaining a seeding depth of 1 to 1.5 inches facilitates quick emergence and allows plants to outgrow wireworm feeding. Planting too deeply means the seedlings will struggle to emerge and are more susceptible to wireworm feeding.
Rotating out of cereal crops can also help. Multiple years of alfalfa can help reduce wireworm problems because of the soil packing associated with alfalfa. Also, non-cereal crops have other chemicals registered for wireworm control that can help reduce the population between cereal crops.
Wheat seems to be more susceptible to wireworm damage than barley. The longer a field is in cereals or pasture, the higher the wireworm population becomes.
"If you have more than one or two wireworms per trap, you should consider seed treatments," he said.
Or you can use the "shovelometry" method of soil sampling across a field to get a better idea of the wireworm population, Rashed said.
The Idaho State Department of Agriculture is seeking a section 18 emergency exemption to use Fipronil as a seed treatment for wheat. Fipronil is labeled in the U.S. to control wireworm in potatoes, corn and sunflowers.
The business news you need
With a weekly newsletter looking back at local history.