BOISE — Idaho may be famous for potatoes, but dairy and cattle remained the state's true agricultural cash cows in 2019.
Milk is Idaho's most valuable agricultural product, worth $2.38 billion in 2018, according to the U.S. Department of Agriculture. Cattle and calves brought in $1.41 billion, while potatoes were the third most valuable product at $1.03 billion. Hay and wheat were the fourth and fifth most valuable Idaho products.
According to a University of Idaho analysis, those numbers were similar for 2019. During a presentation on Idaho agriculture's economic impact, Garth Taylor of the University of Idaho told the Economic Outlook and Revenue Assessment Committee earlier this month that gross revenue from Idaho milk and livestock topped $4.8 billion. Idaho recorded the second highest agricultural revenue ever in 2019 — and more than half of that came from milk and livestock.
Despite trade war losses, closures and historically low unemployment rates making it hard for dairy farmers in particular to fill jobs, Taylor said dairies' dedication to innovation and year-over-year herd growth has driven much of the sector's consistent growth.
"Farmers are on a treadmill," Taylor told lawmakers. "They have to innovate really, really fast to keep up with declining milk prices."
Taylor also mentioned a "surprising" amount of market facilitation payments — money the Trump administration paid to farmers to offset trade war losses — came to Idaho. The Idaho Statesman previously reported that Idaho farms and dairies received $24 million for the 2018 crop year. Farmers in Ada and Canyon counties received roughly $2 million in the first round of payments, according to an Idaho Statesman analysis. Idaho farmers received $47 million in 2019 alone, according to the University of Idaho's 2019 report on the financial condition of Idaho agriculture.
"It's much better right now," said Sean Ellis, spokesman for the Idaho Farm Bureau. "There's still a lot of pain in farm country, but it's much better than it has been for the last four years."
Growth in potatoes, hops and cattle kept Idaho's ag sector strong
Overall, Idaho has the fifth largest agricultural economy in the country, responsible for $26 billion in sales and one out of every eight Idaho jobs. Continuous growth from Idaho's top crops in particular has helped the state survive volatile markets and trade wars.
The 2017 Census of Agriculture recorded 4.9 million acres of permanent pasture — roughly 42% of the state's farmland — for Idaho's 2.4 million head of cattle and calves. That year, there were 700,000 more cattle than people in Idaho, according to USDA statistician Randy Welk. Welk's November 2019 analysis of Idaho's cattle industry found that much of the state's cattle thrive on land that cannot be used for crops or timber.
"A lot of the farmland in Idaho is permanent pasture," Welk told the Statesman in an October phone interview. "Without livestock feeding on it, it wouldn't be useful toward people. That's really important to Idaho, to have the cattle industry."
Although they may not be the state's top agricultural moneymaker, Idaho potatoes are still a significant economic force. Idaho is still the top potato producer in the country. The lasting impact of a devastating October freeze that forced farmers in eastern Idaho to harvest early or abandon crops in the ground remains to be seen, but gross income from potatoes increased in 2019, according to the University of Idaho analysis. Ellis from the Idaho Farm Bureau said high potato prices driven by low supply nationwide helped many Idaho potato farmers recoup some of those October losses.
Specialty crops like hops, used in beer, have also grown significantly in Idaho. In 2018, Idaho produced more hops than Oregon for the first time ever, growing the second-most hops in the country after Washington.
Idaho's hop industry has a long way to go to match Washington's — Idaho only produces 15% of the country's hops, compared to Washington's 73%. But in 2019, Idaho hop growers harvested 8,358 acres for a total of 17 million pounds of hops. The USDA's national hop report in December estimated Idaho hops were worth $89 million in 2019.
"Hops is making gains in the state of Idaho," Welk said.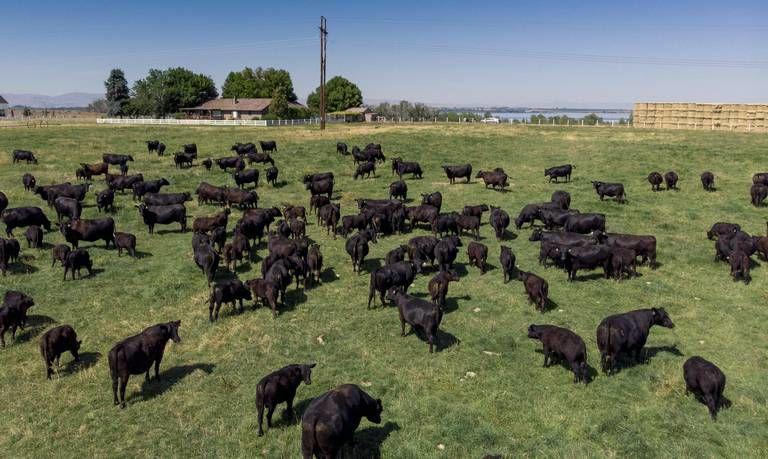 What does this mean for Idaho agriculture in 2020?
University of Idaho agricultural economists predict Idaho agriculture will continue to improve in 2020, rebounding after several years of decline. Although farm income is always volatile, Taylor said net farm income for 2019 hit a record high, growing from $1.8 billion to $2.7 billion. He predicted 2020 would likely continue the trend.
Farmland prices are also going up in southern and western Idaho. Most of that is still driven by farmer to farmer land sales, Taylor told the committee Thursday, but more and more real estate investment trusts are buying irrigated farmland in the area.
Idaho's agricultural exports have increased over the last few years, with the exports of key Idaho products like milk to China, Mexico and Canada and other countries responsible for much of the $848 million in total agriculture exports in 2018. Steady beef prices, increasing dairy herds and a strong dollar could continue the growth in 2020, but Taylor said the continually developing trade problems could impact that. Maintaining strong agricultural export markets will be key to helping Idaho farmers and ranchers thrive in 2020 and future years.
"Agriculture in Idaho is not going to grow by Americans eating more," Taylor said. "That export market is where our growth is going to happen."
Ellis said the Idaho Farm Bureau is supportive of the changes the Trump administration is trying to bring to U.S. trade relationships, but they ultimately prefer talks over tariffs.
"We hope the tradewinds are resolved," Ellis said. "If the China issues are solved, that will take a lot of pressure off markets."