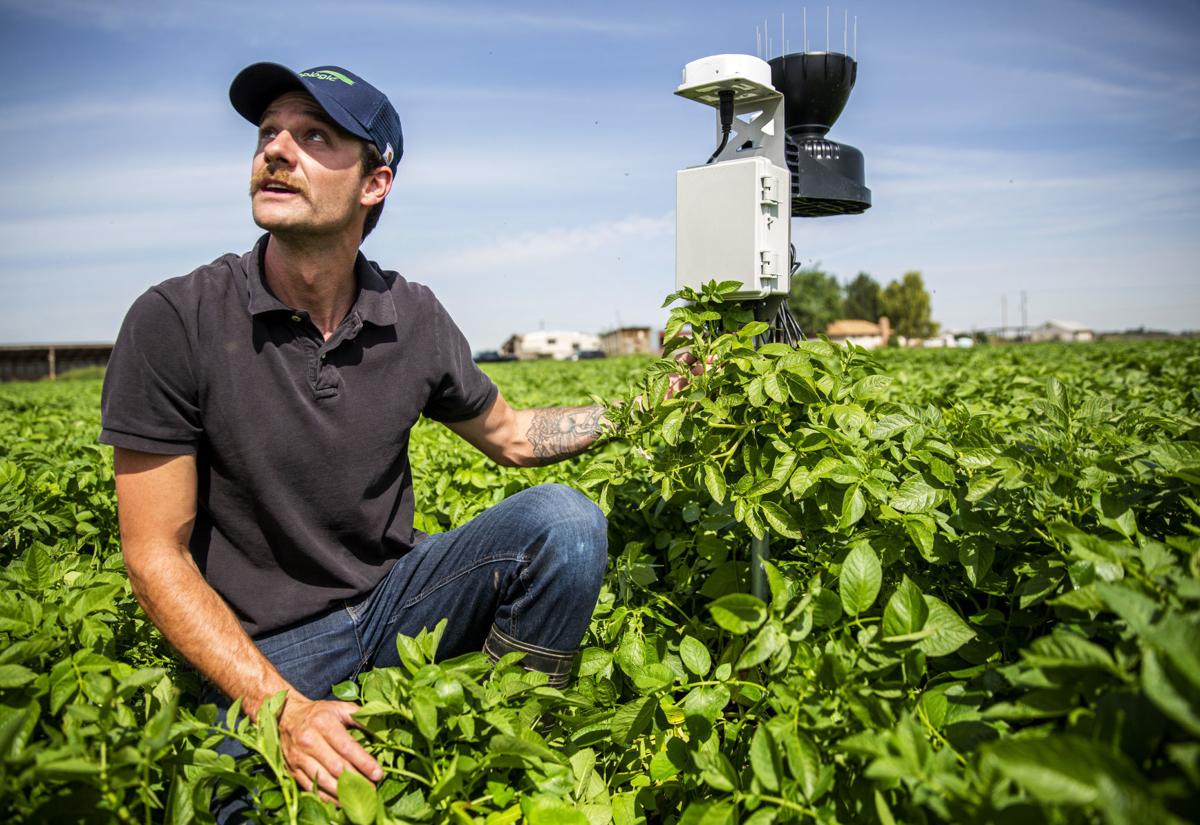 MURTAUGH — Sean Muldoon trudges toward a hip-high post jutting up in the middle of a deep-green potato field. The rows in the field are closed, so he has to walk clumsily atop the plants. When he reaches the post, which is wrapped in spiraling potato vines, he starts inspecting a gray box and black funnel tied on top, to make sure everything is operating smoothly.
The post doesn't look like much. But this CropLogic soil moisture monitoring contraption is helping farmers be smart when watering crops.
"The game is to increase yields," Muldoon, a CropLogic research agronomist, said. "You increase your yields, you're making more money."
CropLogic isn't new, but it is new to the Magic Valley. The New Zealand-based company's system helps farmers track soil moisture in real-time — they can access the data on their phones. The technology helps crop growers streamline their irrigation systems, giving them data that makes it easier to avoid overwatering or underwatering plants.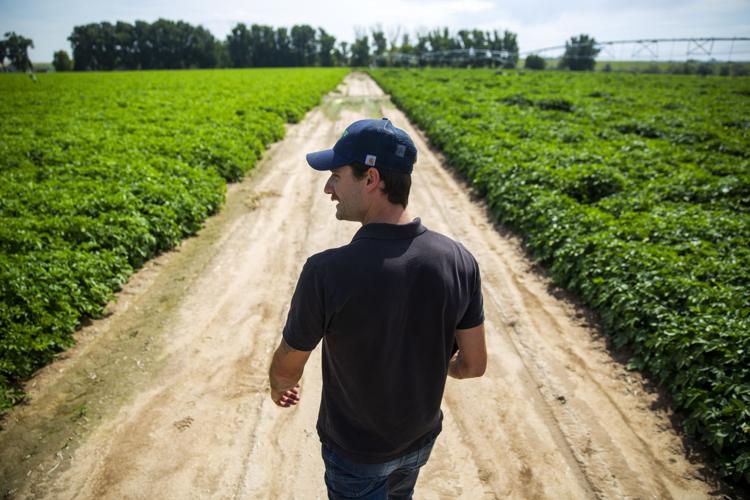 "In the past it's just been what grandpa's told you, or what dad's told you," Muldoon said. "Now you're actually able to see what's taking place (in the soil). What's the plant using? When can I cut (the water) off? When do I need to be watering?"
Winning the water war
Magic Valley spud growers want to grow as many spuds per acre they possibly can. There's no one trick to improving yields, but watering right can play a big role.
In order to give crops the exact amount of water they need, farmers have to know how wet the soil already is. That's where CropLogic probes can help.
"(Our probe) is reading the water profile, where the water is, how much water's down there," Muldoon said.
The most common CropLogic probe is a 2-foot-long spike. Water in a field conducts electricity, so by picking up on electroconductivity in the soil, the probe can determine how much water is in the ground.
A wire runs from the probe to a box on the post, which continuously sends data up to a satellite.
Muldoon says the data is easy to understand on a phone or computer. It reads a bit like a seismograph, a squiggly line running from left to right. When a farmer is actively watering, that looks like a tall spike on the screen. If a grower floods their crops, or lets them dry out, the line will dip above or below a simple boundary line.
The system is not limited to potatoes. It can also help farmers growing sugar beets, alfalfa and corn — a water-intense crop.
Eye in the sky
Figuring out the best way to water crops isn't only about checking in on the soil. Muldoon also flies drones over fields to fine-tune farmers' irrigation systems even more precisely.
"In most plants that we're dealing with, green is an indicator of plant health," Muldoon said.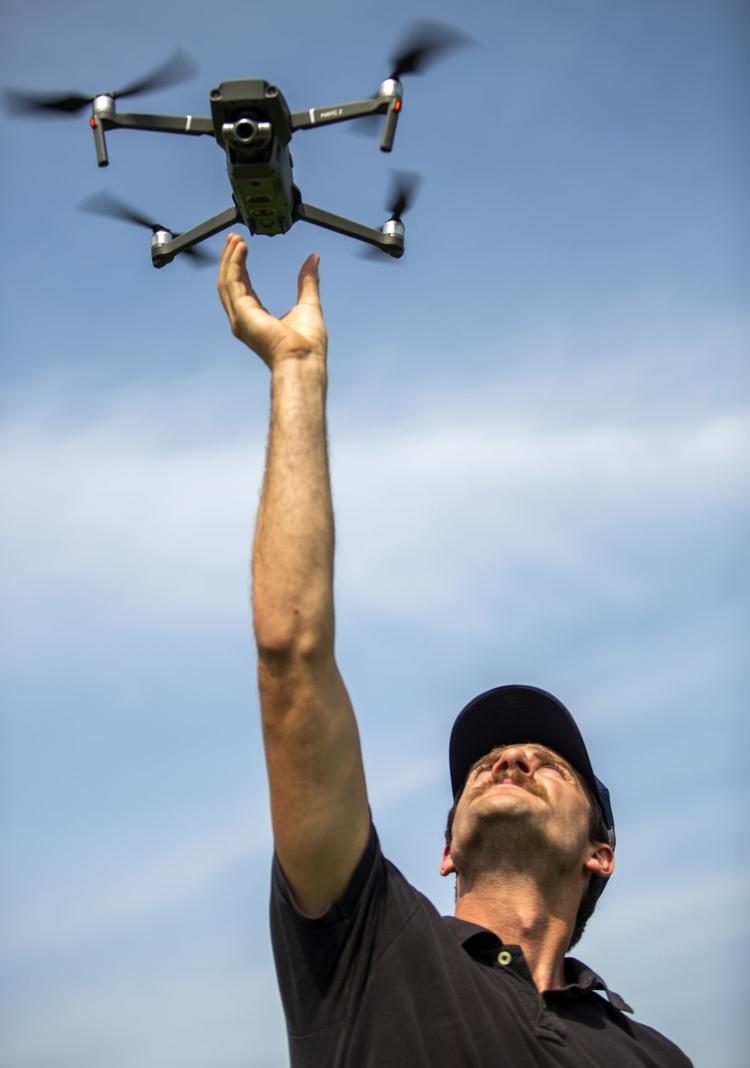 Drone imagery allows Muldoon to see color and topography. Based on topography he can pinpoint the smaller, slower-growing plants. If he sees a patch of potatoes that aren't quite the right shade of green, he knows that might be a problem spot.
"With those images, you can see hot spots in the field, where plants might not be doing so well," he said.
Muldoon has been in agriculture for a while. He's worked for beer giants and massive cereal companies. His job with CropLogic gives him a chance to combine his love of ag and his fascination with tech.
"Technology is my jam," he said. "I get to combine all my passions together."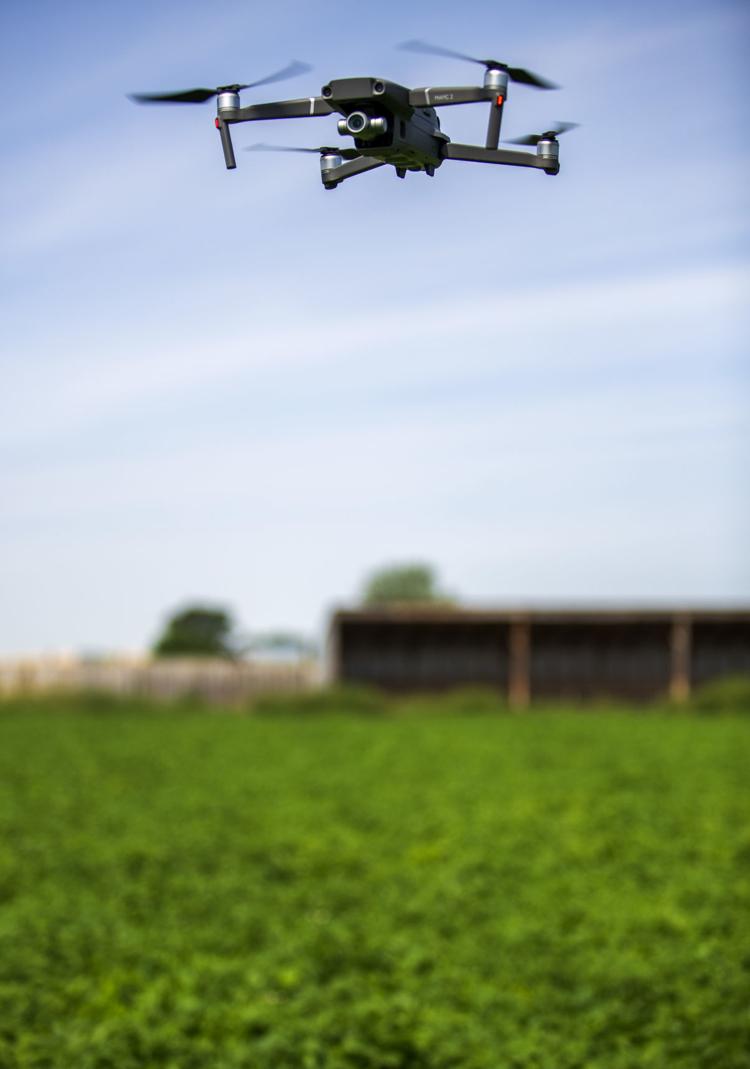 Magic Valley newcomer
So far, CropLogic tech is in about a dozen Magic Valley crop fields, and Muldoon monitors them all. But he'll soon have a lot more work on his hands. He said major agriculture companies are buying the technology, and the company's system will soon be in about 300 fields.
CropLogic has competitors — there are other companies that provide similar services. But Muldoon said CropLogic is unique in how it puts boots on the ground in its fields, while other moisture monitoring companies sell a system and walk away.
The technology could take off, Muldoon said, as farmers realize the production increases merit the up-front costs.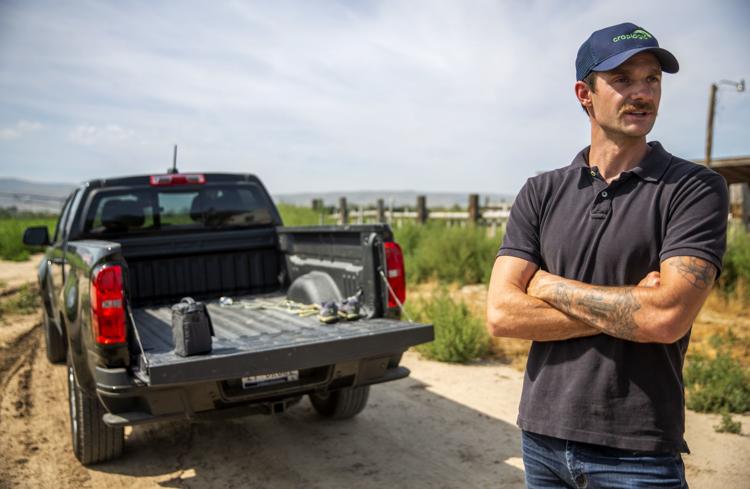 Increasing yields is Muldoon and CropLogic's main goal with their probes and drone imagery. But it's not just farmers who benefit.
"I think we're in a day and age where, especially in the agriculture industry, we're starting to realize that we have a huge responsibility to take care of the world and environment," Muldoon said. "Sustainable ag is very important."
The business news you need
With a weekly newsletter looking back at local history.