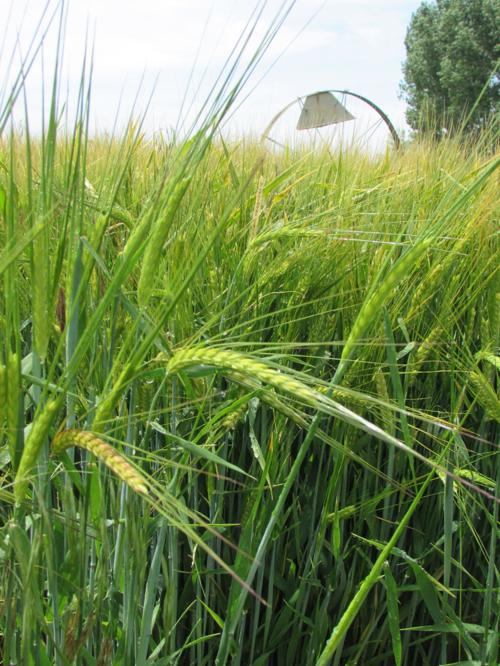 TWIN FALLS • Good spring growing conditions so far have put small grain fields in good shape to weather a period of above normal temperatures.
Cereal grain crops appear to be a little bit ahead of normal development, area University of Idaho extension educators say. Most of the winter wheat fields Steve Hines has observed driving in Twin Falls and Jerome counties are headed out, with a lot of spring grain close behind.
"The major concern with heat right now is pollination," said Hines, UI Extension educator in Jerome County. "Heat stress at this time, especially if there hasn't been adequate irrigation, could affect pollination and grain fill."
Maintaining the soil at 50 percent available moisture from tillering to flowering if critical, said Chris Rogers, UI barley agronomist based in Aberdeen. "If you have drought stress at this time, you will see decreased yield and quality."
A study done at the UI Kimberly Research and Extension Center last year showed yield decreased by as much as 46 percent when irrigation water was cut off at the late boot stage. Grain protein, test weights and percent plumps also were negatively impacted.
But, on the flip side, irrigating past the soft dough stage did not result in any additional yield nor improve quality specifications for barley. Kernels that are rapidly growing and storing starch are characterized by a white semi-solid consistency known as soft dough. When the kernels become hard and lose their green color, that is the stage known as hard dough.
It can be tempting for growers to pull water off small grain at this time of year to make sure other crops such as corn and beans get watered, Hines said, but "everything needs water right now." Maintaining the soil moisture profile at 50 percent is critical for meeting yield and quality goals.
Hot, dry temperatures will reduce the risk of stripe rust, a fungal disease that has been found in fields from Preston to Twin Falls, to Parma and Ontario, Ore.
Hines has even found stripe rust on crested wheatgrass in the desert. "That indicates the environmental conditions are just right and it's around, but it seems to be more spotty here."
He has not seen any stripe rust in either his winter or spring grain trials at Kimberly, and has only had one call about it. Although the sample that grower brought in for him to look at was the worst stripe rust infection he'd ever seen.
Juliet Marshall, UI grain pathologist, has seen positive samples in both irrigated and dry land winter wheat and even some barley, which is usually less susceptible to stripe rust.
Marshall has been encouraging growers to spray susceptible spring wheat varieties especially at herbicide timing. That may have reduced the spore load for growers who took her advice, but many growers are hesitant to incur any additional costs for a crop that is not worth much now.