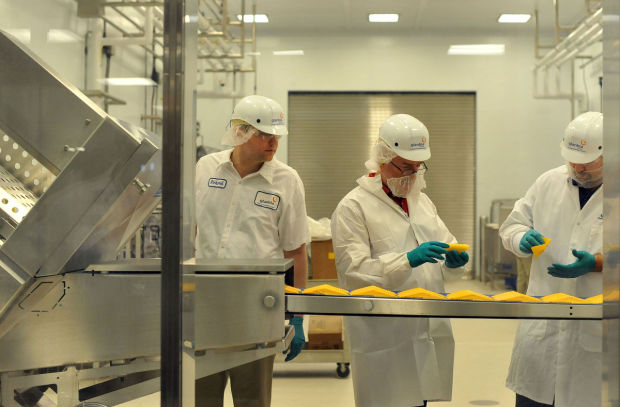 TWIN FALLS, Idaho • At $2.29, a pound of American-made cheese was worth more in the domestic market yesterday than at any time in American history, a strong sign that Glanbia's layoffs of about 50 employees Tuesday won't be a long-term reduction, a dairy analyst said Thursday.
"When milk comes back," said Glanbia President and CEO Jeff Williams, "we will review staffing requirements, and those workers that were let go will have the opportunity to re-apply."
A 10 percent loss in milk supply led Glanbia, the world's largest producer of American processed cheese, to make cuts to its four south-central Idaho cheese plants, said Williams. The heaviest cuts were made to Glanbia's Gooding facility.
Idaho's dairy production is down 0.9 percent from 12 months ago, and Glanbia seems to be hit hardest by the milk shortage, Williams said.
International demand for milk powder and a slouched dairy economy in Idaho are causing the problem.
"Right now, the milk powder guys are able to out-pay cheese plants because of the value in the marketplace," Williams said.
The state's 550,000 dairy cows produce about 20 times more milk than Idahoans can consume, which opens a significant market for dairy products with a shelf life.
While liquid milk and yogurt are more valuable than cheese and powder, more Idaho dairies sell to cheese and powder producers.
"It's not so much yogurt and milk producers we're affected by," Williams said. "We frequently change places with milk powder values."
Developing countries, such as China, are driving international demand for nonperishable dairy products such as infant formula and skim milk powder, said Dave Kurzawski, dairy analyst for FC Stone LLC, a Chicago-based dairy consulting firm.
When Idaho dairies can get higher prices for powder, that's the natural choice to fill a growing world appetite for American dairy, Kurzawski said.
"There's more demand for skim milk and whole milk demand on the world stage right now, not so much on the cheese stage," he said. "That's how (Glanbia) got to where we are right now. …In a sense what happened in Idaho is a microcosm of what happened in the country. Milk production has gone into powder production over cheese production."
The dairy producers' preference to sell powder reflects the prices from six to nine months ago, he said. Cheese prices have pulled ahead, but the effects of that change won't be felt for another six to nine months because of the natural lag in the market.
"There's a lag between price and what producers do to respond to price," he said. "What banks are willing to take as far as risk is concerned; they need to see dollars follow that. We're in the middle of that time lag right now. …Because cheese just got there, up 29 cents in two weeks, we'll see the cheese market surge forward in the next couple of months."
While much of the turmoil that led to Glanbia's cuts is part of the dairy industry's regular commodity cycle, long-term demand for American dairy is on the rise, and it is only a matter of time before production follows, Kurzawski said.
"We're treading water on milk production," he said. "Demand is red hot, but Idaho doesn't have the supply to meet the demand."
Last year was a record production year for Glanbia, Williams said. This year would have matched that if not for the milk shortage.
"Milk fluctuates," he said. "It's a dynamic business, and we need to be able to respond to it. We responded correctly and decisively, and we're all about moving forward and we're all about growing the business and maximizing the value we put into the Cheese Innovation Center and other processes we brought to bear."
Other than the problems associated with the milk shortage, Glanbia has met all of its profit goals set 12 months ago, said Eric Bastian, Glanbia vice president of research and development. The employee cuts reflect the lower milk capacity, he said.
"We have this milk situation, but supply and demand will correct itself," Bastian said.