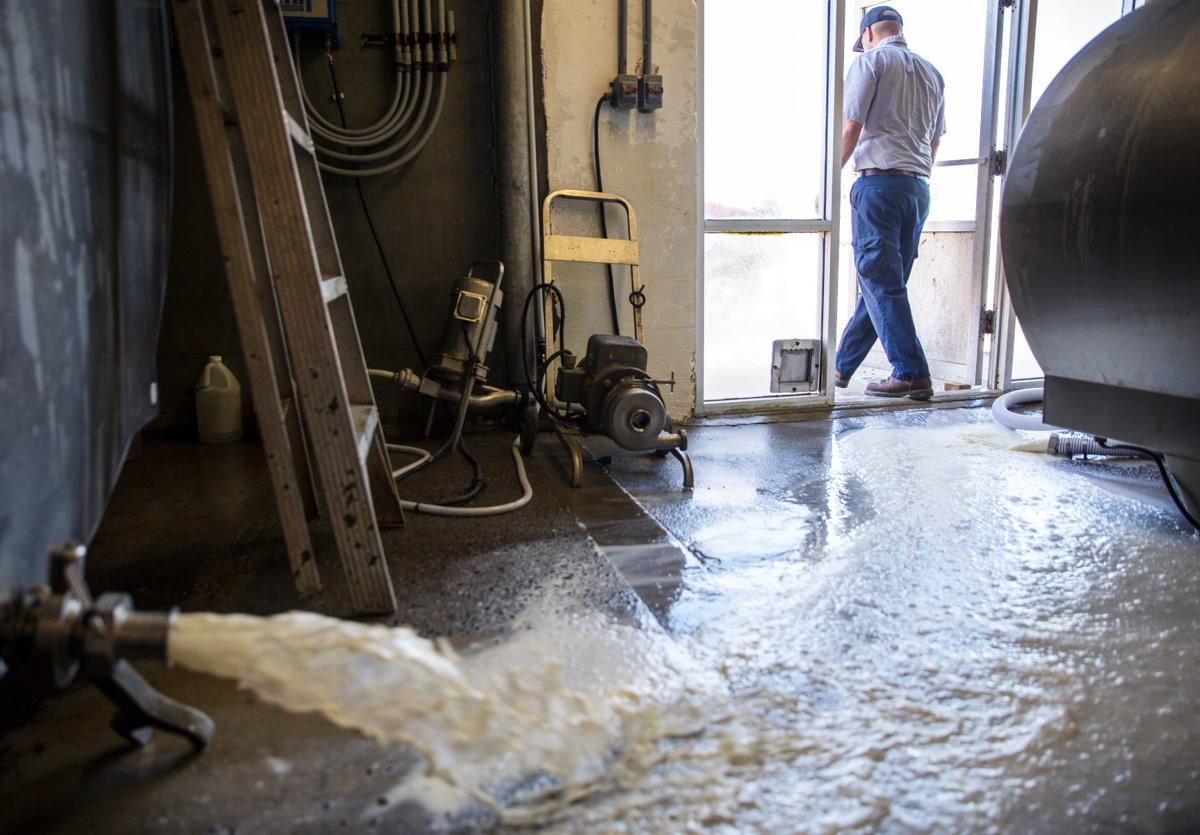 BUHL — The inside of Richard Azevedo's dairy storage building is dark, so you hear the milk before you see it. It sounds like a rushing creek, a small white river gushing out of two massive silver tanks and splashing across a few feet of concrete before disappearing down the drain in the floor.
Azevedo stood outside the building and watched in disbelief as his milk sloshed onto the ground, wasted. There's so much milk to dump that it takes 15 minutes to empty the tanks.
"There's no words," the dairyman said. "That's a day's work. It's hard to watch that go down the drain."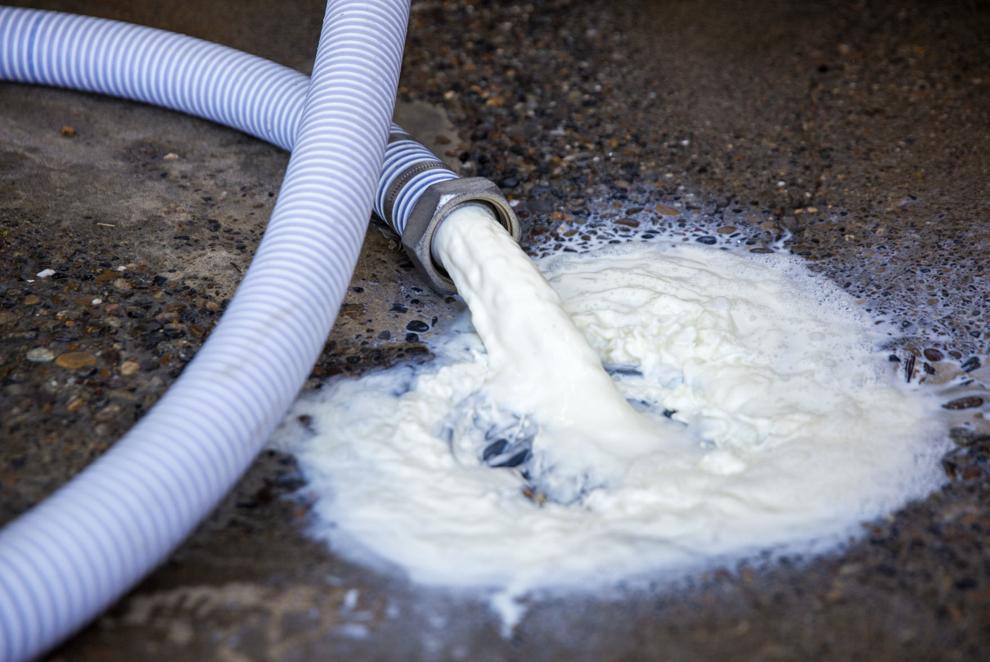 Azevedo was born on a dairy and has been in the business his entire life. He's weathered recessions before, but he's never experienced anything like this.
He has 500 milking cows, and on Wednesday, he had to pour out all 4,200 gallons they produced. He's been forced to dump his milk three times in the past week. That's three times so far he's had to watch roughly $5,000 vanish down the pipe. His revenue has been slashed by 40%.
Many Magic Valley dairy farmers, and farmers across the U.S., had to dump milk mostly because coronavirus-caused restaurant closures have decimated dairy demand. Restaurants use huge amounts of cheese, butter and cream, and even though sales have increased at grocery stores, that bump isn't nearly enough to make up the difference. About a third of processed milk products go to restaurants.
"We just cannot consume the amount of dairy at home that we did in the foodservice and restaurant industry," said James Carr, director of west coast dairy for FCStone. "That's a tremendous amount of demand just disappearing."
That loss of demand from the foodservice industry trickles down the food chain, leaving Magic Valley dairy processors scrambling to find other buyers and dairy farmers with no one to take their milk. But with the coronavirus pandemic hammering so much of the economy across the entire country, there aren't buyers to be found.
The price of milk has plummeted, so even dairymen who haven't had to dump milk have seen their profits tank. Back in January, a hundred pounds of milk was selling in the $17 range. Now the price is down to around $12 to $13, not much better than back in 2009 when feed prices were lower.
Magic Valley dairymen typically break even at $16.50 per hundredweight, so at today's prices, they're hemorrhaging money.
"If milk stays where it's at for the next two, three months, I don't make it," Azevedo said. "There's just no way."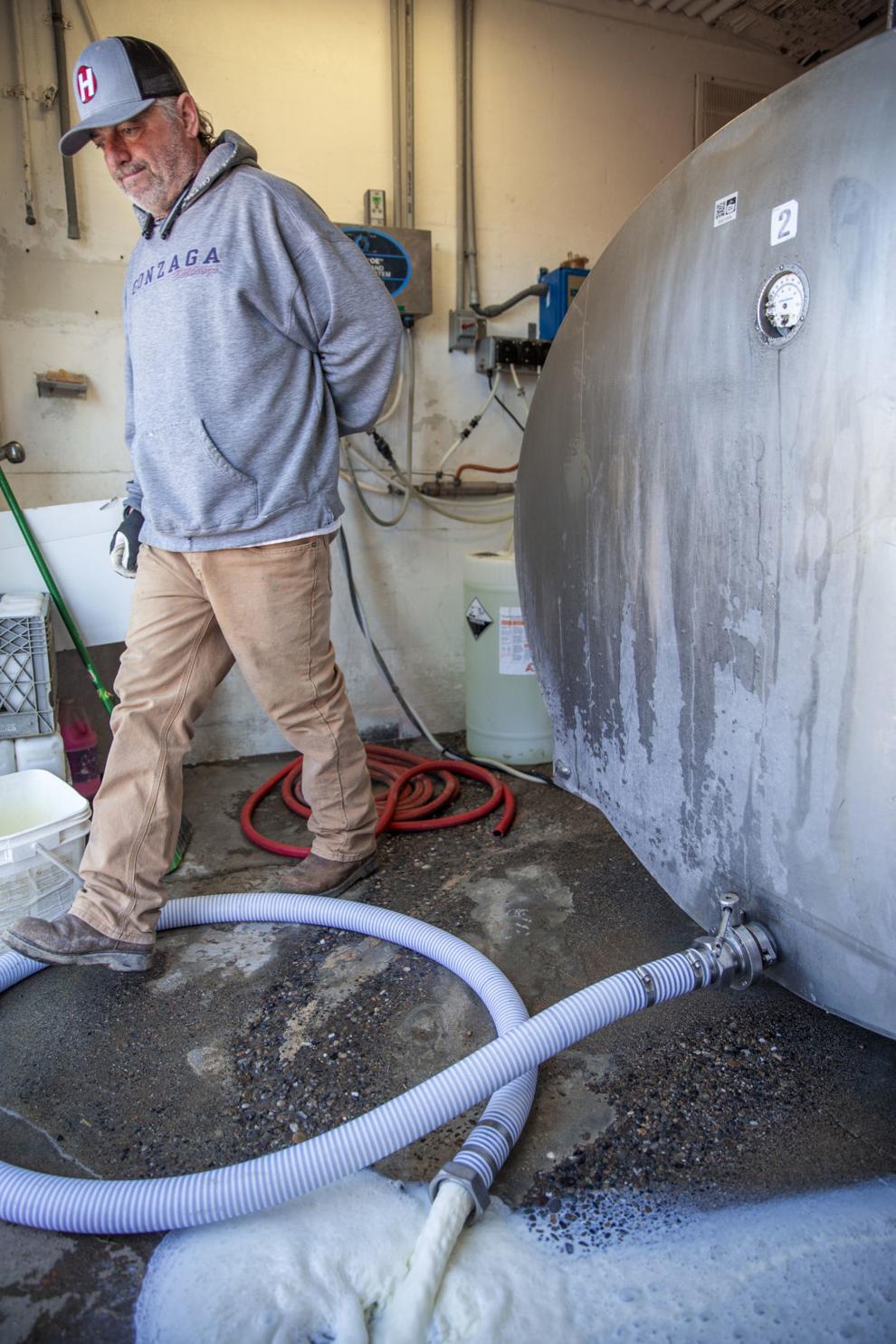 Glimmer of hope gone
Dairy farmers saw the price of milk climb comfortably above the break-even point for the first time in five years this fall. There were several good months in a row, and some dairymen felt like they'd finally be able to profit.
Then the coronavirus pandemic hit.
"For the average dairyman, it's been gut-wrenching," Idaho Dairymen's Association CEO Rick Naerebout said. "We went from looking at 2020 as a year to recover losses from the previous four, to looking at trying to manage one of the greatest downturns our dairymen have faced in their lifetimes.
"And that all happened in a three-week window."
The dairy commodities markets saw some impacts of the coronavirus coming, and that foresight played some role in lower (but still relatively strong) prices from January to mid-March. Then the sheer economic devastation of the virus hit nearly everyone by surprise.
Dairymen, processors and experts said that dairy isn't alone right now in dealing with decreased demand for food products, but there are some unique pains dairy farmers face when they have to throw their milk away.
Just because dairy farmers are earning a fraction of what they used to make selling milk, it doesn't change their daily operations much at all, Azevedo explained. They still have to feed the cows. Even if they know they're going to dump the milk, they still have to milk the cows and pay their employees to run the farm.
Azevedo is part of Magic Valley Quality Milk Producers, a co-op owned by 22 dairy farmers. All of the members of the co-op are in the same situation as Azevedo, taking turns dumping their milk.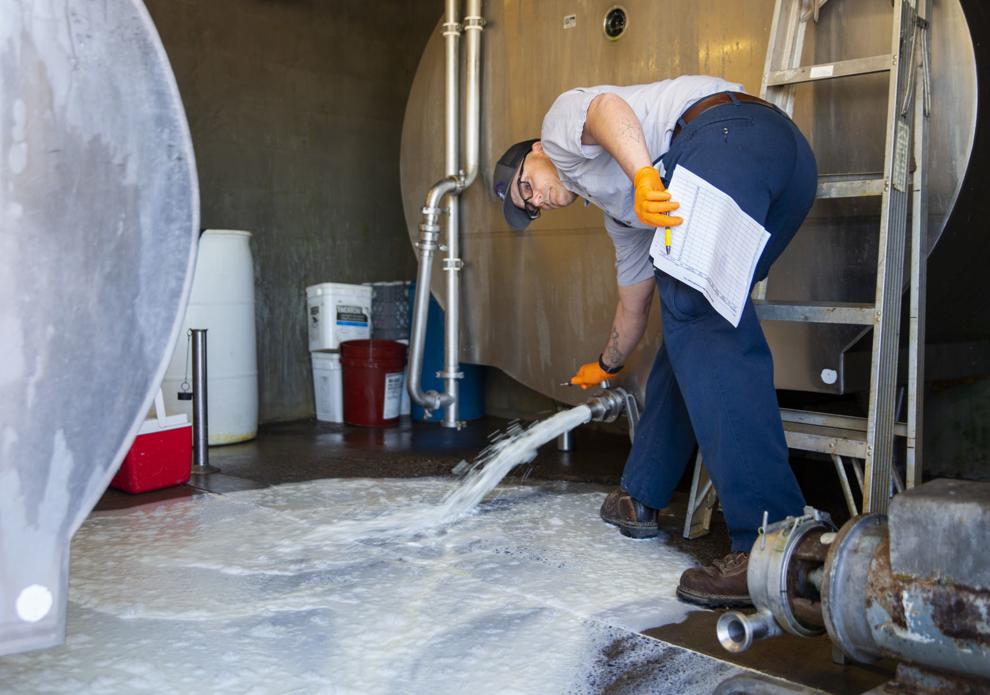 Magic Valley Quality Milk Producers CEO Alan Stutzman said the co-op produces 2.7 million pounds of milk a day (about 315,000 gallons). On Wednesday, the co-op had to dump roughly a million pounds of milk.
"We've had some days (in the past week) where we've had to dump 20% of our milk because we don't have a sale," Stutzman said. "I'm worried next week will be even worse."
Other dairy processors have told their farmers they'll be penalized if they produce more milk than their three-year average, and some have said they can't take on as much. A lot of Magic Valley dairymen have avoided having to dump milk so far. But they're worried they might have to at some point.
Buhl dairyman Michael Brubaker said every day the milk truck pulls up to his farm, he worries he'll be told he has to dump milk.
The pandemic is likely to cause a short-term reduction in cows, which could briefly help with the Magic Valley's overproduction issues. The number of cows will probably drop because many farmers, including Azevedo, will have to cull some of their cows — sell them for beef — in order to make some cash and pay their bills.
A lot of beef will hit the market at the same time. The price has already dropped. Azevedo said he'll get only 40 to 50 cents for a pound of beef, down from 70 cents normally. That ends up costing him between $300 and $400 per animal he sells. Beef producers will be hurt by the drop in price as well.
Different processors have different buyers for their products, so they aren't all being affected exactly the same — but they're all struggling.
Idaho Milk Products CEO Daragh Maccabee said his company is working hard to ensure they have risk mitigation procedures in place so that they can continue processing if a significant number of their staff get sick. On the sales side, he said, Idaho Milk Products is experiencing what all Magic Valley processors are experiencing — retail's up, but cheese, butter and cream are way down.
"So far we've been able to either put it in the warehouse or sell anything we've made," Maccabee said. "We haven't yet as a processor had to dump anything. We're constantly on that edge ... We're a day or two away from a situation where that could happen."
Terrible new territory
This is not the first time Magic Valley dairy farmers have had to dump milk. Stutzman said there was some dumping in 2008. But back then, the markets adjusted and processors were able to find buyers.
Never before have American farmers had to dump so many millions of gallons of milk down the drain.
Carr explained that every year, America loses between 3% and 7% of its dairies. He said he expects we'll lose closer to 7% this year. That means the trend of bigger and bigger dairies is going to continue.
"We're getting to fewer and fewer operations, fewer families that are connected to the farm," he said. "So it's kind of a little bit sad."
There are some federal programs, both new and old, that can help dairy farmers stay afloat.
"Folks have to be very lean, very lean in their operations and work with their bankers and also be aware of the federal programs that are coming out," said Hernan Tejeda, a dairy and livestock economist at the University of Idaho Extension.
Magic Valley dairy isn't going to get relief until stay-at-home orders are lifted and restaurants re-open, Carr said. It's hard to know when that will be, but he said he expects that when it happens, diners will turn up in droves and restaurants will bounce back. At the same time, it's unclear how much of a long-term impact the coronavirus will have on peoples' spending habits.
Azevedo said there are a lot of people hurting worse than him right now, and there are worse things than having to dump milk. But he's scared there's a chance he could lose his dairy. And ff that happens, he's worried about taking care of his family.
"You just go to bed at night," he said, "and you just don't know if you're going to have (the farm) tomorrow or not."