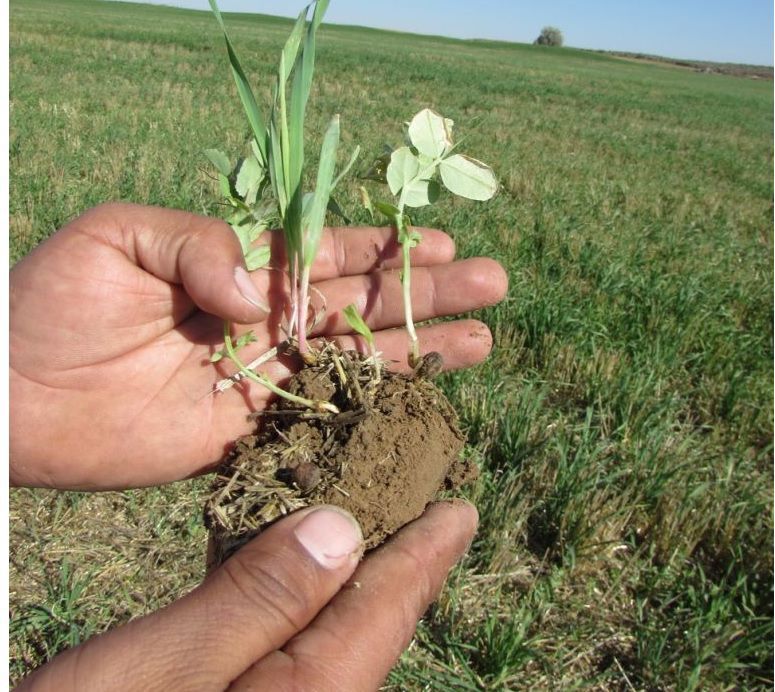 TWIN FALLS — Though cover crops are becoming more common in the Magic Valley, the practice still requires planning.
"You can't just throw some seed out there and expect miracles to happen," said Steve Schuyler, district conservationist with the U.S. Department of Agriculture's Natural Resources Conservation Service in Twin Falls County. "It won't just happen. You've got to make it happen."
With dry peas coming off and grain harvest just beginning, now is the time to plant a cover crop.
After working with cover crops in southern Idaho for nearly five years, Schuyler has come up with three principles to successfully establish a cover crop — but these may not be the silver bullet many would like: a foolproof seed blend that delivers a guaranteed mixture of plants. While the search for the perfect seed mix goes on (see the Idaho NRCS Soil Health website for more information about cover crop species), here are those three principles:
Growers thinking about planting a cover crop need to start by determining what their objective is. A cover crop that will be grazed may include different species or planting rates than one designed to boost soil organic matter and nitrogen for the following crop.
Pat Purdy's situation in Picabo is an example of how determining your objective first can lead to success. After seeing his malt barley contract reduced this year, he decided to make cows his cash crop on a 148-acre pivot.
Purdy planted a cover crop mix consisting of forage barley, forage oats, forage peas, vetch and purple-top turnip in mid-May. About five weeks later, he turned 150 head of 600-lb. heifers onto the field to begin grazing. Crude protein tested at 26.7 percent on the forage before grazing with an average yield of 1,519 lbs. per acre.
Thanks to nearly ideal forage conditions and an ample water supply, the biomass produced quickly exceeded the cattle's capacity to graze and 63 more head were merged into the herd a week later.
In early July, two different warm season cover crop mixes (forage wheat, sorghum sudan, millet and forage radish) were seeded on nearly 60 acres. He plans to continue planting the warm season blend in increments around the pivot as the cattle graze off the initial seeding.
Purdy calculated a breakeven rate of 2.5 pounds of gain per head per day to recoup his investment in the cover crop. As of late July, the herd was averaging 3 lbs. per head per day.
Todd Ballard has done his homework both by attending workshops and experimenting on his Kimberly area farm. While his cover crop mix has not changed much over the last couple of years, how he manages the cover crop has. He plants his cover crop following barley — and before beans — to allow the cover crop to grow longer into the spring.
After renting a high-speed disk to incorporate the biomass in the spring, Ballard has purchased his own unit. He also planted his beans this spring using a no-till drill. Even before the rows hadn't closed yet, the soil in his fields still had plenty of moisture — even after not being irrigated for a week — because the residue was helping to retain moisture.
Finally, growers have to be committed. Increases in water holding capacity, organic matter or nitrogen often aren't seen the first or even second year. Growers often hear stories about cattle that gain 5 pounds a day on a cover crop mix or soil tests that indicate a cover crop added 150 units of nitrogen to a field, but those successes come with time.
"Don't get discouraged when things don't turn out that way the first year," Schuyler said.
And don't get hung up on the term "crop" which has connotations of yield, said David Mabey, district conservationist in Cassia and Miniodoka counties. He spoke during a forage conference earlier this spring. Instead think about what's happening under the ground.
Plants expend 5 to 30 percent of their energy to feed soil microbes and they do it intentionally. "With cover crops we are trying to take periods of time when the soil is dead and hungry and thirsty, and we are trying to keep a livable environment for microbes so they don't die or move away," Mabey said.
He foresees a time when growers will be able to manage for plant interactions just like they do for tillage, nutrients and irrigation today. But until that day comes, starting with a clearly defined objective and doing your homework will make cover crops a worthwhile investment.
"Don't get discouraged when things don't turn out that way the first year."

Steve Schuyler, district conservationist with the U.S. Department of Agriculture's Natural Resources Conservation Service in Twin Falls County
The business news you need
With a weekly newsletter looking back at local history.