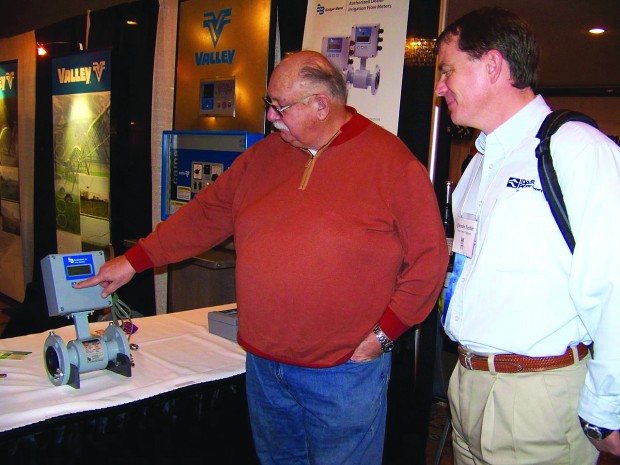 BURLEY — Converting furrow irrigated fields to sprinkler systems can save crop producers time and money while improving water quality, but those benefits come at a cost.
Depending on the system and field conditions, installing a center pivot can cost $80,000 or more.
Even though crop prices are expected to be strong for most commodities in 2011, fertilizer, seed and fuel costs are also expected to be up this year. That's why state and federal agencies that offer programs to help producers offset the costs of installing irrigation systems are expecting demand to be strong again this year.
In Twin Falls County alone, 18 contracts were signed last fiscal year representing over $1 million in financial assistance through the federal Environmental Quality Incentives Program (EQIP).
EQIP is used primarily to put iron in the ground, explained Elliot Traher, district conservationist for the USDA Natural Resources Conservation Service in Cassia County. Pivots, wheel lines, corner system, mainline, pumps and variable drive motors are all examples of parts of an irrigation system that can qualify for funding through EQIP.
Rather than cost-share, producers receive an incentive payment. That payment is intended to help offset some of the cost associated with installing a new irrigation system as well as enhanced nutrient management and irrigation water management associated with the new system.
Applications received by local NRCS offices are ranked according to environmental benefit. Traher recommends that producers start working with their local office about a year before they hope to install a pivot. It will take that long to develop a whole-farm conservation plan and the system design, and then work through the ranking process.
"Sometimes the programs work well and the price is right," Traher said. He spoke during a panel discussion about funding opportunities during the 2011 Idaho Irrigation Equipment Show in Burley. "Sometimes you might be better off to do it on your own."
NRCS also has an Agricultural Water Enhancement Program (AWEP) that has been used successfully in the Magic Valley for irrigators doing so-called soft conversions; converting their irrigation water source from ground water to surface water.
Producers who would like to participate in EQIP or AWEP but don't have the cash to pay for the new system upfront until they can be reimbursed by NRCS, may qualify for the new Conservation Loan Program through the Farm Service Agency. Producers must have a conservation contract with NRCS before applying for the loan. Loans are for up to $300,0000.
Rural Development, another USDA agency, also offers loans and grants to help producers improve energy efficiency or install renewable energy systems. Upgrading existing irrigation systems or retrofitting lighting on farms are examples of projects that could qualify under the Rural Energy for America Program (REAP).
Tobin Dixon, with the Rural Development office in Twin Falls, said producers could combine the 25 percent cost-share program with Idaho Power's irrigation efficiency rewards program to cover much of the cost of installing new nozzle packages or upgrading pumps or motors.
Idaho Power's irrigation efficiency and peak rewards programs have proven to be very popular with irrigators in recent years. The irrigation efficiency rewards programs provides rebates to producers to make changes in irrigation systems or install new systems where power savings can be documented.
The peak rewards program pays irrigators who are willing to have their systems turned off during peak demand periods. Idaho Power has proposed changes to the peak rewards program and the final rules should be out by mid-March.