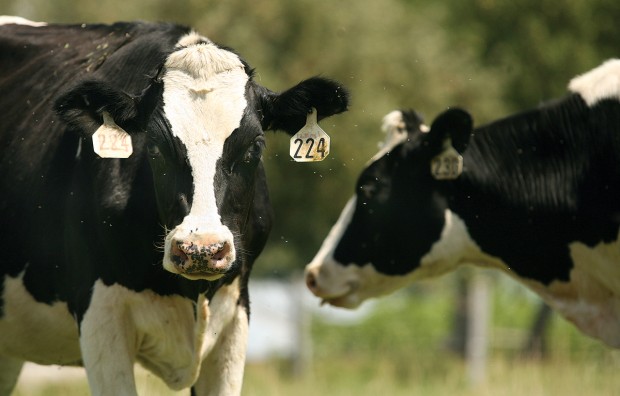 TWIN FALLS • A fiscal cliff might not be the only thing looming at year's end if a stalemate in Washington continues.
As the fate of the Farm Bill remains in limbo, some fear the country also faces a "dairy cliff." Such a dilemma, according to industry leaders, could punch up the prices on a variety of dairy commodities, including milk, nationwide.
"You think milk producers would like that," said Lance Phillips, executive director of the Farm Service Agency in Twin Falls. But ripple effects wouldn't be good; increased prices would cause too much of a shock to consumers.
The 2008 Farm Bill, a $300 million piece of legislation covering everything from food stamps to rural economic development, expired Sept. 30 and Congress has been unable to agree on a new five-year version.
In theory, if a farm bill is not replaced when it expires, support programs revert to permanent law, in this case the Agriculture Act of 1949, which would set the government purchase price around $40 per hundredweight — roughly twice the current market price.
Some industry leaders, however, don't believe that would happen.
Bob Naerebout, executive director of the Idaho Dairyman's Association, said he believes Congress would extend the deadline before letting the 1949 law take effect.
"I've worked on four farm bills and it hasn't happened yet," Naerebout said. "It's a shame the media has really blown this up. ... Milk prices won't go up."
He said, however, that support programs under the current farm bill are antiquated for today's needs and something should be done as soon as possible to correct the problem.
The National Milk Producers Federation, established in 1916 in Arlington, Va., which does fear a dairy cliff, echoed similar sentiments, saying it wants a new farm bill, "not an extension of current programs that don't really serve dairy farmers," President and CEO Jerry Kozak said in a prepared news release. "A one-year extension only gives new life to programs that we are seeking to replace with the new Dairy Security Act."
It isn't unusual for a previous bill to expire before a new one is passed. That happened in 2008 before the last farm bill was passed.
The Senate passed its $969 million bill in June by a 64-35 vote, with Sens. Jim Risch and Mike Crapo, R-Idaho, voting against the legislation. The House has not yet voted on the bill that emerged from the House Agriculture Committee.
About 80 percent of the farm bill deals with the food stamp program, Phillips said, while the remaining 20 percent deals with farming and agriculture.