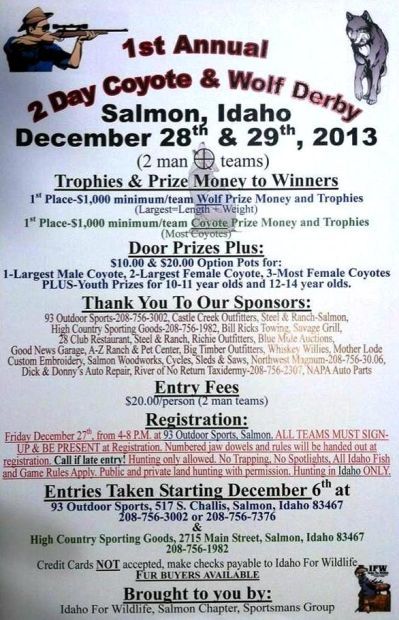 Environmentalists and animal lovers are crying out against an inaugural "Coyote and Wolf Derby" scheduled to launch Dec. 28 in Salmon. 
Idaho for Wildlife, a group known for criticizing the state's wolf management, is hosting the two-day derby. 
While coyote competitions have been around for a while, this is Idaho's first statewide wolf-killing competition since the species was delisted in 2010.
The event is open to everyone older than 10; however, Idaho has no wolf-hunting season in the Southern Idaho, Sawtooth and Southern Mountain zones.
According to Idaho for Wildlife's website, the derby is "designed to increase the awareness of wolf disease." However, the event flier does not mention any disease.
Hunters will receive a $1,000 prize for the largest wolf killed. There is a $1,000 prize for shooting the most coyotes.
There will be also cash and trophies for other hunting objectives such as killing the most female coyotes. Children as young as 10 will be allowed to compete in the youth division.
Lynn Stone, director of the Boulder-White Clouds Council, was quoted in Reuters calling the event "an organized killing contest."
"Stacking up dead animals and awarding children for killing them has no place in a civilized society," she said.
Following the same tune, the Defenders of Wildlife organization described the event as a "wolf-killing competition." It wrote: "This twisted 'wolf derby' is a horrific demonstration of what happens when wolves are prematurely stripped of Endangered Species Act protection. Over 154 wolves have already been killed in Idaho since this year's hunting season began. Idaho wolves can't bear to lose more pups, mothers and pack leaders than they already have. It's up to you and me to stop this."
There is also an online petition being circulated for those hoping to get the Idaho Department of Fish and Game involved.