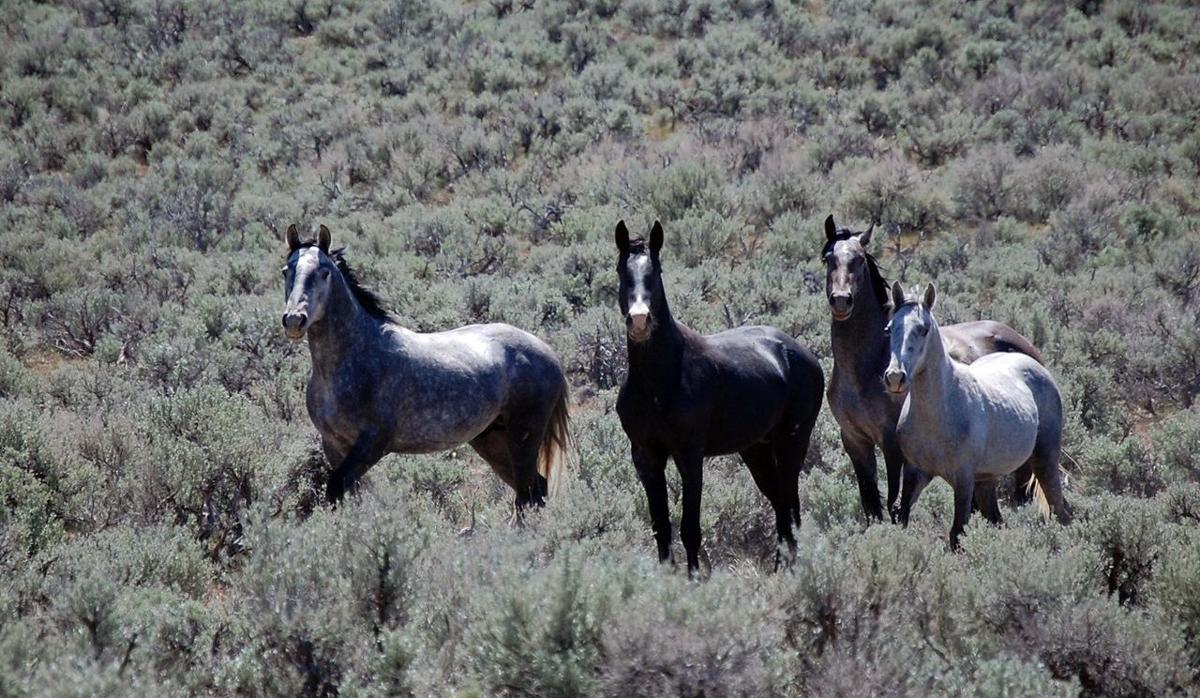 Big federal wild horse roundup planned in northeast Nevada
ELKO, Nev. (AP) — Federal officials are planning the biggest roundup in years of horses roaming public rangeland in northeast Nevada.
The Elko Daily Free Press reports the U.S. Bureau of Land Management is seeking public comments for an environmental assessment of the removal of more than 6,700 horses from area between Wells and Ely.
The agency estimates the current wild horse population in the Antelope and Triple B wild horse complexes at about 7,700, not including foals born this year.
It says food and water in the herd areas in Elko and White Pine counties should be able to support fewer than 1,700 horses.
The proposed roundup comes after the federal land management chief in Nevada's BLM chief and Gov. Brian Sandoval called last year for removing 4,000 horses from the region.
Small plane lands on interstate in Montana
HELENA, Mont. (AP) — A small airplane on a training flight landed safely on an interstate highway in Montana after experiencing a mechanical problem.
The Independent Record reports that the plane was forced to make an emergency landing Friday afternoon when a throttle cable broke during the flight from Helena.
Officials say the pilot got the attention of a semi-truck driver by flying directly above the vehicle traveling on Interstate 15 about 25 miles north of Helena. The truck slowed down, allowing the plane to land in front of it.
The two people on the airplane were not hurt.
Details about the plane and the pilot and passenger were not immediately available.
Idaho truck driver sentenced for fatal head-on collision
BLACKFOOT (AP) — An Idaho truck driver was sentenced to one year of probation and 96 hours of community service for an accident that killed a 7-year-old girl.
The Post Register reports Terry Laeger was sentenced Thursday after pleaded guilty to a misdemeanor motor carrier safety violation. Laeger initially was charged with misdemeanor vehicular manslaughter.
Laeger was driving a tractor-trailer south on Interstate 15 on Nov. 24, 2015, when his front driver's side tire blew out. Laeger's attorney, Justin Oleson, says Laeger was attempting to regain control of the vehicle when his truck went into northbound traffic and collided head-on with a minivan.
Madelyn Holbrook was riding in the front seat of the minivan. She was pronounced dead at the scene. Her mother, Elena Holbrook, and three other children survived the crash.
Washington kills wolf that attacked cattle in Stevens County
OLYMPIA, Wash. (AP) — State officials have killed a wolf in northeast Washington to prevent more livestock attacks.
The Department of Fish and Wildlife said Thursday that one wolf was killed last week. It did not provide details about the killing. Officials say removal operations are continuing.
Agency director Jim Unsworth on July 20 authorized killing some members of the Smackout pack after confirming that the animals had repeatedly attacked livestock in Stevens County.
This is the fourth time the state has killed wolves since they began recolonizing Washington on their own a decade ago.
Grays wolves are listed under state law as endangered throughout Washington but a state plan allows them to be killed under certain conditions.
Some groups have criticized the killings and say the state should increase prevention measures.
Firefighters continue to battle Montana wildfires
HELENA, Mont. (AP) — A fire in the Lolo National Forest in western Montana has forced the evacuation of more homes in Mineral County.
The fire about 12 miles southeast of Superior continues to grow and is moving toward scattered residences in the area.
The fire has burned about 6.7 square miles since it was ignited by lightning on July 16. There are about 420 firefighters aided by helicopters battling the fire. They have managed to contain about 5 percent of the fire.
Firefighters are battling other fires in the Lolo forest as well as in the Beaverhead, Deer Lodge, Bitterroot, Helena and Lewis and Clark national forests. Grass fires also are being fought in other areas of the state.
Another fire near Roundup north of Billings is threatening some nearby homes.
Police: E. Idaho man loses finger in accidental shooting
REXBURG (AP) — Police in eastern Idaho say a 49-year-old Rexburg man accidentally shot off his middle finger.
Rexburg police tell KIFI-TV that the man didn't think the gun was loaded when he pulled the trigger on the .44-caliber handgun at about 12:20 a.m. Friday.
Police haven't released the man's name, but say he was hospitalized for treatment.
No charges have been filed.
Utah ordered to let federal DEA review drug database
SALT LAKE CITY (AP) — A federal judge is ordering Utah officials to let the U.S. Drug Enforcement Administration search a state prescription-drug database without a warrant despite arguments about medical patient privacy.
U.S. District Judge David Nuffer on Thursday gave the Utah Department of Commerce and the Utah Division of Occupational and Professional Licensing three weeks to comply with a DEA subpoena or be held in contempt of court.
The federal agency says the records can be an important tool in early stages of an investigation.
The American Civil Liberties Union and Utah agencies argue that investigators should have to get a warrant to review records of prescriptions written for medications like Xanax, Ambien and opioid painkillers.
Almost all states maintain similar databases.
Utah is among a minority where state law requires a warrant.
Be the first to know
Get local news delivered to your inbox!