MALTA — It's a game that means nothing. Except it means everything.
The Raft River and Oakley high school football teams are historic rivals who met in the 1A Division I state title game last season. The Snake River Conference teams meet again on Friday.
But there's a catch. Friday's matchup will not count as a conference game, which means it will not affect playoff seeding.
These teams don't need playoff incentive to create a playoff atmosphere. Oakley wants revenge for its state championship loss to Raft River last season. The Trojans want to maintain their bragging rights.
"We're gonna have a lot of fans," Raft River coach Brian Poole said on this week's Magic Valley Sports Podcast. (It's) opening night, and it's Oakley."
In the latest state media poll, Oakley is ranked No. 1 in 1A-DI for the second straight week. Raft River is ranked No. 3. The Trojans beat the Hornets 46-18 in November's state title game, and they cruised 58-8 over Oakley in the regular season. Their final record was 12-0.
Raft River also graduated four of its best players: Kolten Hitt, Kayden Hitt, Wacey Holtman and Tucker Boyd. Overall, fewer than half last year's starters are returning.
"As we've seen in eight-man, there are a lot of times when teams can go 12-0 and win a state title, and then be lucky to win one or two games the next year," Poole said. "We're OK being the underdogs. Hopefully it gives us something to fight for a little bit."
Raft River is still deep (about 35 players in the program), and talent still abound.
Senior Braxton Poole was a first-team all-state lineman last season, and fellow senior lineman Christian Lloyd was a second-team all-SRC selection. Senior Quintin Ward and junior Cutler Erickson form a dangerous running back combination, and junior Riley Spencer will be a tough cover at wide receiver.
"Raft River is still the state champions until someone knocks them off," Oakley coach Cade Craner said on the podcast.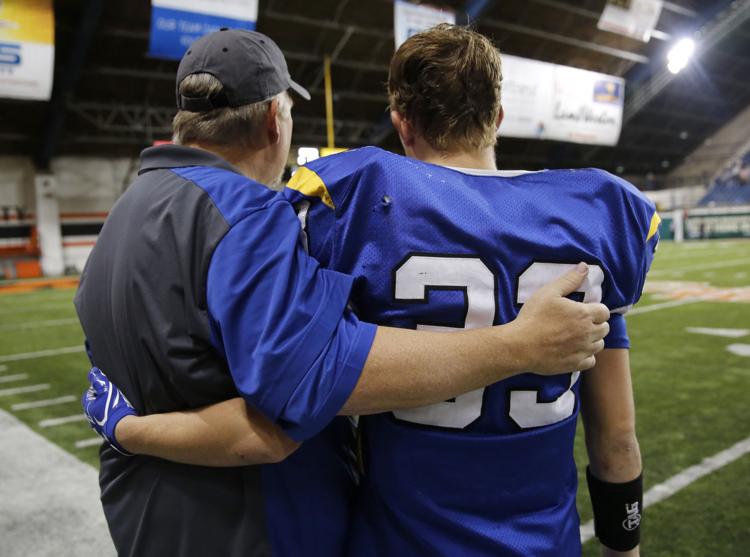 Last year, Spencer was receiving passes from 1A player of the year Kolten Hitt, who was also a deadly runner and a shutdown defensive back. This year, Raft River's quarterback will be junior Keegan Chatburn. Not only is he young, but he also played running back last season.
"He isn't Kolten, and I don't expect him to be Kolten," Brian Poole said. "He has the potential to do a good job running our offense and be a good leader. But it's also a heavy toll to have your first experience at quarterback to start against Oakley."
Oakley entered this season with some holes, as well. Running back Bridger Cranney, lineman Bryton Cooper and punter Joel Nunes all graduated.
Luckily for the Hornets, replacements weren't hard to find. Running backs/linebackers Austin Bedke (junior) and Sam Mitton (senior) are two of the SRC's best two-way players. So is senior Daxton Gillette, a track star who plays running back and defensive back.
None of those three were the most productive running back in last week's season-opener. Sophomore Josh Nyman ran for 110 yards and a touchdown (of 62 yards) on five carries in Oakley's 62-22 drubbing of Grace.
The Hornets' offense has historically been run-dominant, and that won't change this season. But they displayed a dangerous passing attack last week. Returning starting quarterback Tate Cranney, a junior, completed 9 of 10 passes for four TDs.
"We've always been the ground-and-pound, and you can get through quite a few opponents that way. But you get to the playoff rounds, and you've gotta be able to put the ball in the air a little bit, and we've struggled doing that at times," Craner said. "No one's gonna mistake us for a run-and-shoot team, by any means, but it was really good to call those plays and see them executed."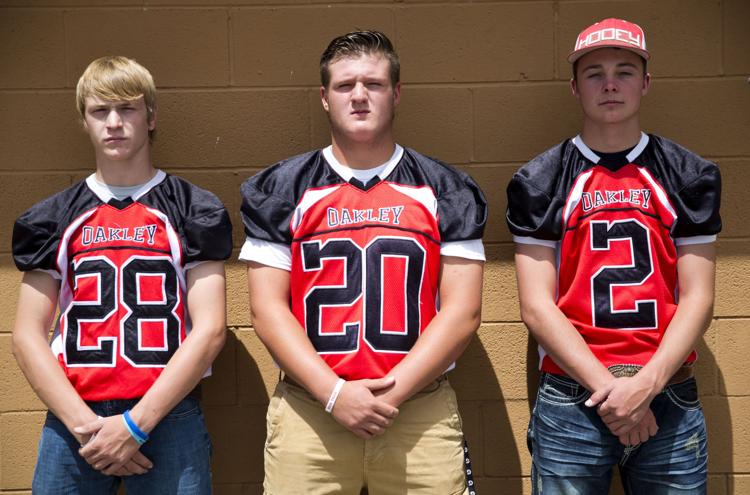 Oakley's win last week doesn't exactly give Raft River confidence going into Friday, but it might provide a small advantage. Friday's game will be the Trojans' first of the season. Based on film from last week, they know what the 2017 version of Oakley looks like. Raft River is much more mysterious to the Hornets.
"I would like to have some film on them, for sure," Craner said. "But also in our side of the deal, yeah, do I think it helped us that we played last week and we, hopefully, got our sea legs out from under us? Yeah, I hope so."
This week, Oakley's nonconference game against Horseshoe Bend was cancelled. Craner said a mix of Horseshoe Bend injuries, low numbers and a long bus ride motivated the Mustangs to skip the game, which was scheduled for next week.
Scheduling nonconference games was a struggle for Oakley and Raft River in the offseason, as well. Those struggles and the relatively short distance from Oakley to Malta led to Friday's nconference game. They play again on October 27 to end the regular season, and that game will count toward the conference standings.
"You want to be playing your best football then, and the only way you can do that is to test yourself early and see where your ship leaks," Craner said. "You need to see if those new Jimmies and Joes are gonna step into shoes that were filled by graduating seniors."
Friday's game has surprisingly low stakes considering the opponents, but Poole and Craner don't expect that to be reflected on the field.
"There's still a bad taste in our mouth from last year, and these kids that are coming back, they would like to prove that they're better than the games we put forth last year," Craner said. "It'll be as intense as ever."