TWIN FALLS — For three years, the Twin Falls High School softball team seemed to have a monkey on its back, a ridge it couldn't get over.
The metaphorical monkey was Canyon Ridge, which won the previous three Great Basin Conference titles. The Bruins beat the Riverhawks several times over the last three years, but they couldn't capture a victory against their rivals whenever a district title was on the line.
That losing streak ended on Saturday.
The top-seeded Bruins barged past No. 2 Canyon Ridge in Saturday's rain-soaked district title game at Twin Falls High School. The 13-3 win gave Twin Falls its first GBC championship since 2014.
"I didn't feel like it was a monkey on our backs," Bruins coach Tonia Burk said. "It was just our time."
Burk and seniors Kylie Baumert and Caroline Casdorph carried four years of baggage into Saturday's game. Those three have been members of the Twin Falls varsity softball program for four years, and none of them were around during the 2014 season, which ended with a 4A state championship. The last three seasons were successful, but they all had mixed results.
Last season, for instance, the Bruins went 2-1 against Canyon Ridge in the regular season but lost two district tournament games — including for the title — to the Riverhawks by a combined three runs. They hammered Canyon Ridge 13-4 in the state tournament, then lost to eventual champion Middleton and settled for fourth place.
This season was more successful before Saturday's game even began. Twin Falls went 15-0 against GBC opponents in the regular season and was 4-0 against Canyon Ridge going into Saturday. But wins of 14-1 and 12-4 over the Riverhawks were sandwiched by a pair of one-run victories, including a 3-2 win in Tuesday's district semifinals. Canyon Ridge knew it could compete with the Bruins, and that proved true again on Saturday.
Twin Falls built a 4-0 lead through three innings, but sloppy defense — including a Baumert error — led to three runs for the Riverhawks in the top of the fourth. None of the runs were charged to Bruins starting pitcher Hannah Holcomb, and Burk was pleased with her performance. But the freshman was replaced by Baumert with one out in the inning.
"There's one kid that wants the ball in her hands or the ball hit to her or the bat in her hands, and that's Kylie," Burk said. "In a situation in which I could see the girls getting a little tense, I'm gonna go with my gut and go with a kid that I know wants the game riding on her back."
Baumert, the defending Times-News softball player of the year, pitched the final 2 2/3 innings without allowing a run or a hit. She walked one batter, hit another and struck out three.
"I came in with a positive mindset," Baumert said. "'I'm gonna pitch great, and I have teammates that will back me up if the ball gets put in play.'"
In the bottom of the fourth, Twin Falls manufactured a run, and Kaitlynn Ayers hit a double with two outs and nobody on. Baumert came up next and slapped a triple to left field, increasing the lead to 6-3.
Twin Falls added two runs in the fifth inning and ended the game a half inning early with five runs in the sixth. The Bruins mobbed Cayla Towns at home plate when she scored the final run on a fielder's choice.
"It was a long time coming," Baumert said.
Twin Falls sophomore Clair Hodge went 2-for-2 with two doubles and a walk. Her classmate Ayers went 2-for-2 with a walk, and she preceded her double with a solo home run.
"I would've been happy if it was nicer," Ayers said of the weather, "but it was fine."
Baumert had barely finished celebrating a different title by the time Saturday's game began. On Friday, the College of Southern Idaho softball team won its first Region 18 championship since 2014. The Golden Eagles are coached by Baumert's father, Nick, and Baumert will play softball and volleyball for CSI next season. Her mother, Karen, kept stats for Friday's and Saturday's title games.
"Party at the Baumert house, that's for sure," Kylie Baumert said. "Our family lives and breathes softball, so it worked out for us. It was a good week for the Baumert family."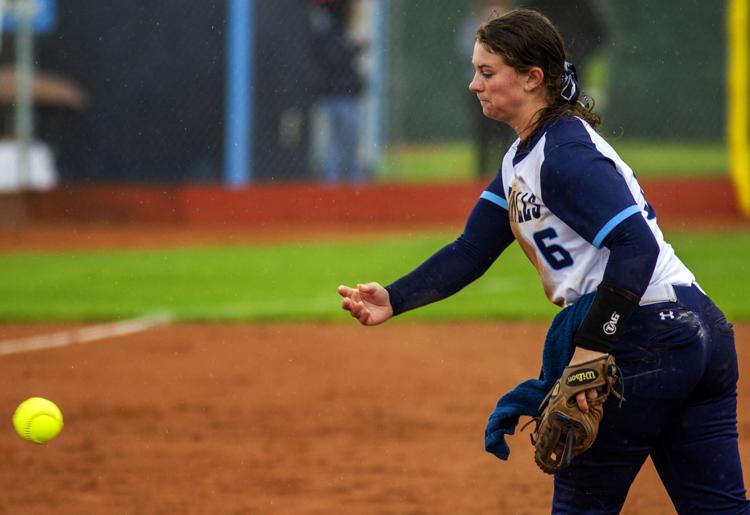 Before this season started, Burk, Baumert and Casdorph went over their goals. The first phase was finishing first in the GBC during the regular season. The second was winning the district title.
"Phase three is a state title," Burk said.
The Bruins (24-3) will get a chance to win their first state championship since 2014 next week in Blackfoot. They will face Vallivue (16-12), the third seed out of District 3, to open the 4A tournament on Friday at 9 a.m. Canyon Ridge (16-13) will take on Pocatello (18-6), the District 5-6 top seed, at 11 a.m.
The top two seeds in District 3, Ridgevue and Middleton, played in the state title game last season. Middleton beat Twin Falls 10-2 in March, and Ridgevue earned a 2-1 win in Friday's district title game to hand the Vikings their second loss of the season.
Burk knows those two will be tough to knock off, and she's excited for the challenge.
"We can fly under the radar," she said. "I'm confident in my club, and I think if we play our game and do the things we need to do, we'll have a shot.
I'm at Twin Falls HS for the Great Basin Conference softball title game between Twin Falls and Canyon Ridge. Kaitlynn Ayers made this nice catch to strand runners in scoring position in the T1. pic.twitter.com/cz7GgtAxZy

— Victor Flores (@VictorFlores_TN) May 12, 2018