A pair of 1A District 4 seniors were named All-Idaho basketball players of the year.
Oakley's Rachael Mitton was voted the 1A Division I girls basketball player of the year, and Dietrich's Slade Dill earned 1A Division II boys basketball player of the year honors. The seniors headlined the local accolades on the All-Idaho teams, which were announced Friday by the Idaho Statesman.
Oakley won its first state championship since 1930 last month, and Mitton hit the game-winning shot against Prairie in the title game. On the season, she averaged 12.0 points, 8.2 rebounds and 1.7 blocks per game.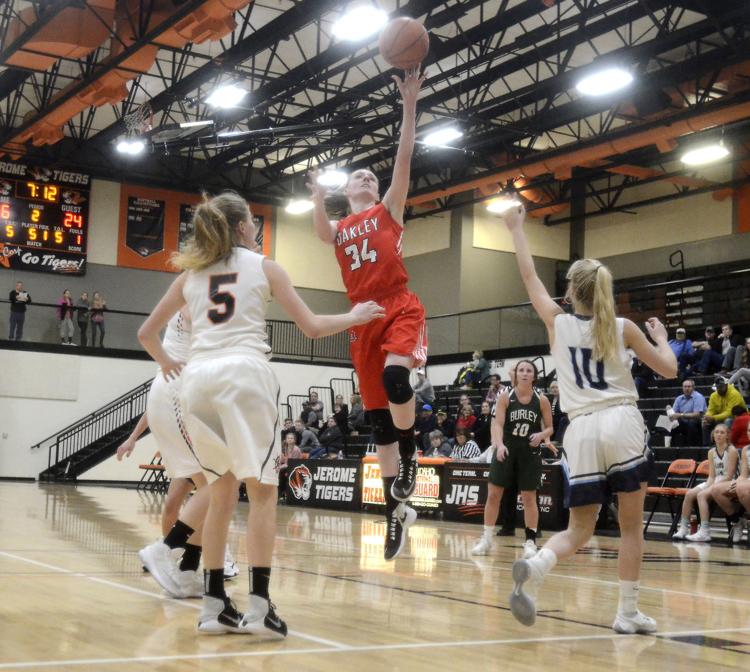 Hornets head coac, Matt Payton was named the All-Idaho 1A-DI girls coach of the year.
Dill led the Blue Devils to a third-place finish at state, and he put up gaudy numbers all season: 20.9 points, 15.2 rebounds, 3.8 blocked shots and 3.0 assists per game.
Dill's father, Wayne, received All-Idaho 1A-DII boys coach of the year honors.
The Statesman released the 3A, 2A, 1A-DI and 1A-DII All-Idaho teams on Friday. The selections, determined by coaches throughout the state, included several District 4 players. The local honors are listed below.
Local All-Idaho Selections
First team: Trey Garey, senior, Kimberly
Second team: Connor Golay, senior, Kimberly
First team: Grace Parker, junior, Gooding
First team: Keegan Duncan, junior, Declo
Second team: Trey Smyer, senior, Declo
First team: Zane Mussmann, junior, Valley
First team: Brittany Hardy, senior, Oakley
Second team: Cierra Hennings, junior, Shoshone
First team: Kade Shaw, senior, Dietrich; Hayden Wayment, senior, Carey