JEROME — It came down to the final match, but the Minico High School wrestling team won the Tim Matthews Invitational by a slim margin over Jerome.
The defending 4A state champions held off the Tigers by four points, with the decisive points coming from a third-place finish in the heavyweight class by Michael Martindale, who earned a 7-1 decision over Skyler Borrayo of Filer.
Jerome's last hope for the tournament win, Nathan Rivera, lost to Austin Hatch of Twin Falls in the heavyweight finals 7-1.
Despite Minico's championship win, the Spartans struggled to win most of their first-place matches. Of the 10 matches featuring Spartans, only Jordell Smith (126 pounds) and Anthony Rawson (160) brought home first-place accolades.
But Minico assistant coach Mike Johnson said he doesn't read too much into the losses.
"I was impressed with how we performed in the later rounds," he said. "It's disappointing that we only had two champions, but the same thing happened last year. It is what it is. We won the tournament."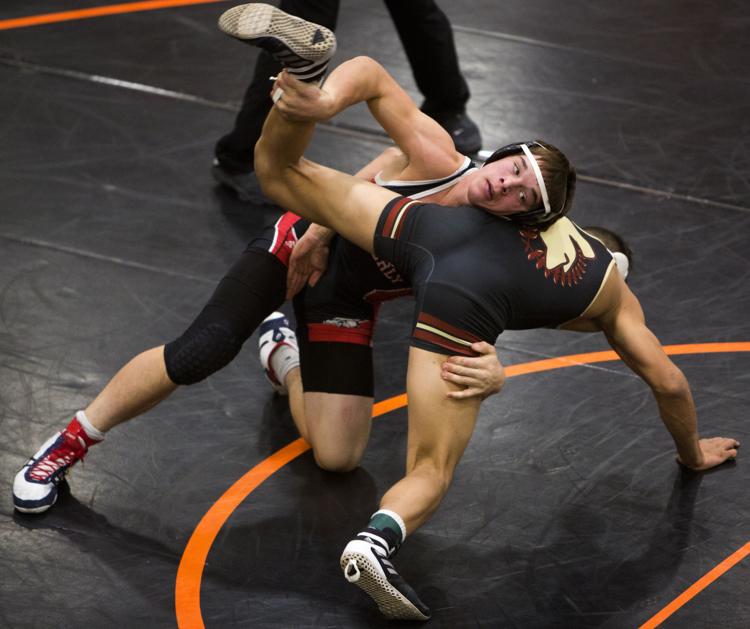 Jerome, which finished eighth in the 2017 4A state tournament, excelled in Saturday's finals. The Tigers sent five wrestlers to the finals, with four of them winning their matches, including a 40-second pin to open the finals by Ethan Barrayo (98).
In the 138-pound weight class final, Jerome's Peyton Ringling pinned Minico's Ike Allred, who earned third place in the 2017 138-pound state championship. Ringling, a junior, did not compete in last year's tournament.
"We're pleased with the kids' effort and the progress they've made since last year," Jerome assistant coach Ted Larsen said. "The team's younger, but we've gotten more kids out. It's just a whole new attitude."
Twin Falls finished in fourth place, but it showed dominance in its finals matchups. Four of the five Bruins in championship rounds won their matches.
And the fifth Bruin? That was Troy Morfin, who lost to his Twin Falls teammate Jaden Elsing in the 113-pound title match.
"It's hard to be upset about that," Twin Falls head coach Dusty Skidmore said, "and it was a good match."
Twin Falls swept three of the first four weight classes — 106, 113 and 120 pounds — and Austin Hatch added a heavyweight victory to round out the Bruins' winners.
Skidmore said that his team, which includes "a herd of freshmen," showed a lot of improvement in the invitational.
"It's all about getting better each day," he said. "Our work ethic is a lot better. The unity in the team is better. We're in a good place."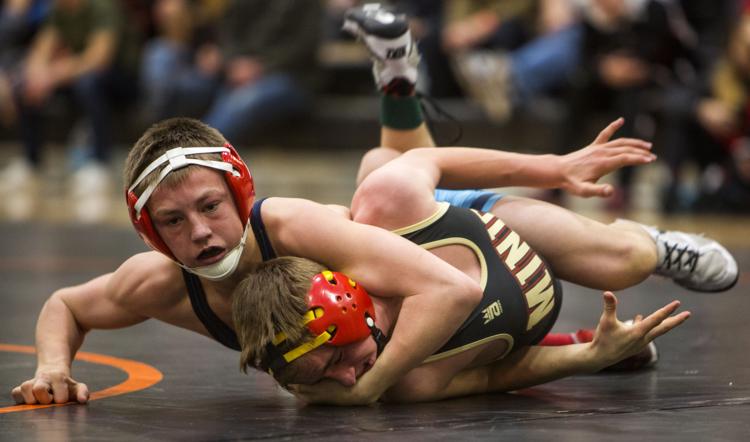 Other local teams fielded some first-place finishers, as well.
Braeden Dickinson of Canyon Ridge improved to 13-0 on the season with a major decision over Dallas Andrade of Minico, who was 8-0 going into the bout.
Traven Hansen, the lone Raft River Trojan to earn a first-place matchup, pinned Tazyn Twiss of Minico to take gold in the 170-pound weight class.
And after two five-second near falls, Tyler Mabrey of Burley pinned Dawson Osterhout of Declo with 40 seconds remaining in the match for the 220-pound weight class win.
The event is named in honor of Tim Matthews, a 22-year former coach of the Jerome wrestling program who was inducted into National Wrestling Hall of Fame in 2011.
"He was just an individual that gave a lot to the school and community, especially wrestling here in Jerome," Larsen said. "His name just kind of resonates through these rafters, and definitely a worthy name for this tournament."
Tim Matthews Invitational
98: Ethan Borrayo (Jerome) pin Dakota Graham (Filer), 0:40
106: Kase Mauger (Twin Falls) maj. dec. Avery Stimpson (Minico), 16-5
113: Jaden Elsing (Twin Falls) dec. Troy Morfin (Twin Falls), 8-6
120: Anthony Maldonado (Twin Falls) inj. Zak Allred (Minico), 4:50
126: Jordell Smith (Minico) dec. Dawsom Osterhout (Minico), 5-4
132: Braeden Dickinson (Canyon Ridge) dec. Dallas Andrade (Minico), 5-1
138: Peyton Ringling (Jerome) pin Ike Allred (Minico), 4:23
145: Duncan Miller (Boise) pin Austin Meredith (Minico), 1:38
152: Ezekiel Williamson (Jerome) dec. Brian Bordon (Minico), 3-2
160: Anthony Rawson (Minico) pin Broddey Cunningham (Kimberly), 3:55
170: Traven Hansen (Raft River) pin Tazyn Twiss (Minico), 1:44
182: Remington Winmill (Jerome) pin Anthony Jacobsen (Rocky Mountain), 3:48
195: Alex Ojukwu (Boise) pin Jade Barendregt (Minico), 4:47
220: Tyler Mabrey (Burley) pin Dawson Osterhout (Declo), 5:20
285: Austin Hatch (Twin Falls) dec. Nathan Rivera (Jerome), 7-1
Correction: A previous version of this article stated that Troy Morfin defeated Jaden Elsing in the 113-pound weight class final. Elsing actually defeated Morfin. We apologize for this error.