TWIN FALLS — The Twin Falls Cowboys returned to the Double-A American Legion state tournament with some thunder.
Twin tallied 13 hits in an 11-7 win over the Boise Gems in the first round of the state tournament at Skip Walker Field Wednesday night. The Cowboys managed their pitch counts and enjoyed a vintage performance from a returning star player.
Last summer felt foreign to the Cowboys. They were the top seed at last year's Area C district tournament, but they dropped the title game 16-4 to Idaho Falls, then were silenced by Pocatello 8-0 in the second place game. The Pocatello loss eliminated the Cowboys from state tournament contention for the first time in 13 years.
Even before the district tournament disappointment, the Cowboys knew they would reach the 2017 state tournament. Twin had already agreed to host state this year, which meant an automatic berth to the tournament no matter how they fared at districts.
On Wednesday, the Cowboys provided ample evidence that they belonged at Skip Walker Field.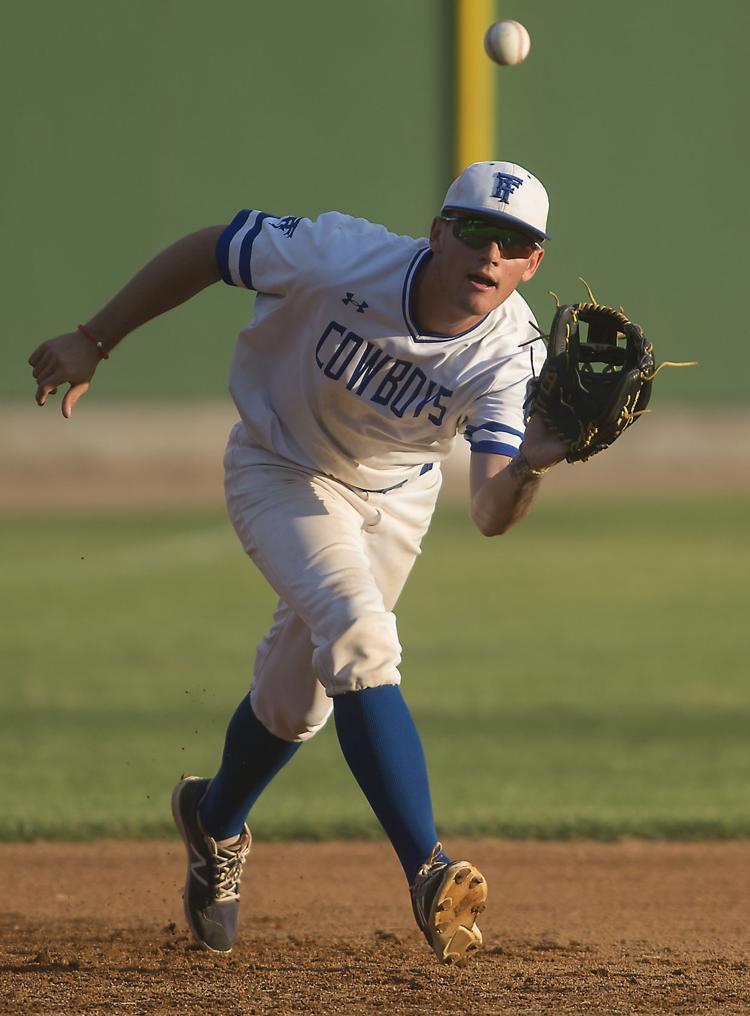 In the top of the first inning, Cade Greenfield drove in two runs on a single to give Twin a quick lead. Boise responded with two runs in the bottom of the first, but the Cowboys took the lead for good with four runs in the top of the second.
Skylar Holcomb gave Twin a 6-2 lead with a two-out, two-run double. The CSI signee, who began Wednesday's game in right field, saw live action for the first time in more than two weeks. During a game in Yakima, Holcomb suffered an elbow injury, which he said was a slight tear. The left-hander expected to miss the rest of his legion season, but he was cleared to play on Wednesday.
Holcomb looked like his old self, going 2-for-3 with two walks from his cleanup position.
Twin extended the lead to 9-2 in the top of fourth and 10-3 an inning later. The Gems battled back, but reliever Carson Walters settled down after a rocky start.
Walters was the third pitcher of the game. Starter Ryan Eller was solid after allowing two runs in the first inning, but he was pulled in the fourth. The righty threw fewer than 61 pitches, which means he's eligible to pitch as soon as Saturday.
Cade Greenfield replaced Eller and lasted 1 1/3 inning. He finished with fewer than 46 pitches, which means he can return to the mound as early as Friday.
The Cowboys will face Mountain View at 7 p.m. on Thursday in the second round of the winner's bracket. The Toros beat Coeur d'Alene 2-1 on Friday, while Idaho Falls defeated Treasure Valley 17-10 and Lewis & Clark handled Meridian 9-0.