Head coach: Kelly Kidd, 21st year
2016 record: 10-3 (1-0 2A Canyon Conference)
Playoffs: Lost to St. Maries 31-8 in 2A state championship game
Last season, the Hornets didn't lose to another 2A team until their final game. The 23-point state championship loss has not lingered in their minds — it has taken up residence, instead.
"It was probably one of the worst feelings I've ever felt," Declo junior running back Keegan Duncan said. "I think the whole team would say the same thing."
Declo has been waiting nine months to begin the revenge process. With a stable of returning starters and an experienced coach, they expect to be playing for state title again, with a different result this time.
"You have something to prove as a junior, that it wasn't just a fluke," junior linebacker/lineman Tyson Matthews said. "You have to take the championship game. It's not gonna be given to you."
Declo head coach Kelly Kidd planned to retire after last season, when his son, Christian, was a senior. But Kidd's mind changed in the offseason.
In two years, Kidd can retire from teaching. That timeline aligns perfectly with the graduation of this year's junior class, which is loaded with talented athletes such as Duncan, Matthews and linebacker McKay Breshears.
So Kidd plans to retire in two years, after completing his 23rd season as Declo's head coach.
"I've said that at least three previous times," Kidd said with a laugh. "I still have love for the game. I still enjoy preparing. I enjoy getting the kids ready to play a game."
"It's hard to walk away from."
Kidd said six or seven starters on both sides of the ball are returning this season. Those would be encouraging numbers before accounting for the wealth of junior talent.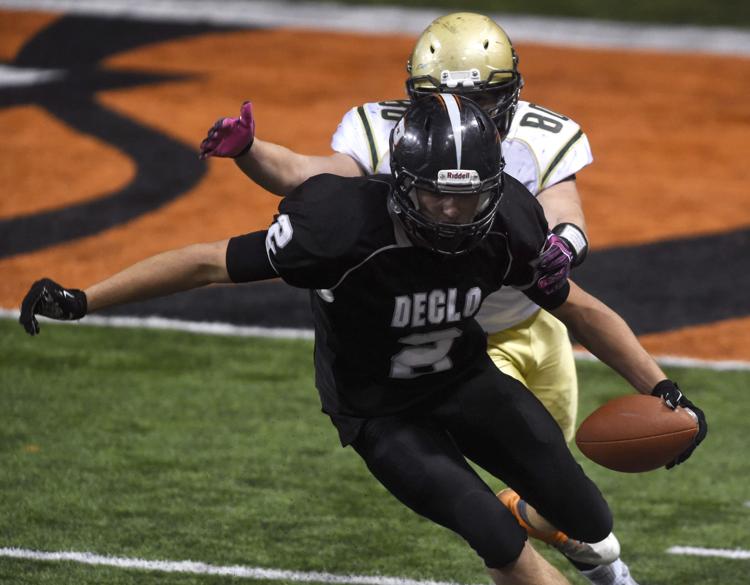 The Hornets want a blue trophy, no matter how they earn it. But with so much promise going into the season, it's easy for them to dream about more.
"We want an undefeated season," Breshears said.