DIETRICH — Slade Dill is having a stellar year, and his performance against Carey High School on Thursday night was another testament to that.
Dill, a 6-foot-7 senior on the Dietrich boys basketball team, recorded a 32 points and 16 rebounds to lead the No. 1-ranked Blue Devils past the No. 3 Carey Panthers 64-57 Thursday night.
Despite Dill's great performance, the Panthers found ways to work around him and the Blue Devils defense to keep in the game.
The Blue Devils started with a 9-2 run, but Carey cut into it, with Kaden Koudelka and Houston Hennefer nailing back-to-back 3-pointers. Then, two steals led to more scoring from Koudelka, as he led first-quarter scoring with nine points to give the Panthers a 14-13 lead.
Carey head coach Dick Simpson said those two players, in particular, are reliable perimeter shooters.
"Any time they pull up at the 3-point line, they have the green light to shoot it," he said. "We trust those guys."
However, problems began to mount for Carey. Koudelka earned a technical foul in the opening seconds of the second quarter, and the Panthers' consistent top scorer, Hayden Wayment, had trouble shaking off Dill's defense, ending the half with only two points.
Meanwhile, Dill took control on offense in the second quarter, putting up eight points to keep Dietrich close. But Tanner Mecham drove to the rim for Carey, scoring three field goals in the second quarter, and Hennefer hit another 3-pointer late in the first half to keep the Panthers ahead 29-25.
Dietrich head coach Wayne Dill and guard Kade Shaw said they weren't happy with the team's early effort.
"We could have played much better," Wayne Dill said. "We missed our free throws and took some shots we really shouldn't have."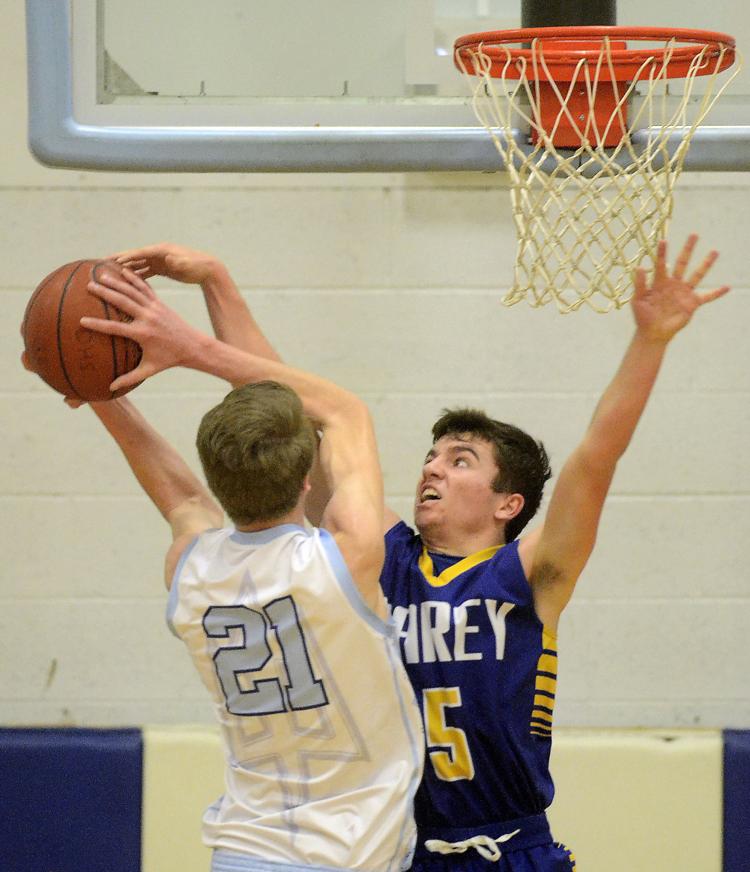 Simpson was surprised by his Panthers' defense in the face of quick offense and big bodies, especially against Dill early on.
"We really tried to disrupt him and not give him the looks he wanted," he said. "He bounced back, but I thought we play pretty decent defense, really for much of the game."
Just like off the opening tip, Dietrich began a run early in the second half, stretching an early 31-31 tie to a 38-31 lead. Slade Dill led the effort with 11 third-quarter points, which Wayne Dill said had a lot to do with his ability to get boards.
"Some of his shooting was inconsistent," Wayne Dill said, "but he was ready to grab rebounds and put them back in."
Carey answered with an 8-0 run of its own, forcing turnovers and offensive fouls while Mecham led the attack with six third-quarter points to force a 43-42 lead into the final quarter.
That's Dietrich's shooters really stepped up.
"At halftime, our guys could've just folded," Wayne Dill said. "They weren't executing the way they wanted to, but they really answered late in the game."
First, Slade Dill drove to the basket and forced Carey to foul, leading to an early bonus situation for the Blue Devils. Then, Shaw drained a 3-pointer that extended the Dietrich lead to five points with about four minutes left to play.
"I kind of got after (Shaw) early on," Wayne Dill said, "because he was taking and missing some bad shots. He got a little more open on that one, made it and it was a really big one for us."
Shaw also stepped up when Koudelka was ejected from the game after receiving his second technical foul, arguing a Carey foul. The situation gave Shaw four free-throw attempts, and despite missing all of his four free-throw attempts in the first half, he drained these four. Dill also netted 3-of-5 from the stripe in the fourth quarter.
"We know that we can win the game at the line," Shaw said. "We just had to step up in the big moments."
Despite Wayment's 12-point charge in the fourth quarter, Carey wasn't able to bite much into the deficit and fell in the lone regular-season matchup between the two teams.
Wayment led Carey with 16 points, followed by Koudelka with 15.
Shaw posted 18 points to combine with Slade Dill for 50 of Dietrich's 64 points, but Slade Dill said his team was a good "five-man unit."
"We know where to be and what to do with whatever defense we're given," he said. "It gives us good options."
Slade Dill has posted three triple-doubles and several double-doubles this season.
Carey (14-3, 5-1) has three more regular season games before a possible rematch with Dietrich at the district tournament and potentially state. Simpson sees a couple things to work on before then.
"We're going to have to play even better defense," Simpson said. "We've got to somehow get boards and box out as hard as we can."
Wayne Dill said Dietrich (15-1, 6-0) needs to work on defense and hit shots early on.
But he's enjoying the ride right now.
"We're in the middle of a really good year, and we're just trying to keep it going," he said.